Click any excerpt below to read the full article.
Virginia Mourns Former Delegate Clifton A. "Chip" Woodrum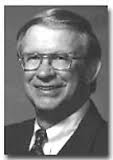 Former Library of Virginia Board chair and current Board member Chip Woodrum died suddenly on February 19. He was appointed to the Library Board in 2004 by Governor Mark Warner and reappointed in 2009 by Governor Tim Kaine. Woodrum represented Roanoke and part of Roanoke County in the House of Delegates from 1980 until 2003. His dedication to the Roanoke area was apparent to all who worked with him. Among his lasting contributions to the commonwealth were his efforts in establishing the Freedom of Information Advisory Council and the Birth-Related Neurological Injury Compensation Program.

"Chip Woodrum was a legislator of uncommon vision with a deep understanding of our state's rich history coupled with the ability to see consequences of both legislative action and inaction. He was able to diffuse and focus tense ideological arguments with his sharp wit...
The Library of Virginia Offers Historical Newspapers Online

The Library of Virginia and the Virginia Newspaper Project are excited to announce the release of an online historical newspaper database, Virginia Chronicle.com. Twenty-three Virginia newspaper titles comprising more than 250,000 pages have been uploaded to a site managed by the Library of Virginia to provide easy access to a wide array of Virginia imprint newspapers. You can visit the site at http://virginiachronicle.com. And this is only the beginning. The Virginia Newspaper Project is working to migrate all the titles and pages contributed to the Library of Congress—as part of the National Digital Newspaper Program—to the Library of Virginia site. From there we'll begin adding thousands of pages in the coming months to create a primary source for users who wish to delve deep into the pages of Virginia newspapers. Virginia Chronicle offers full text-searching capabilities, the ability to view a full page or to crop and zoom, and easy-to-use print features. Also, we will soon make available an interactive text-correcting function that allows users to correct text missed by...
Earl Hamner Program to Be Held on April 2

Acclaimed Virginia author Earl Hamner Jr. will be at the Library of Virginia on April 2 at 6:30 PM as we celebrate the gift of his private papers and manuscripts to the Library. He was originally due to visit us in January but illness prevented his trip. The Nelson County native is an iconic figure for many and is best known as the writer of the semiautobiographical television series The Waltons. The Hamner collection includes original manuscripts for the entire runs of the television series The Waltons and Falcon Crest, original manuscripts for several television pilots, and...
Database Spotlight: Proquest Congressional Publications

The Proquest Congressional Publications database is a comprehensive resource for information regarding the activity of the United States Congress. This database allows users to locate congressional committee documents, prints, reports, and hearings; discover a law's intent by tracing its legislative history; find statistics on a wide range of topics; find a variety of information regarding House, Senate, or joint committees including the names of members, meeting schedules, and hearing topics; and search numerous publications such as the Congressional Record, United States Code, Code of Federal Regulations, Statutes at Large, and Federal Register. Users can also retrieve demographic information about current members of Congress and view their voting records and campaign finance data. In addition, the reports and statistics found in the database cover a wide variety of topics—including economic, social, and...
April is a Month for Celebrating

Four April is full of celebrations—by the day, week, and month. April is Poetry Month, Jazz Appreciation Month, Stress Management Awareness Month, National Child Abuse Prevention Month, and America the Beautiful Month.

The Library is a leader in providing records management services and training to state and local records managers. We celebrate this in April with Records Management Month—along with National Library Week, Read a Road Map Week, Organize Your Files Week, and, of course, National Karaoke Week. (Actually, we're not too involved with Karaoke Week.)

This year Governor Bob McDonnell has proclaimed April as Public Records Month in Virginia, recognizing that the management of records and information is critical to the efficient operation of government. The Library supports localities and state agencies with the efficient and economical management of their public records by establishing retention and disposition schedules for records, presenting workshops, monitoring the disposal of nonpermanent records, and assisting with the transfer of...
Library Offers Scanning of Civil War Materials and a Walking Tour of the 1863 Bread Riot on April 6

Join us for Civil War & Emancipation Day on Saturday, April 6. From 10:00 AM until 2:00 PM, Library of Virginia staff members will be scanning privately held letters, photographs, diaries, maps, and other Civil War–era materials for inclusion on the websites of both the Library and the Virginia Sesquicentennial of the American Civil War Commission. To make an appointment to have your Civil War manuscript materials scanned, please contact Renee Savits at 804-692-3629 or renee.savits@lva.virginia.gov. At 11:00 AM and 3:00 PM, Gregg Kimball, the Library's director of Public Services and Outreach, will collaborate with the National Park Service's Richmond National Battlefield Park on walking tours tracing the 1863 Bread Riot in Richmond, where thousands of local women stormed area stores in protest of the lack of food and supplies during the Civil War...
Charles Wright Wins $150,000 Bollingen Prize for his Poetry

Charles Wright, professor emeritus of English at the University of Virginia, has won the 2013 Bollingen Prize for American Poetry. Wright taught at the University for almost 30 years and is one of America's most celebrated poets.The Bollingen Prize in American Poetry is among the most prestigious prizes given to American writers. Established by Paul Mellon in 1949, it is awarded biennially by the Yale University Library to an American poet for the best book published during the previous two years or for lifetime achievement in poetry. The prize includes a cash award of $150,000...

Wednesday, March 13, 2013
"Pinning" Gabriel's Rebellion
Time: Noon–1:00 PM
Place: Lecture Hall
Using the (relatively) new website HistoryPin (www.historypin.com), historians Gregg Kimball, Michael Nichols, and Phil Schwartz trace the activities and events leading up to the best-planned—and potentially most damaging—slave insurrection in Virginia. The region's geography and the Library's documents are merged on the website to graphically depict the actions and aftermath of the Henrico bondsman. This program is presented in partnership with the VCU Libraries.
Wednesday, March 13, 2013

"Books on Broad" featuring Historic Richmond Foundation and Richmond Landmarks
Time: 5:30 PM–7:30 PM
This Books on Broad will be presented in partnership with Historic Richmond Foundation and will feature two local history books that celebrate the notable cultural and historic sites of Richmond, Virginia. The Official Guide to Historic Richmond is an updated publication featuring images and information about architecturally and historically significant sites in Richmond. Richmond Landmarks includes over 200 images from the Library of Virginia's historic photographs collection with an historic overview of the city. Our usual wine and cheese reception will be followed by slideshow presentations focused on the historic sites of Richmond and ongoing historic preservation efforts by Historic Richmond Foundation.
Tuesday, March 19, 2013

Changing History: Virginia Women through Four Centuries
Time: Noon–1:00 P.M.
Place: Lecture Hall
Published by the Library of Virginia, Changing History tells the important and inspiring stories of women—both famous and lesser-known—who have influenced the course of history in the Old Dominion. Authors Cynthia A. Kierner and Megan Taylor Shockley will speak about the book in a roundtable discussion moderated by Librarian of Virginia Sandra G. Treadway. A book signing will follow.

Thursday, March 21, 2013
Turning Point: Figures of Suffrage in Virginia
Time: 6:00 PM–7:00 PM
Place: Lecture Hall
The Library of Virginia and the Turning Point Suffragist Memorial Association will present a program by Kathleen Pablo focused on the personalities and singular courage of some of the major figures in the long struggle to ratify the 19th Amendment, and on the turning point in that struggle. On display will be items from the Library of Virginia's collection that belonged to Pauline Adams (1874–1957), a formidable woman suffrage activist in Virginia.

Thursday, March 28, 2013
2013 Virginia Women in History Program and Reception
Time: 6:00 PM–7:00 PM
Place: Lecture Hall
Join the Library of Virginia as it recognizes eight outstanding Virginia women who have made important contributions to Virginia, the nation, and the world. A reception follows the program. For more information, call 804-692-3592.

Tuesday, April 2, 2013
A Virginia Story: A Discussion with Earl Hamner Jr. moderated by Lisa LaFata Powell
Time: 6:30 PM–7:30 PM
Place: Lecture Hall
Join the Library of Virginia as we celebrate the gift of the private papers and manuscript collection of Earl Hamner Jr. The personal story of Earl Hamner and his family and the hundreds of stories he has created over the years have touched millions of people around the world. Representing the best of Virginia and the history of Virginia, his work makes this a truly significant collection. The Hamner collection includes original manuscripts for the entire runs of the television series The Waltons and Falcon Crest, original manuscripts for several television pilots, and more than 60 years of his original correspondence, as well as short stories, poems, and photographs. Lisa LaFata Powell will moderate a discussion with Hamner about his work, his life, and his love of Virginia. Special items from his collection will be on display during the event.

Wednesday, April 3, 2013
"Books on Broad" featuring Robert Goolrick
Time: 5:30 PM–7:30 PM
The End of the World As We Know It, this exquisitely-written memoir of a Virginia childhood—a book that Lee Smith called brave and haunting—tells the personal story of the author who brought us A Reliable Wife and Heading Out to Wonderful. Reception (wine and cheese) 5:30–6:00 PM, book talk 6:00–7:00 PM, and book signing 7:00–7:30 PM.
Through Saturday, May 18, 2013

You Have No Right: Law & Justice
Time:9:00 AM–5:00 PM
Place: Exhibition Hall
Using Virginia cases—and the stories of the people behind them—You Have No Right: Law and Justice demonstrates how the law affects individuals directly and how people have used the law to achieve political and social goals. Using original records and electronic resources to convey the themes of human rights, citizenship, and the rule of law in a lively and engaging presentation, the exhibition explores questions about citizenship, marriage rights, eminent domain, and why prosecutors have to prove guilt and defense lawyers don't have to prove innocence.