Monday, November 30, 2015 | Calendar of Events
Remaking Virginia: Transformation through Emancipation
Even as the Civil War was still being fought, the status of almost a half-million African Americans in Virginia began to change. No longer were they someone else's property—they were free. They anticipated the promise of change from their former status as slaves: the promises of education, political participation, and full citizenship. Yet, in their struggle to achieve these goals, freedmen and freedwomen faced the hostility of their former masters and the society that had long benefitted from their labor. Union troops and U.S. government officials reconstructing the Southern states were often indifferent. What challenges did African Americans face in their struggle to achieve what they believed freedom would bring them? What obstacles blocked their efforts to gain citizenship? How successful were African Americans during Reconstruction in claiming their objectives? Did the 14th and 15th Amendments to the Constitution significantly aid them in their struggles? The Library of Virginia's exhibition Remaking Virginia: Transformation through Emancipation offers a look at the changing world Virginians faced during Reconstruction. Radio One is the exclusive radio sponsor for Remaking Virginia.
All Events » | Holiday Schedule » | Inclement Weather Closings »
Current News Releases | Archive
Weil, Schulte, and Scafidi Receive 2015 Library of Virginia Literary Awards
The Library of Virginia is pleased to announce the winners of the 18th Annual Library of Virginia Literary Awards, sponsored by Dominion. The October 17 awards celebration was hosted by award-winning Virginia author Adriana Trigiani. Awards categories were fiction, nonfiction, poetry, and literary lifetime achievement. Winners of the Library of Virginia's Annual Literary Awards receive a $2,500 prize and an engraved crystal book.
Library of Virginia Announces Finalists for the 18th Annual Literary Awards
Nine authors are the finalists for the Library of Virginia's 18th Annual Library of Virginia Literary Awards honoring Virginia authors or, in the case of nonfiction, works on a Virginia subject. One additional author has received honorable mention. The finalists were chosen by an independent panel of judges from 136 books nominated for the awards. The winners in each category will be selected from among these finalists and announced at a gala celebration on October 17, 2015, at the Library of Virginia....
What's New In The Collections | Archive
The Library of Virginia Quarterly Report of Newly Available Accessions
July 1 – September 30, 2015
A report including the creator, title, size, brief description, and accession number of the local, map, private, and state archival collections described and/or received during the time period. Some collections may be closed for processing; check with Archives Reference Services regarding availability for research use.
Primary Sources Semiannual Report of Newly Processed Collections
July – December 2012
Welcome to the latest issue of the Library of Virginia's semiannual report Primary
Sources. Here you will find a listing of the latest collections processed, microfilmed, or digitized by the Library. Since 1999, the Library has annually received General Assembly support for archival positions in order "to relieve the 54-year backlog in processing significant archival, special, and other historical collections."
Featured Events

Son of Virginia: A Life in America's Political Arena
L. Douglas Wilder, governor of Virginia from 1990 until 1994 and the first African American in the United States to be elected governor, will speak about and sign his new memoir, Son of Virginia: A Life in America's Political Arena. His candid memoir details the struggles he faced during his long career in public service and offers a portrait of the changing face of America. Throughout his public life Governor Wilder has been in the forefront of the fight for social justice.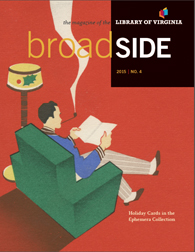 The magazine of the Library of Virginia Our quarterly magazine describes and illustrates the holdings and happenings at the Library of Virginia. Discover fascinating items from the collections as well as events, exhibitions, educational programs, and opportunities to become more involved. More.

The first issue of the Library of Virginia's E-Newsletter debuted on September 4, 2008. The free, monthly newsletter concentrates on Library events, services, and collections. The inaugural issue went to 1,971 subscribers. The newsletter will help us communicate directly with readers on a more frequent basis, and enable us to deliver useful information about the Library, its mission, and services. The newsletter is only sent to readers who have indicated an interest in hearing from the Library or who opt-in to receive it. You can indicate a desire to receive the newsletter here Subscription is free and easy and you will always have the option of unsubscribing. Because your privacy is important to us, we will never sell or trade your address.