Tuesday, September 02, 2014 | Calendar of Events
Flora of Virginia
Discover the power of the flower. Delve into Virginia's natural environment through Flora of Virginia, an exhibition featuring hundreds of colorful illustrations from the Library of Virginia's collections. Learn fun facts about Virginia's native plants. Examine the history of botanical description and illustration. Explore the personalities behind the folks who collected and described these plants. Try your hand at sketching a specimen at the drawing station. Check our Web calendar for information about exhibition-related events.
All Events » | Holiday Schedule » | Inclement Weather Closings »
Current News Releases | Archive
Finalists for the Library of Virginia's 2014 Literary Awards Announced
Stories of love, honor, and intrigue. Rhymes of death and mourning. All these and more are included in the finalists for the Library of Virginia's 2014 Literary Awards.
In the nonfiction category three faculty members from the University of Virginia in Charlottesville are this year's finalists...
Library of Virginia and HOME Collaborate to Offer Mapping RVA
Through August 23, 2014, the Library of Virginia will host Mapping RVA: Where You Live Makes All the Difference, a traveling exhibition. The multimedia exhibition of nine maps created by Brian Koziol, director of research and consulting services at Housing Opportunities Made Equal of Virginia, Inc. (HOME), uses geographic information systems to show the unique history of the Richmond metropolitan area. The maps examine the connection between...
What's New In The Collections | Archive
The Library of Virginia Quarterly Report of Newly Available Accessions
April 1 – June 30, 2014
A report including the creator, title, size, brief description, and accession number of the local, map, private, and state archival collections described and/or received during the time period. Some collections may be closed for processing; check with Archives Reference Services regarding availabilty for research use.
Primary Sources Semiannual Report of Newly Processed Collections
July – December 2012
Welcome to the latest issue of the Library of Virginia's semiannual report Primary
Sources. Here you will find a listing of the latest collections processed, microfilmed, or digitized by the Library. Since 1999, the Library has annually received General Assembly support for archival positions in order "to relieve the 54-year backlog in processing significant archival, special, and other historical collections."
Featured Events

Ask A Curator Day on Twitter
On September 17, 2014 you'll be able ask curators from cultural institutions around the world questions on Twitter using the hashtag #AskACurator. They can be inquiries about collections, processes, personal favorites, or the field as a whole. Questions can be directed to specific institutions, or you can just use the hashtag and see who responds from around the world. In 2013, 622 museums participated in 37 countries with a total of 26,000 tweets. We'll be participating again this year with an enlarged panel of LVA specialists to field questions throughout the day. We're here to open a window onto our process and the brains behind what the public sees. Our schedule of experts can be seen below. Get those questions ready!

9 am: Barbara Batson, Exhibitions Coordinator
10 am: Leslie Courtois, Conservator
11 am: Vince Brooks, Senior Local Records Archivist and Blog Editor
12 pm: Meghan Townes, Visual Studies Collection Registrar
1 pm: Audrey McElhinney, Senior Rare Book Librarian
2 pm: Adrienne Robertson, Education and Programs Coordinator
3 pm: Dale Neighbors, Prints & Photographs Collection Coordinator
4 pm: Dana Puga, Prints & Photographs Collection Specialist

Tweet your questions @LibraryofVA with #AskACurator on Sept. 17th!

"BOOKS ON BROAD" FEATURING KAT SPEARS | Sway
Sway is the debut novel from the Library of Virginia Foundation's own Kat Spears. Reception (wine and cheese) 5:30–6:00 PM, book talk 6:00–7:00 PM, and book signing 7:00–7:30 PM.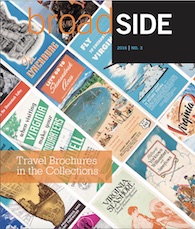 The magazine of the Library of Virginia Our quarterly magazine describes and illustrates the holdings and happenings at the Library of Virginia. Discover fascinating items from the collections as well as events, exhibitions, educational programs, and opportunities to become more involved. More.

The first issue of the Library of Virginia's E-Newsletter debuted on September 4, 2008. The free, monthly newsletter concentrates on Library events, services, and collections. The inaugural issue went to 1,971 subscribers. The newsletter will help us communicate directly with readers on a more frequent basis, and enable us to deliver useful information about the Library, its mission, and services. The newsletter is only sent to readers who have indicated an interest in hearing from the Library or who opt-in to receive it. You can indicate a desire to receive the newsletter here Subscription is free and easy and you will always have the option of unsubscribing. Because your privacy is important to us, we will never sell or trade your address.