Monday, March 10, 2014 | Calendar of Events
No Current Events
Please visit news & events for our calendar.
All Events » | Holiday Schedule » | Inclement Weather Closings »
Current News Releases | Archive
2014 Virginia Women in History Program Honors Eight Outstanding Women
The principal in a Supreme Court case that helped legalize interracial marriage, a civic activist who advocated for improving the lives of women and children, a member of the Women's Basketball Hall of Fame and cancer treatment advocate, a banker who became a member of the Federal Reserve's Board of Governors, an artistic director and choreographer, an antislavery advocate, a principal in a freedom suit, and an artist and patron of the arts are among eight Virginia women recognized by the Library of Virginia as part of its Virginia Women in History program...
Library of Virginia Makes E-mails from Governor Timothy M. Kaine Available Online
Every four years in Virginia, the outgoing governor prepares for the next phase of his life and career, while the governor-elect creates a team and legislative agenda to launch the beginning of a new term. Every four years in Virginia, the Library of Virginia receives the official records of the outgoing administration and works with the new administration to plan record keeping for the next four years...
What's New In The Collections | Archive
The Library of Virginia Quarterly Report of Newly Available Accessions
October 1 - December 31, 2013
A report including the creator, title, size, brief description, and accession number of the local, map, private, and state archival collections described and/or received during the time period. Some collections may be closed for processing; check with Archives Reference Services regarding availabilty for research use.
Primary Sources Semiannual Report of Newly Processed Collections
July – December 2012
Welcome to the latest issue of the Library of Virginia's semiannual report Primary
Sources. Here you will find a listing of the latest collections processed, microfilmed, or digitized by the Library. Since 1999, the Library has annually received General Assembly support for archival positions in order "to relieve the 54-year backlog in processing significant archival, special, and other historical collections."
Featured Events

BOOK LAUNCH: Learning by Accident
Rosemary Rawlins will join us to launch her memoir, "Learning by Accident". When Rosemary's husband is hit by a car, her life is changed forever. Learning by Accident is a story of family love and commitment, and the secondary trauma that remains with caregivers after all the hard work is done. Rosemary learns that fear can be more debilitating than any injury—and that shedding fear can lead to peace and to living the possibilities we had once only imagined. Reception (wine and cheese) 5:30–6:30 PM, book talk 6:00–7:00 PM, and book signing 7:00–7:30 PM.
"BOOKS ON BROAD" FEATURING SLASH COLEMAN | The Bohemian Love Diaries
Richmond native Slash Coleman presents his memoir, The Bohemian Love Diaries, an irresistibly weird and wonderful story that chronicles his upbringing in a warped but warm-hearted household of eccentric artists. Reception (wine and cheese) 5:30–6:30 PM, book talk 6:00–7:00 PM, and book signing 7:00–7:30 PM.

BOOK LAUNCH: Harvest: Field Notes from a Far-Flung Pursuit of Real Food
Join acclaimed writer Max Watman for a talk on his latest memoir. After a harrowing experience with a pink-slime burger, Watman resolves to stock his pantry with real food. Invigorated by memories of his childhood in rural Virginia with foodie parents, he hunts, fishes, gardens, bakes, makes cheese, raises livestock, butchers, preserves, and pickles. All does not go as planned. A book signing follows the talk.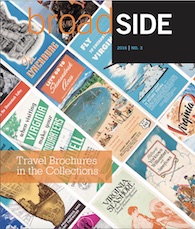 The magazine of the Library of Virginia Our quarterly magazine describes and illustrates the holdings and happenings at the Library of Virginia. Discover fascinating items from the collections as well as events, exhibitions, educational programs, and opportunities to become more involved. More.

The first issue of the Library of Virginia's E-Newsletter debuted on September 4, 2008. The free, monthly newsletter concentrates on Library events, services, and collections. The inaugural issue went to 1,971 subscribers. The newsletter will help us communicate directly with readers on a more frequent basis, and enable us to deliver useful information about the Library, its mission, and services. The newsletter is only sent to readers who have indicated an interest in hearing from the Library or who opt-in to receive it. You can indicate a desire to receive the newsletter here Subscription is free and easy and you will always have the option of unsubscribing. Because your privacy is important to us, we will never sell or trade your address.