Library of Virginia Literary Awards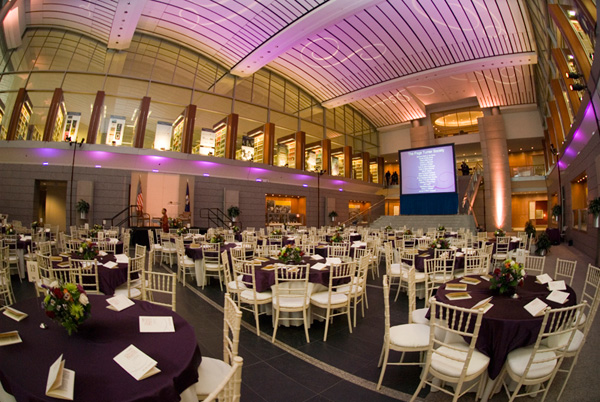 History of the Library of Virginia Literary Awards

IN 1997, the Library of Virginia established its annual Literary Awards program to honor Virginia writers and celebrate their contributions to the literary landscape of our state and nation. Given to Virginia authors in the categories of fiction and poetry—and to nonfiction authors for works about a Virginia subject as well—the awards are presented at an annual gala celebration that has become the Library's signature event and an eagerly anticipated cultural tradition in Richmond. While the main award recipients are selected by independent panels of judges, the Library also invites book lovers and readers to vote for their favorite works for the People's Choice Awards for Fiction and Nonfiction. In the past, the Library has also bestowed a Literary Lifetime Achievement Award to recognize the enduring influence of an outstanding Virginia writer, with past winners including Earl Hamner, Lee Smith, Jan Karon, Tom Robbins, Charles Wright, Barbara Kingsolver, Rita Dove, John Grisham, Tom Wolfe, and David Baldacci.
The Library also partners each year with the Virginia Museum of Fine Arts to present the Art in Literature: The Mary Lynn Kotz Award for an outstanding literary work with art or works of art as its primary subject. Learn more here.
The 23rd Annual Library of Virginia Literary Awards were celebrated virtually this year with a week of author conversations and special events—all free and accessible to the public and now available for viewing on the Library's Youtube Channel. Celebrations began Tuesday, October 13, 2020 and culminated with the Library of Virginia Literary Awards Celebration on Saturday, October 17 where the following finalists were announced as the award winner in their respective categories:
Poetry: Colonize Me by Benjamin Naka-Hasebe Kingsley
Fiction: Thomas and Beal in the Midi by Christopher Tilghman
Nonfiction: Thick: And Other Essays by Tressie McMillan
Mary Lynn Kotz Art in Literature Award: Becoming Mary Sully: Toward an American Indian Abstract by Philip J. Deloria
People's Choice Awards:
Fiction: The Substitution Order by Martin Clark


Nonfiction: Mary Ball Washington: The Untold Story of George Washington's Mother by Craig Shirley
Sponsored by Dominion Energy, Award–winning Virginia author Adriana Trigiani again served as host for Saturday evening's awards celebration and US Presidential Historian and best–selling author, Douglas Brinkley, was the featured speaker; Mr. Brinkley was also honored for his outstanding contributions to American history and literature.
The Library is currently accepting nomination submissions for the 2021 Literary Awards (books published in 2020). After reviewing eligibility requirements nominations may be submitted by completing the online form. The deadline for submissions is February 10, 2021.
The nomination form may also be printed and mailed to:
Library of Virginia Literary Awards
Attn: Nancy Orr
800 E. Broad Street
Richmond, VA 23219