News and Events
Featured Event
Saturday, December 4, 2021
from
11:00 AM–1:00 PM
Exhibition Gallery and Lobby
Free
Learn More
Calendar of Events
Hours, Holidays, and Closings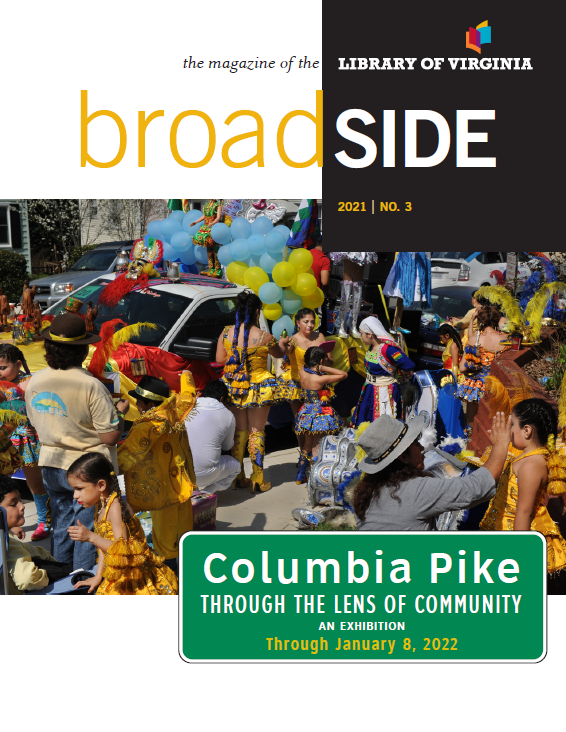 The magazine of the Library of Virginia. Our quarterly magazine describes and illustrates the holdings and happenings at the Library of Virginia.
Read Past Issues
Press Releases
Join artist and educator Sushmita Mazumdar for "Your Story, Our Community: Create Your Storybook," a workshop exploring the human connections exemplified in the Library's current exhibition, Columbia Pike: Through the Lens of Community, a unique display of photographs celebrating the extraordinary cultural diversity found within a single community in Northern Virginia.
The Library of Virginia's 2021 Carole Weinstein Author Series continues with a free online talk by presidential historian and New York Times best-selling author Alexis Coe on November 17 at 6:00 pm. Her book You Never Forget Your First: A Biography of George Washington mixes thorough research with compelling storytelling in a humorous and highly readable format.
The Library of Virginia is pleased to announce the winners of the 24th Annual Library of Virginia Literary Awards, sponsored by Dominion Energy. The October 16 virtual awards celebration was hosted by best-selling author and award-winning filmmaker Adriana Trigiani.
View More
Collection Releases
A report including the creator, title, size, brief description, and accession number of the local, map, private, and state archival collections described and/or received during the time period. Some collections may be closed for processing; check with Archives Reference Services regarding availability for research use.
View More