Visitors' Guide
The Library's regular hours are Monday through Saturday, 9:00 AM until 5:00 PM. Please check our News & Events or contact us for any changes to our regular hours due to holiday closings, special events, or inclement weather.
When planning a trip to the Richmond area, we recommend you check out the Richmond Metropolitan Convention and Visitors Bureau. Please also check our calendar to ensure the Library will be open and available to the public during your planned visit.
Parking:
The Library of Virginia offers limited free parking to patrons using the building during operating hours. If parking is not available, a map to other area parking decks is available at Ride Finders' downtown commuter guide. The parking garage entrances at the Library of Virginia are located on 8th and 9th Streets and have a height restrictions of 7 feet. Both 8th and 9th Streets are one way streets. Elevators will take patrons from the parking garage to the lobby of the library. Parking validations are given in the lobby when leaving the library.
Please Note The entrance to the parking deck is 7 feet high. As a result, not all vehicles can use the parking deck.
View Larger Map
Directions:
Please be aware that because of numerous street repairs and construction projects you may experience detours and street closures in the downtown Richmond area. For directions from locations not listed below please use the interactive map above or another method of your choice.
From Interstate 95 (from the North or from the South)
Take Exit 74C. A highway sign will say Library of Virginia. Proceed west on Broad Street until you reach 9th Street. Turn right and immediately get into the far left lane. Proceed down the block and prepare to turn left into the parking deck.
From Interstate 64 West (e.g. coming from Williamsburg)
Take the exit for Fifth Street and the Coliseum. Turn left on Marshall Street a few blocks (past the Coliseum on your left) after you exit Interstate 64. Stay in the middle lane and proceed to Eighth Street, and turn right from that lane. The parking lot entrance will be immediately on your left.
From Interstate 64 East (e.g. coming from Charlottesville)
Take Interstate 95 South to Exit 74C. See instructions above for I-95.
Using the Collections and Policies:
While the Library's reading rooms are open to the public, many of our collections are located in our closed stacks, meaning items must be requested through our catalog or via staff in order for you to use them. Therefore, access to these collections requires a valid I.D. In order to avoid delays and unexpected problems, please review the policies governing access to and use of our collections prior to your arrival at the Library. The Public Services staff, located on the second floor of the Library, will assist you.
Special Collections
The Special Collections Reading Room is open Mondays - Fridays, 1-4:30pm. Special Collections materials include: Broadsides, Ephemera, Prints & Photographs Collection, Rare Books, Sheet Music, and the State Art Collection. Researchers should consult with the Special Collections staff about materials housed there and call 804-692-3703 in advance to schedule an appointment. Researchers must register to use the room and follow the same policies as govern the use of materials in the Archives and Map Research Rooms at the Library of Virginia.
Wireless Internet Access
Wireless Internet access is provided on the first and second floors of the Library of Virginia. Electrical outlets for plugging in laptops are available at the study tables in the second floor Reading Rooms. Printing is not available using the Library's wireless connection. Printing is available only when using the Library's public computer workstations. More Information
The Virginia Shop
The Virginia Shop is open Monday through Saturday from 10:00 am until 4:00 pm with extended hours during evening and weekend public events at the Library of Virginia. The Virginia Shop offers programs such as artist demonstrations, First Friday events, and an evening book club, Books on Broad. We regularly feature the work of Virginia artists and artisans and focus on products made in, and inspired by, the commonwealth. If you have questions or would like to place an order please contact the Virginia Shop staff at 804.692.3524 or visit our online shop at www.thevirginiashop.org.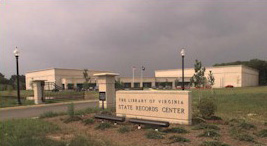 Archives Annex Reading Room at the State Records Center:
The Archives Annex Reading Room is open on Wednesdays and Thursdays, 9:00 AM to 12:00 PM and 1:00 PM to 4:30 PM. The building is closed during the lunch hour. Researchers should consult with the Archives Reference Services staff about materials housed there and call 804-692-3888 in advance to schedule an appointment. Researchers must register to use the room and follow the same policies as govern the use of materials in the Archives and Map Research Rooms at the Library of Virginia.
State Records Center Directions
Tours of the Library:
Tours consist of an orientation video, a brief overview of the building (from the lobby), and a tour of the current exhibition. Each tour lasts about 45 minutes. Tours with advance notice are available based on staff availability. Special tours can also be arranged for educators and students. To arrange a tour please contact us or call 804-692-3901.
Food Services
There are several restaurants in the vicinity of the Library of Virginia. You can search the website of the Richmond Metropolitan Convention and Visitors Bureau http://www.visitrichmondva.com/things-to-do/restaurants/ for restaurants in the downtown area. Please be advised that some near by eating facilities are not open on weekends.
Discovery Café
Located in the Library of Virginia's lobby, the Discovery Café serves breakfast and lunch, offering a daily selection of wraps, sandwiches, salads, and fresh soups, as well as a hot lunch special. The café is managed by executive chef Kelly McCabe, a downtown Richmond favorite
HOURS: Monday–Friday, 8:30 AM–3:00 PM | Saturday: 11:00 AM–2:00 PM
Research Groups:
Groups planning to visit the library are encouraged to contact Archives Reference Services (to use the archival, manuscript and map collections) or Library Reference Services (to use the reference collections and databases) before arrival. Reference archivists or reference librarians may be available to speak to groups regarding use of the collections, indexes, and electronic resources. If the group has a special area or topic of study, staff will be able to prepare more effectively if notified of the group's arrival ahead of time. We strongly recommend that research groups be limited to a maximum of twenty people in order to make effective use of time and resources.

Please be aware that it is important to contact us in advance especially if your group is not very experienced in using library collections. Staffing constraints, especially on Saturdays, may limit the amount of time and availability of research archivists or reference librarians to assist your group.