Click any excerpt below to read the full article.
Eight Chosen as 2014 Strong Men & Women in Virginia History

In observance of Black History Month the Library of Virginia and Dominion Virginia Power are honoring eight distinguished Virginians as the 2014 Strong Men & Women in Virginia History for their contributions to Virginia and the nation. Those honored this year include men and women who were born into slavery but rose to become authors, editors, and educators, as well as those who continue to push back frontiers in their communities.

The 2014 honorees are:

Elizabeth Hobbs Keckly (1818–1907), Dinwiddie County, Seamstress and Author
John Mitchell, Jr. (1863–1929, Richmond, Newspaper Editor
James Heyward Blackwell (1864–1931), Richmond, Educator and Community Advocate
Mary Hatwood Futrell (1940– ) Lynchburg, Educator and Organization Leader
Olivia Ferguson McQueen (1942– ), Charlottesville, Civil Rights Pioneer
James Randolph Spencer (1949– ), Richmond, Federal Judge
William Darnell "Bill" Euille (1950– ) Alexandria, Mayor
Marcellus Spencer "Boo" Williams, Jr. (1958– ) Hampton, Youth Sports Mentor

Each generation of African Americans has built on the achievements of those who came before to lead the way to the future. The men and women featured in the Strong Men & Women in Virginia History program offer powerful examples of individuals who refused to be defined by their circumstances. Their biographies are a testament to the determination...
February 14 is Deadline to Nominate Books for 2014 Literary Awards

The Library of Virginia is currently accepting nominations from the public, publishers, and authors for our 2014 literary awards. The deadline to nominate books is February 14, 2014.

Books eligible for the awards must have been written by a Virginia author or, for nonfiction books, have a Virginia-related theme. A Virginia author is defined as a writer meeting one or more of the following qualifications: a native-born Virginian, an author living in Virginia, or an author whose permanent home address is in Virginia. Entries can be submitted in the following categories: fiction, nonfiction, or poetry.

Entries for the 2014 awards must have been published and distributed between January 1 and December 31, 2013. Publishers should submit four copies of each book nominated.

The following types of books are not eligible for the awards: reference works, anthologies, documentary editions, children's and juvenile literature, photographic books, self-help...
Person of the Year: 1864 Symposium Set for February 22

The Library of Virginia, the American Civil War Center, and the Museum of the Confederacy are pleased to present the 2014 Symposium: "Person of the Year: 1864" on February 22, 9:30 AM–4:00 PM, at the Library of Virginia. Civil War scholars Gary Gallagher, John Marszalek, Joe Mobley, and Craig Symonds will provide the nominees for "Person of the Year" in their lectures, and the audience will have the final say by casting ballots for the most influential person of 1864. Who will join Abraham Lincoln (1861), Robert E. Lee (1862), and Ulysses S. Grant (1863) on this most distinguished...
Virginia Festival of the Book Set for March 19–23 in Charlottesville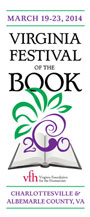 Book lovers from across the Southeas will gather in Charlottesville for the 20th annual Virginia Festival of the Book, March 19–23. Produced by the Virginia Foundation for the Humanities and held at more than 50 venues throughout Charlottesville and Albemarle County, the Festival of the Book has become a spring tradition. At its 20-year mark, the festival is now the largest educational book event on the East Coast. Last year attendees came from more than 40 other states and foreign countries, attending 200 festival programs.The festival offers programs with poets, mystery writers, historians, memoirists, fantasy and science fiction authors, children's writers, and experts on publishing. Program participants range from authors such as David Baldacci, Rita Mae Brown, Dean King, and Lois Lowry to Joanne Gabbin, Joel Salatin, Gary Gallagher, and Meg Medina. Each day of the festival offers participants the chance to gorge on the words of some of today's best...
Congratulations to the 2014 Strong Men & Women in Virginia History Essay Contest Winners

As part of the Strong Men & Women in Virginia History Program, Dominion Virginia Power and the Library of Virginia sponsor an annual student essay contest in which high school students throughout Virginia are invited to honor outstanding African Americans. Four winning essays are chosen, one from each of the four regions in Virginia that Dominion serves.This year students were asked to reflect on John Mitchell Jr. (1863–1929), editor of the influential African American newspaper the Richmond Planet. As editor, he fought against racism and for African American advancement in politics, business, and education. Students were then asked to write essays about overcoming obstacles ...
LVA on the Road Spring

The Library of Virginia is more than the modern stone-and-glass building in downtown Richmond.

It's more than the primary collection of official government documents and records for the commonwealth, and more than a genealogical resource connecting millions of Americans to their roots.

Many Virginians who take advantage of the obvious attractions don't realize that the Library is also a traveling resource, taking information and expertise into communities across Virginia.

Lectures, speeches, and teaching opportunities are just a few of ways the Library works to encourage learning and understanding of Virginia's history and culture. Specialists and experts offer presentations on Virginia history, genealogy, maps, preservation, local and state...




Through Saturday, March 8, 2014


Virginia General Assembly in Session. Parking at the Library will be very limited.
Please note that the Virginia General Assembly, the oldest continuous law-making body in the New World, will be in session for 60 days beginning January 8. Parking for Library of Virginia patrons will be very limited during that time because construction on the Ninth Street Office Building is closing the gravel parking lot at Ninth and Broad streets.

Tuesday, February 11, 2014
Book Signing with The Right Honorable Countess of Carnarvon
Time: 12:00–3:00 PM
Place: The Woman's Club, Bolling Haxall House
The Woman's Club, in partnership with the Library of Virginia, will host a book signing with the Countess of Carnarvon of her new book, "Lady Catherine, the Earl, and the Real Downton Abbey."

Tuesday, February 11, 2014
An Evening with the Countess
Time: 5:00–7:00 PM
Place: The Woman's Club, Bolling Haxall House (211 E. Franklin Street, Richmond, VA 23219), $50 for members of the Semper Virginia Society or The Woman's Club and nonmember guests.
"An Evening with the Countess" will include a presentation by the Countess of Carnarvon on her new book, preceded by a wine reception meet-and-greet . Reception 5:00–6:00 PM, followed by presentation 6:00–7:00 PM. For more information, please call Jennifer Blessman at 804-692-3561

Thursday, February 13, 2014
Film Screening: It Happened One Night
Time: 6:00–8:00 PM
Place: Lecture Hall
Join us for a screening of Frank Capra's 1934 classic romantic comedy, It Happened One Night, starring Claudette Colbert and Clark Gable. The film, which has been selected for preservation in the United States National Film Registry by the Library of Congress, was the first to win all five major Academy Awards (Best Picture, Director, Actor, Actress, and Screenplay). This story of opposites attracting—with Colbert's pampered socialite and Gable's roguish reporter forced to share a motel room for the night—remains a standard for its genre. Presented in conjunction with the Library's exhibition No Vacancy: Remnants of Virginia's Roadside Culture

Saturday, February 15, 2014
Closed
The Library of Virginia will be closed so the reading rooms can be open on on George Washington Day.

Monday, February 17, 2014
Administrative Offices Closed
Administrative offices will be closed for George Washington Day. Lobby, reading rooms, and stacks will be open.
Wednesday, February 19, 2014
STRONG MEN & WOMEN PANEL DISCUSSION
John Mitchell: Life and Legacy of Richmond's "Race Man"
Time: 7:00–8:30 PM
Place: Lecture Hall, Free
Early in the 20th century, the term "race man" described a public figure who promoted the interests of African Americans on every front. John Mitchell published the Richmond Planet from 1884 to 1929 and made it one of the most influential black newspapers of its time. Greg McQuade of Richmond news station WTVR moderates a conversation on this important figure with historian Roice Luke, biographer Ann Field Alexander, and journalist Brenda Andrews.

Through Saturday, February 22, 2014
The Importance of Being Cute: Pet Photography in Virginia
Time: 9:00 AM–5:00 PM
Photographs of animals dominate the web. From the cute to the ridiculous, millions of pet images are viewed and shared each day. The historical precedent for this online phenomenon can be found in The Importance of Being Cute.

Through Saturday, February 22, 2014
No Vacancy: Remnants of Virginia's Roadside Culture
Time: 9:00 AM–5:00 PM
Explore the evolution of Virginia's roadside lodging along U.S. Route 1, once the main highway for travel along the East Coast, through this exhibition of vintage and current photographs. Early and mid-20th century travelers along Route 1 stopped at camps, motor courts, roadside cottages, and motels to take a break from the hours of driving. Often locally owned, these businesses were full of the local flavor of the area. Today, in the shadows of the bright lights of the Holiday Inns, Best Westerns, and the Hiltons, the remnants of Virginia's roadside culture can still be seen through its rusted signs, overgrown lots, boarded windows, and re-purposed buildings.

Wednesday, February 26, 2014
"Books on Broad" Featuring Cory MacLauchlin
Time: 5:30–7:30 PM
Place: Lecture Hall
Cory MacLauchlin's Butterfly in the Typewriter is the definitive biography of John Kennedy Toole, author of A Confederacy of Dunces, whose fascinating life and death have remained shrouded in mystery. Reception (wine and cheese) 5:30–6:00 pm, book talk 6:00–7:00 pm, and book signing 7:00–7:30 pm.

Monday, March 17-September 13, 2014
Flora of Virginia
Time: 9:00 AM–5:00 PM
Discover the power of the flower. Delve into Virginia's natural environment through Flora of Virginia, an exhibition featuring hundreds of colorful illustrations from the Library of Virginia's collections. Learn fun facts about Virginia's native plants. Examine the history of botanical description and illustration. Explore the personalities behind the folks who collected and described these plants. Try your hand at sketching a specimen at the drawing station. Check our Web calendar for information about exhibition-related events.