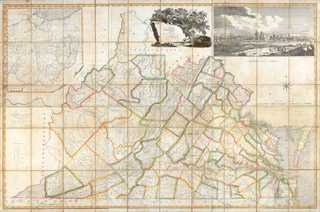 James Madison (1749–1812), A Map of Virginia Formed from Actual Surveys.
Richmond, 1807. Frederick Bossler, engraver. Engraving with outline color.
The Library of Virginia.
Derivatives

Later mapmakers relied on the Fry-Jefferson map to create new maps of British colonies and of Virginia. The Fry-Jefferson map was widely copied, and several French language editions and derivatives were published. It was an important resource for Lewis Evans as he drew
A general Map of the Middle British Colonies, in America
, and for John Mitchell who created one of the most important political maps of colonial North America,
A MAP of the British and French Dominions in North America
. Fellow Virginian John Henry relied heavily on Fry and Jefferson's map as he plotted out Virginia's county boundaries in his
New and Accurate MAP of VIRGINIA
, published in 1770. Thomas Jefferson, Peter Jefferson's son, also used his father's map heavily while compiling
A Map of the country between Albemarle Sounds, and Lake Erie
to accompany his
Notes on the State of Virginia
.
| | |
| --- | --- |
| | John Mitchell (1711–1768). A Map of the British and French Dominions in North America with the Roads, Distances, Limits, and Extent of the Settlements. Thomas Kitchin, engraver. London, 1755; 2nd edition, 1755–1757. Engraving with outline color. The Library of Virginia. |
| | Robert de Vaugondy (1727–1786). Carte de la Virginie et du Maryland Dressée sur la grande carte Angloise de Messieurs Josué Fry et Pierre Jefferson. E. Haussard, engraver. Paris, 1755–1757. French derivative, State 1. Engraving. The Library of Virginia. |
| | Robert de Vaugondy (1727–1786). Carte de la Virginie et du Maryland Dressée sur la grande carte Angloise de Messieurs Josué Fry et Pierre Jefferson. Paris, 1793. State 5. Engraving with outline color. The Library of Virginia. |
| | Georges-Louis Le Rouge (1712–1790). Virginie, Maryland en 2 feuilles par Fry et Jefferson Traduit, Corrigé augmenté. Paris, 1777. Engraving with outline color. The Library of Virginia. |
| | John Henry (ca. 1704–1773). A New and Accurate Map of Virginia Wherein most of the Counties are laid down from Actual Surveys. Thomas Jefferys, engraver. London, 1770. Engraving with outline color. The Library of Virginia. |
| | Lewis Evans (d. 1756). A General Map of the Middle British Colonies, in America. James Turner, engraver. Philadelphia, 1755. Engraving. The Library of Virginia. |
| | William Scull (fl. 1770-1778). A Map of Pennsylvania Exhibiting not only the Improved Parts of that Province, but also Its Extensive Frontiers. Published in American Atlas, compiled by Thomas Jefferys. London: Robert Sayer and John Bennett, 1775. Engraving. The Library of Virginia. |
| | A Map of the country between Albemarle Sound, and Lake Erie, comprehending the whole of Virginia, Maryland, Delaware and Pennsylvania. In Notes on the State of Virginia, by Thomas Jefferson. Philadelphia: Prichard and Hall, 1788. Engraving with outline color. The Library of Virginia. |
| | Samuel Lewis (ca. 1754-1822). The State of Virginia from the best Authorities. Philadelphia, 1795. Digital facsimile of engraving with outline color. In "Scrapbook Relating to Thomas, 6th Lord Fairfax, His Estate and Family," comp. Orlando Fairfax. The Library of Virginia. |
| | James Madison (1749–1812). A Map of Virginia Formed from Actual Surveys, and the latest as well as the most accurate observations. Frederick Bossler, engraver. Richmond, 1807. Engraving with outline color. The Library of Virginia. |