Virginia Archives Month October 2016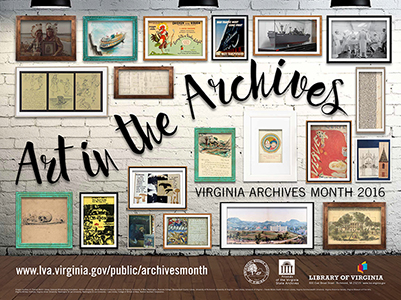 Most archives and special collections repositories house art in some form or another—either within individual collections or as a distinct responsibility. To highlight this fact, "Art in the Archives" was chosen as this year's Archives Month in Virginia theme. Archives and special collections all across the Commonwealth house art and artistry in conventional and unexpected collections. Archives are not always about serious research—they can be about serious (or not so serious) art, too! To that end, the Virginia caucus of the Mid-Atlantic Regional Archives Conference (MARAC) is holding a contest called REMIX | Art From The Archives through October 14th. The public is invited to create redaction poetry, GIFs, collages, coloring pages, memes, and other digital interventions using archival images found in the 2016 Virginia Archives Month Flickr album.
Again this year, we are using Flickr to display and share the images submitted by Virginia institutions.
Please visit https://www.flickr.com/photos/133047375@N06/sets/72157670744878055/ to view this year's images.
Please enjoy and share the Archives Month poster, created from images submitted by archives and manuscript repositories from across the state, the poster highlights Virginians' rich historical and cultural traditions. Additionally, Governor McAuliffe's Certificate of Recognition is available in PDF format for download.
We also welcome you to explore your Virginia cultural heritage by delving into an archives collection near you during the month of October. Numerous programs, lectures, and tours are slated to take place at institutions around the Commonwealth, so keep track of events on their web pages or on the Archives Month Facebook page. In the Richmond region, also check out the Artober calendar for lots of cultural events and programs. Visit your local repository to find inspiration for an creative endeavor or just to appreciate the beauty and power of Art In The Archives.