Happy Archives Month, Virginia!
Though Virginia Archives Month arrives every autumn, there is truly no season of the year where you cannot find an archival item or collection to satisfy your research needs or pique your curiosity. Whether you're heading to the Tidewater or Eastern Shore for summer vacation, Fall apple picking in the Valley or the piedmont, heading over the snowy Blue Ridge to visit the old home place for the holidays, or spring strawberry picking in Southside, somewhere nearby is an archive with interesting, informative collections. That is why this year's theme for Archives Month in Virginia is "An Archive for All Seasons: Virginia's Archives & Special Collections."
Every year during October, the archival community in the commonwealth celebrates American Archives Month to raise public awareness about the importance of preserving and sharing cultural and historical documents from families, communities, states, and the country at large. Archivists reach out to their communities during this month to make connections and educate the public about the value of archives and their work in caring for and making them accessible. Archives are unique assets that allow society to tell its story, hold governments accountable, and safeguard the rights of its citizens.
That said, archives do not always have to be places of serious research—they can be about serious (or not so serious) creativity, too! This 2020 Virginia Archives Month webpage contains links to coloring pages and jigsaw puzzles that even the casual or first–time archival user can hopefully find fun and informative. Also, the 2020 Archives Month album (along with past albums and posters) can be found on our Flickr page.
We welcome you to explore Virginia's diverse cultural heritage by delving into an archives collection near you during the month of October or any time of year. Find out about events during Archives Month below or contact your local repository for events in your area.
"An Archives for All Seasons:" Virginia Archives Month 2021 Calendar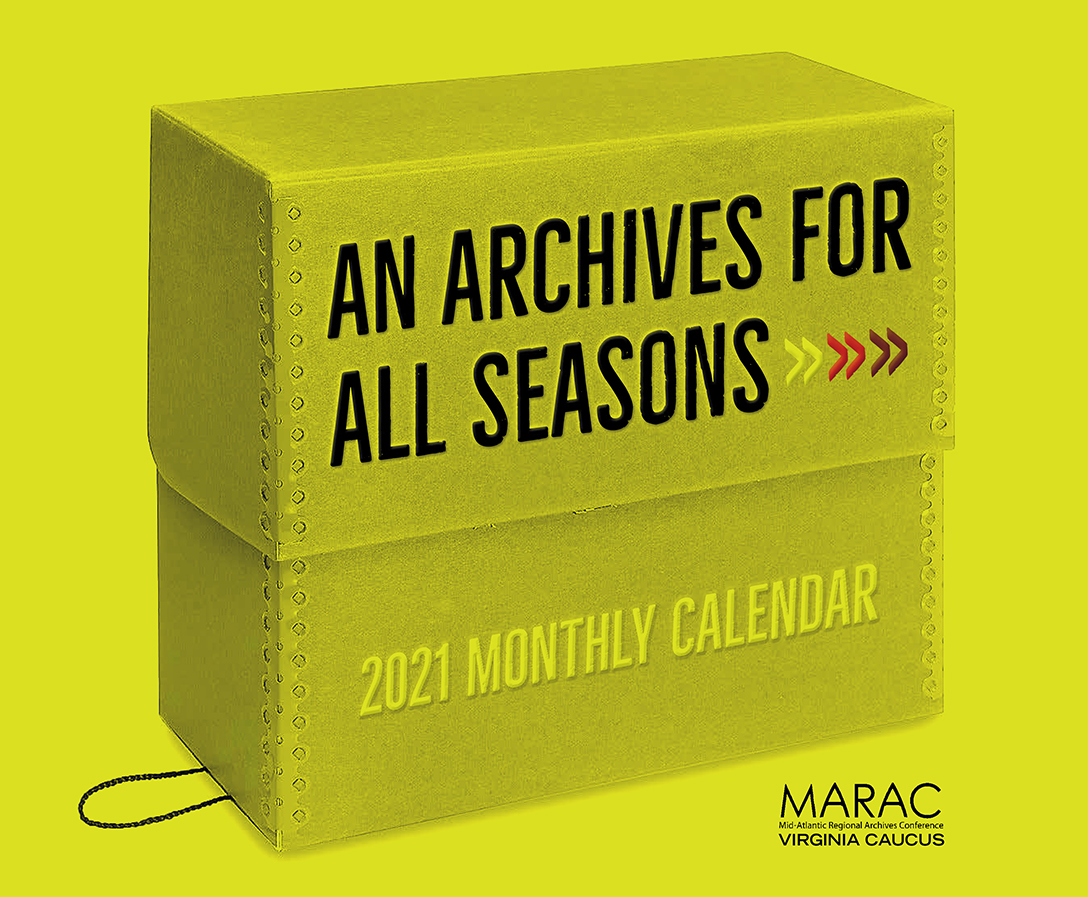 Give time meaning again with the 2021 "An Archives for All Seasons" monthly calendar. For just $12 you can support two great causes and organize your upcoming year with an intriguing 2021 wall calendar. "An Archives for All Seasons" features images that highlight Virginia's rich historical and cultural traditions from 19 archives and manuscript repositories across the state. It was created in honor of Virginia Archives Month (October) by the Library of Virginia, the Mid-Atlantic Regional Archives Conference Virginia Caucus, and the Friends of the Virginia State Archives.
Profits from the calendar will benefit the Archival Workers Emergency Fund, to support archival workers experiencing financial hardship during the COVID–19 crisis, and Books Behind Bars, a volunteer organization that matches up donated books with requests from the incarcerated population of Virginia. Available exclusively at the Virginia Shop.
Archives Month Events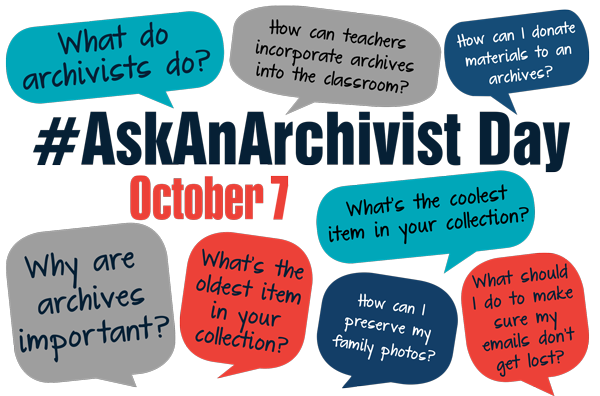 Oct. 7, Ask An Archivist Day
On October 7, archivists around the country will take to Twitter to respond to questions tweeted with the hashtag #AskAnArchivist. Ask us anything about the collections, careers in archives, or our institutions. Organized by the Society of American Archivists.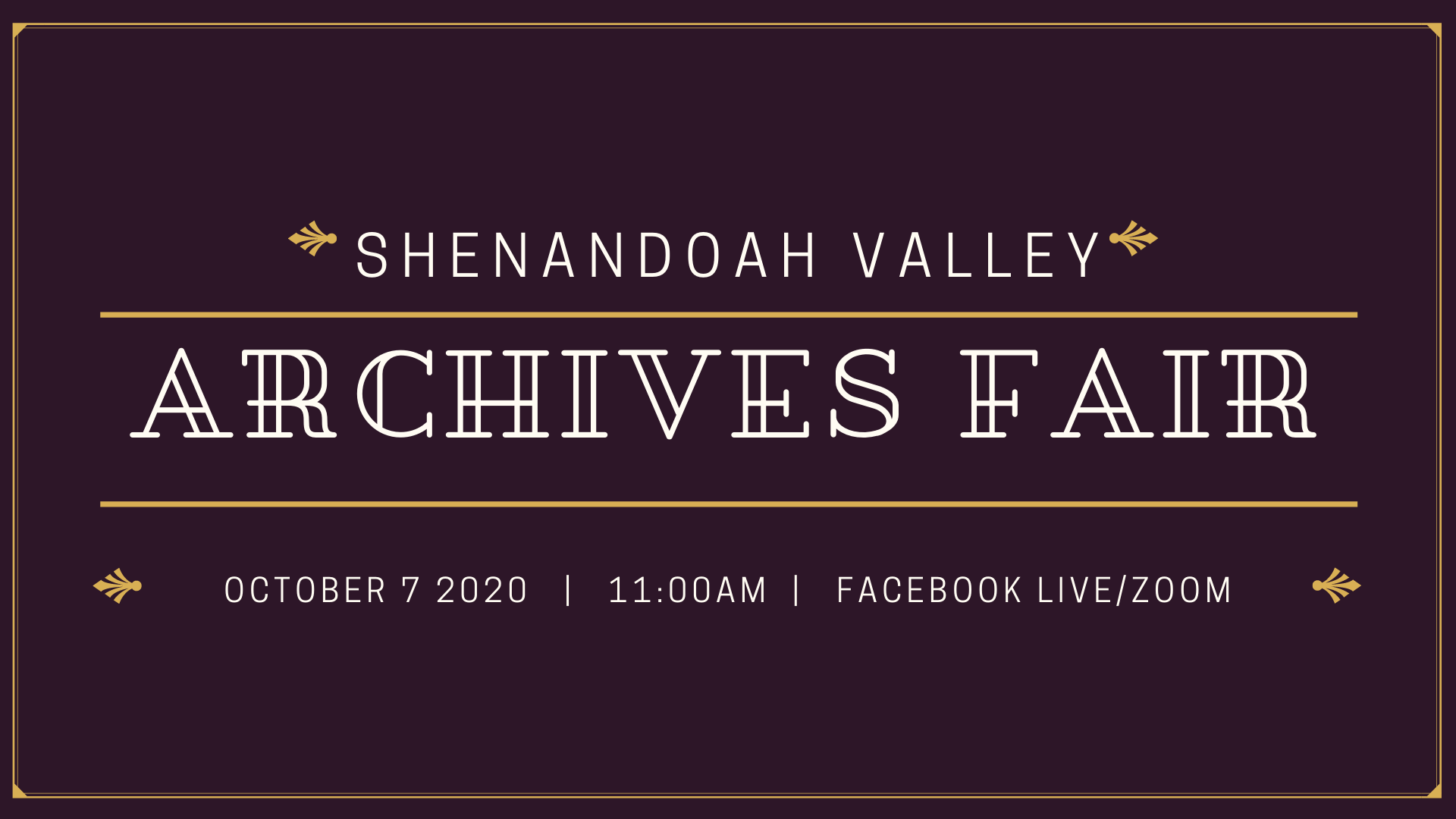 Oct. 7, 11 AM, Shenandoah Valley Archives Fair
This virtual event is an opportunity for individuals to learn about archives, the collections held in various regional institutions, how to access them, and tips for conducting your research. The fair will begin at 11:00AM and will be conducted via Zoom and also broadcast live on Facebook. Hosted by the Shenandoah County Library and includes other regional archives. RSVP to zhottel@countylib.org.
Oct. 9, Electronic Records Day
Electronic Records Day is on 10/10 each year, but we're celebrating one day early this year! E–Recs Day is part of American Archives Month and recognizes the special care and attention these records require. For more information, check out 10 Reasons Why Electronic Records Need Special Attention from the Council of State Archivists (CoSA). Follow #ERecsDay on Twitter.
Oct. 20, Public Records, Public Trust: Records Management in Government
What makes a record a public record? What rules apply to the management of public records? When does a public record become archival? What is the role of records management in government transparency? In honor of Archives Month, explore these questions and more with Michael Strom, State Archivist and director of Government Records Services, and Chad Owen, records management coordinator. Open to the general public, this presentation is intended for Virginia state and local government employees and agency records managers. To join this virtual discussion hosted on Zoom, see the Facebook event.
In the weeks following the Archives Fair local archivists will be releasing a series of "lightning talks" designed to share information about collections, access, and research. A full schedule for these talks and a list of participating institutions will be released at a later date.
Jigsaw Puzzles
Solve these three online puzzles, created from our Archives Month 2020 images.
Virginia Archives Month 2020 Videos