Virginia Archives Month 2021
Marchers, many carrying signs, during the March on Washington for Jobs and Freedom, August 28, 1963. Oliver F. Atkins photograph collection, C0036, Special Collections Research Center, George Mason University Libraries.
It hardly needs to be said, but 2020 and 2021 have been landmark years for the United States, and the world at large. Not only did 2020 bring a global pandemic, it also brought forth focused attention on racism, bigotry, and institutional inequality like never before. This led to a groundswell of activism and a fight for intrinsic human rights - particularly those of BIPOC (Black and Indigenous People of Color) communities - that the U.S. has not seen since the 20th century. The activism of thousands of Americans, both past and present, inspired this year's Virginia Archives Month theme - Activism and Archives.
How do archives intersect with activism? Well, not only do archives provide documentation of activists, activism, social movements, and social injustices through the decades, archives and archival collections are also used as tools in modern activism. Examples include: bringing a modern lens to past injustices, gathering information to support modern causes and research, and providing information and documentation to assist with reparations. We've included links to projects and news where archives supported these kinds of inspiring and necessary projects.
This year, we welcome you to explore records from Virginia repositories highlighting activism of the past and present on our Flickr page. Free coloring pages can be used in the classroom, both in person or virtually, to teach about activism and protest. We've also created some downloadable postcards for you to print off and send to your representatives so you can advocate for the causes you're passionate about.
As always, we also have links to archival information and events happening during October. We hope you'll find some benefit to these resources and share them with colleagues, friends, and family.
The Second National March on Washington for Lesbian and Gay Rights, 1987 (photographs by Neal Parsons). Mss1 P9425a FA2, The Proctor-Burns Collection, 1850-2019. Image courtesy of the Virginia Museum of History and Culture.
Postcards
Download, print, and send any of these postcards to celebrate the history of activism in Virginia, as documented in the Commonwealth's archival institutions. Download here.
Coloring Pages
Download, print, and color these pages to explore the history of activism in Virginia. Download here.
Want to share your postcards or coloring pages? Post them to social media with the hashtag #ArchivesMonthVA.
Puzzles
Try these fun online puzzles made from two of this year's activism images. Reassemble the pieces to complete the puzzle! Click the image below to go to the online puzzle.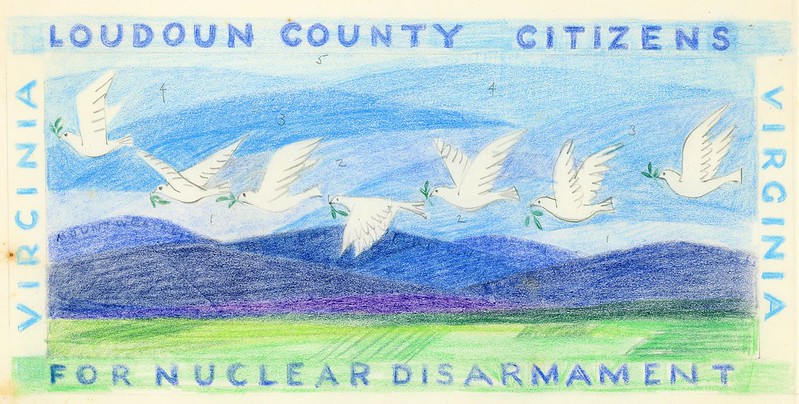 Sketch for Loudoun County Citizens for Nuclear Disarmament Banner Design drawn by artist Dagmar Wilson. Image courtesy of Thomas Balch Library, Leesburg, VA.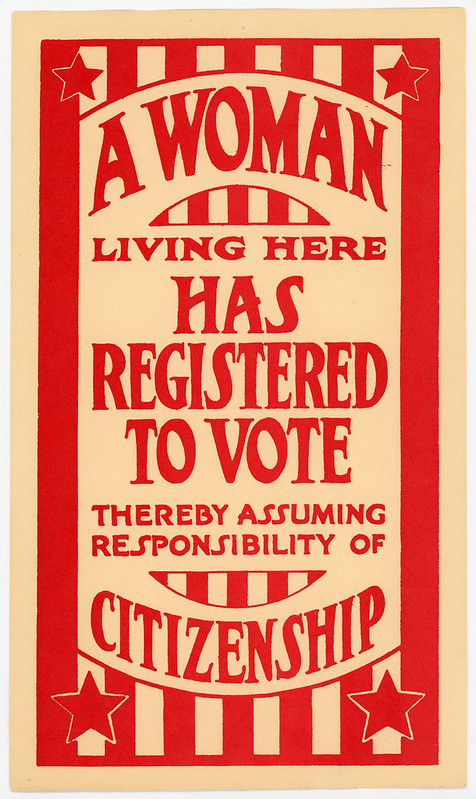 Voting window poster, date unknown. League of Women Voters of the Fairfax area records, C0031, Special Collections Research Center, George Mason University Libraries.
Archives Month Events
Electronic records are crucial to documenting recent history. Follow the hashtag #ERecsDay to learn how archives and archivists are pioneering the preservation of and access to electronic records.
On October 13, archivists around the country will take to Twitter to respond to questions tweeted with the hashtag #AskAnArchivist. Ask us anything about the collections, careers in archives, or our institutions. Organized by the Society of American Archivists.
On Wednesday, October 20 2021 archivists from throughout the region will gather to share information about their collections during the third annual Shenandoah Valley Archives Fair.
This virtual event will be held via Zoom and Facebook live at 11:00AM. Participants include the Clarke County Historical Association, Thomas Balch Library, Stewart Bell Jr. Archives at the Handley Library, Truban Archives at the Shenandoah County Library, Massanutten Regional Library, James Madison University Special Collections, Rocktown History, and Bridgewater College's Special Collections.
During this event, representatives from these institutions will discuss their collections, new materials, how to access them, and important tips for conducting research. They will also talk about their work within the communities they serve. A question and answer period will follow. To participate via Zoom, RSVP to zhottel@countylib.org. The Facebook Live broadcast will occur via the Shenandoah County Library's Facebook page and those of other institutions.
Join the Library of Virginia and the Virginia Museum of History & Culture (VMHC) for a virtual transcription workshop focused on materials from Virginia Untold and Unknown No Longer digital projects. Volunteers will transcribe handwritten documents related to the lives of enslaved and free Black people in pre-1865 Virginia, making these records more accessible for all. Registration required through HandsOn Greater Richmond.
Sketch for Loudoun County Citizens for Nuclear Disarmament Banner Design drawn by artist Dagmar Wilson. Image courtesy of Thomas Balch Library, Leesburg, VA.
Projects & Resources
Virginia
University of Mary Washington (UMW) Special Collections and University Archives
The LGBTQ+ Alumni Oral History Project is part of a larger initiative to collect oral histories from different groups of UMW alumni. The project began in 2019 when Dr. Erin Devlin's HIST 441 class partnered with Alumni Relations and UMW Libraries to preserve the perspectives of LGBTQ+ alumni. A news release and a Special Collections blog post are available to read that shed more light on the nature and importance of the project.


James Farmer's Reflections Lectures – Civil Rights leader James Farmer was a professor at Mary Washington in the 1980s-90s and taught a course on civil rights history. The Reflections series was a partnership with PBS to capture thirteen of his lectures he gave while a professor at the college. Part of a larger collection of archival James Farmer images and other audiovisual materials, the Reflections lectures stand out in large part because the effort of making them available and accessible was student-led. Enjoy this blog post by a student who captioned all the lectures.
---
Old Dominion University (ODU) Special Collections & University Archives
Old Dominion University Social Justice and Activism Archive
---
George Mason University (GMU) Special Collections Research Center
"The 19th Amendment in the 20th Century" Digital Exhibition"
---
Mid-Atlantic Regional Archives Conference (MARAC)
MARAC Spring 2021 Archived Conference "Suffrage Legacies: Civil Rights, Political Activism, and Archives"
---
The College of William & Mary
The Lemon Project
---
Virginia Commonwealth University
East Marshall Street Well Project
The East Marshall Street Well Planning Committee implemented a community process that encouraged learning about the human remains discovered near East Marshall Street and sought community input in the formation of the Family Representative Council. The Family Representative Council will serve to represent the "descendant community" that will make recommendations on behalf of those individuals whose remains were discovered to support appropriate study, memorialization and reburial with dignity.
---
March to End the War in Vietnam, 1969, from the Centennial Image Collection, photograph by Dan Dervin. Image courtesy of Special Collections and University Archives, Simpson Library, University of Mary Washington.
News Links on Activism and Archives
Virginia and West Virginia

Emma, Carrie, Vivian: How A Family Became A Test Case For Forced Sterilizations, NPR.
Compensate eugenic sterilization victims: Column, USA Today.
WVRHC documenting struggles and achievements in Feminist Activist Collection, MountaineerENews
Students connect with lesser-known University history during special class on May Days, The Cavalier Daily.

Nationwide
Syphilis Study Legacy Committee, National Center for Bioethics in Research and Health Care, Tuskegee University.
Final Report of the Syphilis Study, Legacy Committee, May 20, 1996.
The Lemon Project, The College of William & Mary.
Missouri museum staff defended LGBT exhibit to superiors: emails, The Kansas City Star.
"The Car Bombing of Judi Bari: A Community Remembers:" Mendocino County Museum exhibit and workshops begin Sept. 18, The Mendocino Voice.
How Migrant Filmmakers Practice Archival Activism, SAPIENS.
What We Can Learn About Activism Today in the Archives of Queer History, The Nation.
A Tour Through Design and Social Activism in LA, From 1960s to Today, Hyperallergic.
The Archivist and the Activist: Behind a New Book About Angela Davis, KQED.
Southeast Side Archive Makes History 'Come Alive' With Short Documentaries, Curated Collections, Block Club Chicago.
Latino archives at Houston Public Library heralds new research center, Houston Chronicle.
Visiting Scholar seeks answers in UNM archives, UNM Newsroom.
Meet the digital age trailblazers trying to preserve Austin's Latino history, austin360.
Support Archivists and Archives
Consider donating to archives in your area to support this vital work, or donate to one of the
Mid-Atlantic Regional Archives Conference funds:
Disaster Relief Fund
Money from this fund will be used to help archives and special collections repositories within the MARAC region in their time of greatest need.
Graduate Scholarship Fund
Your gift will be used to fund a Graduate School Archival Education Scholarship awarded to a graduate student who lives or attends school in the MARAC region.
Archival Education Fund
Your gift will be used to help fund an array of MARAC educational initiatives, such as providing scholarships to MARAC workshops and conferences, stipends for MARAC meeting attendance, and scholarships to other archival industry seminars.