Prince William County
Formation Date:
1730
Formed From:
Stafford and King George Counties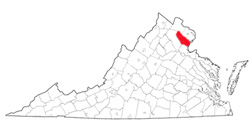 Prince William County was named for William Augustus, duke of Cumberland and third son of George II. It was formed from Stafford and King George counties in 1730. The area is 337 square miles, and the county seat is Manassas. The population is 280,813 according to the 2000 census. Many county court records have been lost, destroyed, or stolen at various times. Scattered years of deeds, wills, and orders, as well as various bond books and a plat book, survive.
Note: Many pre–Civil War records were lost, destroyed, or stolen by Union troops in 1863.
Original Records at The Library of Virginia: Yes