Wednesday, March 14, 2018
---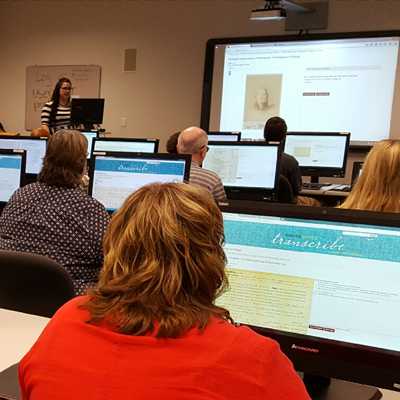 VOLUNTEER OPPORTUNITY
Transcribe-a-thon
Wednesday, March 14, 2018
Time: 5:30 PM–7:30 PM
Place: Network Training Center
Registration required: http://bit.ly/LVAvolunteer.



Join other volunteers to transcribe handwritten pages by reading written text and typing it into digital form. Participate in enhancing access to collections of more than 400 years of Virginia history and culture. Twelve computer stations will be available. If you have your own laptop, please bring it! Transcribe-a-thons are facilitated by the volunteer organization HandsOn Greater Richmond. Minimum age is 16 (12 with an adult).

---
EXHIBITION
2018 Virginia Women in History
Thursday, March 01, 2018 — Saturday, March 31, 2018
Place: Second Floor Lobby, Free
In observance of Women's History Month, the Library of Virginia celebrates the lives and contributions of eight extraordinary Virginia women in this traveling exhibition as the 2018 Virginia Women in History. The honorees have developed new approaches to old problems, served their communities, striven for excellence based on the courage of their convictions, and initiated changes that continue to affect our lives today. See the links at left for a schedule of other locations for this exhibition.

---
EXHIBITION
True Sons of Freedom
Tuesday, January 16, 2018 — Friday, November 09, 2018
Place: Exhibition Gallery & Lobby, Free
True Sons of Freedom, a photographic exhibition at the Library of Virginia, explores the stories of Virginia's African American soldiers who served during World War I. More than just mementos for families and sweethearts, these portraits challenge the crude and demoralizing cultural products of an era that often reduced African Americans to stereotypes and denied them full participation as citizens of the United States. Reflecting the pride and determination of African American World War I servicemen, the images were submitted with the soldiers' responses to military service questionnaires created by the Virginia War History Commission as part of an effort to capture the scope of Virginians' participation in the Great War. The original photographs, reproduced in the gallery at nearly life-size dimensions, place visitors at eye level in front of the soldiers. The monumental scale allows viewers the opportunity to examine rich details not seen in the original photo postcards.


For more information, go to www.virginiamemory.com/truesons.

---