Wednesday, May 24, 2017
---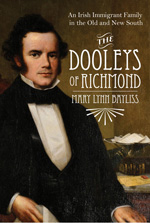 BOOK TALK WITH MARY LYNN BAYLISS
The Dooleys of Richmond: An Irish Immigrant Family in the Old and New South
Wednesday, May 24, 2017
Time: Noon–1:00 PM
Place: Conference Rooms, Free
Join writer and lecturer Mary Lynn Bayliss as she discusses her book The Dooleys of Richmond, a biography of two generations of a dynamic and philanthropic immigrant family in the urban South. The first generation established one of the largest hat manufacturing companies in the country and became leaders in business, education, culture, and politics in Virginia. After the Civil War, James Dooley developed railroad networks across the United States and, with his wife, built Maymont, the famed Gilded Age estate that remains a major attraction in Richmond. The story of the Dooleys is a fascinating window on southern society and the people who shaped its grand and turbulent history. A book signing follows the program.

---
EXHIBITION
Teetotalers & Moonshiners: Prohibition in Virginia, Distilled
Monday, April 03, 2017 — Saturday, December 02, 2017
Place: Exhibition Gallery & Lobby, Free
Which Virginia county is the Moonshine Capital of the World? The Library of Virginia's upcoming exhibition, Teetotalers & Moonshiners: Prohibition in Virginia, Distilled, will reveal that and more as it explores the impact of Prohibition on the Old Dominion. On November 1, 1916, Virginia's breweries and distilleries closed their doors as the state began a grand experiment in Prohibition. From that date until 1933, state inspectors and federal agents attempted to stem the flow of illicit alcohol to a thirsty populace. Newsreels of still-busting raids, music from the Jazz Age, and vintage stills will complement the archival record of the exploits of Virginia's Prohibition Commission. This exhibition is supported in part by the Virginia Department of Alcoholic Beverage Control and the National Alcohol Beverage Control Association.

---