The Dictionary of Virginia Biography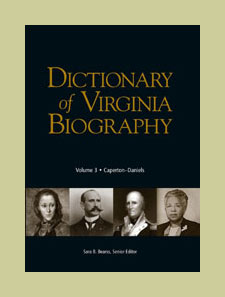 View the classified index that breaks down the 1,400 names in the volumes already published chronologically, geographically, and in other ways.
The Dictionary of Virginia Biography (DVB) is the first scholarly, comprehensive biographical reference work on Virginia. Many of the entries offer the first reliable biography ever printed about their subjects. Thorough research in underused primary sources has corrected errors and uncovered new information about even the most well-known subjects. This multivolume reference work is an indispensable research tool for teachers, students, librarians, historians, journalists, genealogists, museum professionals, and others who need biographical information about those Virginians who, regardless of place of birth or death, made significant contributions to the history or culture of their locality, state, or nation. The DVB highlights many women, African Americans, Indians, and others whose lives have never before been studied. By broadening the definition of who, and what, is important, the compiled biographies have begun to reshape the narrative of Virginia's history.
The first volume of the Dictionary of Virginia Biography, published in 1998, covers surnames from Aaroe through Blanchfield. Volume 2 (2001) covers surnames from Bland through Cannon, and volume 3 (2006) includes surnames from Caperton through Daniels. As part of the Library of Virginia's partnership with the Virginia Foundation for the Humanities, previously published and future DVB entries will be available online at Encyclopedia Virginia, with digital media and primary source material.
Full Description (pdf) of the project, its goals, selection criteria, and methods.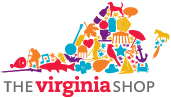 Available for purchase online through The Virginia Shop