Accomack County
Formation Date:
1663
Formed From:
Northampton County
Previous Names:
Accawmack, Accomac (original shire), Northampton (1643)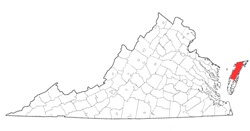 Accomack County was named for the Accomac Indians, who lived on the eastern Shore at the time of the first English settlement in Virginia. One of the original eight shires established in 1634, Accomac County (spelled without a k) became Northampton County in 1643. The present country was formed from Northampton about 1663. In 1940 the General Assembly adopted the county's present spelling. Its area is 476 square miles, and the county seat is the town of Accomac. The population is 38,305 according to the 2000 census.
Note: A significant number of loose records from the 1700s suffered extreme water and pest damage.
Original Records at The Library of Virginia: Yes