Princess Anne County
Formation Date:
1691
Formed From:
Lower Norfolk County. Now extinct, incorporated into the city of Virginia Beach in 1963.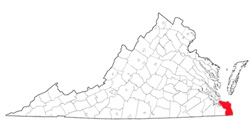 Princess Anne County (extinct) was named for Anne, daughter of James II, who became queen of England in 1702. The county was formed from Lower Norfolk County in 1691 and became extinct in 1963, after its consolidation with the city of Virginia Beach. The county seat was Princess Anne. See Virginia Beach.
Original Records at The Library of Virginia: Yes