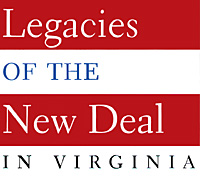 April 14, 2003 -
December 6, 2003
---
"C.C. CAMP IS A SWELL PLACE FOR A BOY TO LEARN."
Recording Our History: Writers and Artists
Federal Writers' Project

Virginia Writers' Project-Virginia Guide

Life Histories

Ex-Slave Narratives

Virginia Historical Inventory
Art for the People
Art for the People
Support for writers and arts professionals was available early in Roosevelt's administration. Part of the Civil Works Administration (CWA), the Public Works of Art Project (PWAP) employed artists to decorate public buildings. Support for artists also came from the Federal Emergency Relief Administration (1933-1935). In 1934 the Treasury Section of Painting and Sculpture took over the responsibilities of the PWAP to provide federal buildings with artwork. In Virginia, twenty-seven post office buildings, many constructed by the Public Works Administration, were decorated through the Treasury Department's program with murals of Virginia history and people painted by artists from different parts of the country. Federal Project Number One was a WPA project consisting of five divisions-the Federal Art Project, the Federal Music Project, the Federal Theatre Project, the Federal Writers' Project, and the Historical Records Survey. Directed nationally by Holger Cahill and statewide by Adèle Clark, the Federal Art Project flatly sought to develop a greater appreciation for American art through education and the integration of fine arts with practical arts.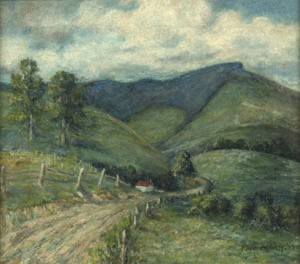 Rich Mountain - Tazewell, VA . Kathryn Marie McNulty, 1939, oil on canvas. Collection of the Commonwealth of Virginia