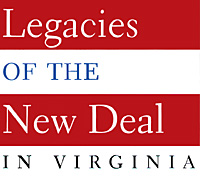 April 14, 2003 -
December 6, 2003
---
"C.C. CAMP IS A SWELL PLACE FOR A BOY TO LEARN."
Recording Our History: Writers and Artists
Federal Writers' Project

Virginia Writers' Project-Virginia Guide

Life Histories

Ex-Slave Narratives

Virginia Historical Inventory
Recording Our History: Writers and Artists
Established in 1935, the Works Progress Administration (after 1939, the Work Projects Administration) was one of the most ambitious and successful programs of the New Deal. The WPA created jobs by making available federal funds to localities to provide work rather than welfare for unemployed skilled and professional workers. Within a year, more than 3.5 million people were working on various WPA programs; by the agency's end in 1943, it had employed between 8.5 and 9 million people. The WPA was responsible for construction projects, including roads, public buildings, and sewers; plays and theatrical performances; travel and historical guides; historical surveys and inventories; and art centers and exhibitions.