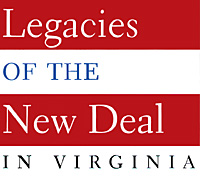 April 14, 2003 -
December 6, 2003
---
"C.C. CAMP IS A SWELL PLACE FOR A BOY TO LEARN."
Recording Our History: Writers and Artists
Federal Writers' Project

Virginia Writers' Project-Virginia Guide

Life Histories

Ex-Slave Narratives

Virginia Historical Inventory
Federal Writers' Project
The plan was ambitious: open an office in every state, hire more than 6,000 hungry people desperate for work, and pay them a subsistence wage (about $20 a week) to document the culture and landscape of America and create marketable publications. This was the challenge issued by Franklin D. Roosevelt's New Deal program when the Works Progress Administration created the Federal Writers' Project (FWP) in 1935. The mission of the Federal Writers' Project, in addition to providing security wages for unemployed clerks, writers, editors, lawyers, teachers, librarians, and archivists, was the compilation of state, local, and specialized guidebooks, as well as anthologies of oral history, folklore, and music.

From 1935 to 1942, the FWP produced temporary employment for and jump-started the careers of scores of talented writers. At its zenith in the mid-1930s, the FWP supported more than 6,700 writers and 12,000 volunteer readers and editors in offices in every state, with additional branches in New York City and Washington, D.C.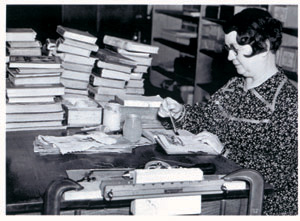 A WPA worker binding books
in Suffolk County