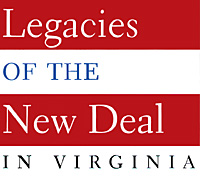 April 14, 2003 -
December 6, 2003
---
"C.C. CAMP IS A SWELL PLACE FOR A BOY TO LEARN."
Recording Our History: Writers and Artists
Federal Writers' Project

Virginia Writers' Project-Virginia Guide

Life Histories

Ex-Slave Narratives

Virginia Historical Inventory
Virginia Historical Inventory
The Virginia Historical Inventory is a collection of photographs, maps, and detailed reports documenting the architectural, cultural, and family histories of thousands of eighteenth- and nineteenth-century buildings in communities across the commonwealth. The Virginia Writers' Project created the inventory late in the 1930s, following the models of the Survey of Federal Archives and the Historical Records Survey of City, County and State Records, two other projects of the WPA. Workers for the Historical Inventory documented, assessed, and photographed early structures (many of which do not survive today), creating a pictorial and textual record of Virginia's past. They focused equally on documenting vernacular architecture and the history of everyday buildings built before 1860.
The collections of the unique Virginia projects consist of more than 19,300 survey reports, more than 6,200 photographs, and 103 annotated county and city maps. Field-workers prepared survey reports on each structure, with details taken from on-site investigation, research in court records and other local resources, and interviews with county residents.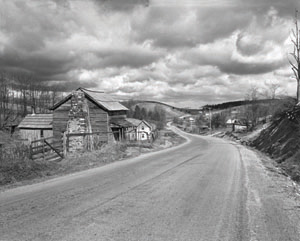 A rural scene from the WPA files

There are also reports on cemeteries, antiques, historical events, and local people, as well as transcriptions of land grants, wills, deeds, diaries, and correspondence. Today, genealogists and historians use the records of the Virginia Historical Inventory to trace family trees and to interpret Virginia's cultural and social history.
The Library of Virginia's collection of materials from the Virginia WPA Historical Inventory Project can be searched and accessed at:
http://www.lva.virginia.gov/public/guides/
lva_digital_discovery.pdf