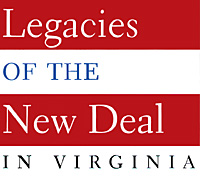 April 14, 2003 -
December 6, 2003
---
"C.C. CAMP IS A SWELL PLACE FOR A BOY TO LEARN."
Recording Our History: Writers and Artists
Federal Writers' Project

Virginia Writers' Project-Virginia Guide

Life Histories

Ex-Slave Narratives

Virginia Historical Inventory
Capturing Virginians on Film
Both the WPA and the Farm Security Administration (FSA) employed professional photographers to document Virginians during the Great Depression. Many of the photographs taken by Lincoln Highton, who worked out of the national WPA office, were published in the Guide to the Old Dominion, compiled by the Virginia Writers' Project. The Farm Security Administration, established in 1937 out of the Resettlement Administration, directed its photographers to document the change in Virginians' lives as new roads and houses were built and as people moved to find employment. Under the Farm Security Administration, poor farmers were eligible for low-interest loans to buy better land, unemployed families moved from cities to communal farms or villages to become self-sufficient, and migrant farm workers settled in camps. The FSA photographs are striking and powerful images that, for later generations, have defined what the Great Depression was really like.