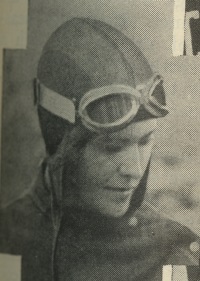 Mary C. Alexander (2 March 1893–16 April 1955), aviator, was probably born Mary C. White in Loudoun County. Information about her early life is not available, and some statements about her career that were published during her lifetime and that she did not contradict are demonstrably inaccurate or cannot be proved. She later identified her parents as William White and Ella White and stated that she had attended Immaculata Seminary in Washington, D.C., but neither assertion can be verified. When she married John Ira Alexander in Baltimore, Maryland, on 28 November 1911, she listed her address as Arlington.
Mary C. Alexander and John Alexander had one son and one daughter before they moved to Lynchburg about 1917 or 1918. John Alexander worked first as a traveling salesman and then as a salesman for a local automobile dealership. In April 1924 they founded the J. I. Alexander Motor Company, a Studebaker dealership, with Mary C. Alexander as president and treasurer and John Alexander as general manager and salesman. She was one of the earliest women to be president of an automobile dealership in Virginia, though perhaps not the very first, as was later asserted. Within two years John Alexander deserted Mary Alexander, and she subsequently filed for a full divorce, which was granted in the Circuit Court of Campbell County in January 1929. She did not take pains to dispel among her later acquaintances an impression that she was a widow. She may have believed that she could pursue her professional interests with fewer difficulties as a widow than as a divorcée.
In July 1929 Alexander went to Roosevelt Field on Long Island in New York to take flying lessons, and later that year she graduated from the Curtiss Wright Flying School in Baltimore. She told a journalist who wrote a story about women who were learning to fly that she wanted to be able to add sales of airplanes to her Lynchburg automobile dealership, but that business had closed by 1929. Clearly what she really wanted to do was fly. Alexander became a charter member of the first association of women aviators, called the Ninety-Nines, and she knew most of the first generation of women pilots. Amelia Earhart referred to Alexander in 1932 as the "flying grandmother," although Alexander may not yet have become a grandmother for the first time.
Alexander lived in Lynchburg until about 1935 and listed herself in the city directory as an "aviatrix." She was an advocate of women in aviation when flying was still a glamorous and dangerous pursuit. In an article for the magazine Southern Aviation, Alexander stated in 1932 that she saw no conflicts among her roles as a woman, mother, business executive, and aviator. One of only a very few licensed women pilots in Virginia early in the 1930s, she flew at air shows in Virginia and elsewhere during the decade but avoided the stunt flying and high-risk flamboyance of barnstorming. About 1932 she acquired a transport pilot's license and obtained permission to use a Virginia National Guard airfield in Virginia Beach to begin a scheduled air service between Washington, D.C., and Norfolk, but in August 1934 the National Guard canceled her permit to use the airfield after one of her pilots violated the field's regulations.
Alexander continued to fly until the end of the decade, after which she took a desk job with Pan American Airways. Following her second marriage, to Emil Charles Held, of Washington, D.C., she lived in Washington or its Maryland suburbs and pursued a new interest in art. Mary C. Alexander Held died in Georgetown Hospital in Washington on 16 April 1955. Emil Held's service in World War I having entitled her to the privilege, she was buried in Arlington National Cemetery.

Sources Consulted:
Birth date in records of Arlington National Cemetery; first marriage reported in Baltimore Morning Sun, 29 Nov. 1911; divorce recorded in Ended Chancery File 1120, Campbell Co. Circuit Court; issuance and revocation of charter of J. I. Alexander Motor Co. recorded in State Corporation Commission Charter Book, 127:145–147, Record Group 112, Library of Virginia (LVA); Lynchburg city directories, 1918–1934; Popular Science Monthly 115 (Oct. 1929): 55 (portrait); "Why Do Women Fly?," Southern Aviation 3 (May 1932): 15–16; letters respecting Washington-Norfolk air route in correspondence of Adjutant General's Office, Record Group 46, LVA; obituaries in Lynchburg Daily Advance, Lynchburg News, Washington Post, and Washington Star, all 18 Apr. 1955.
Image courtesy of the Library of Virginia.

Written for the Dictionary of Virginia Biography by Brent Tarter.
How to cite this page:
>Brent Tarter,"Mary C. Alexander (1893–1955)," Dictionary of Virginia Biography, Library of Virginia (1998– ), published 1998 (http://www.lva.virginia.gov/public/dvb/bio.php?b=Alexander_Mary_C, accessed [today's date]).

Return to the Dictionary of Virginia Biography Search page.