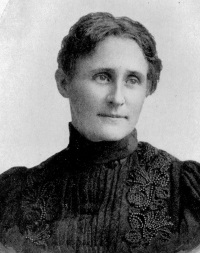 Katherine Harwood Waller Barrett (d. 23 February 1925), social reformer, was born in Falmouth in Stafford County, the eldest of ten children, nine of whom were daughters, of Withers Waller and Anne Elizabeth Stribling Waller. She was born on 24 January, probably in 1857, when her father reported the birth of a daughter named Hannah C. Waller to the county clerk, although she later reported her year of birth as 1859 and her gravestone is inscribed 1858. She was known throughout her life as Kate and evidently did not use the names Hannah or Harwood. During the Civil War she and her mother remained close to the Confederate army, in which her father was a colonel on the staff of General Fitzhugh Lee, and they were present at Appomattox at the end of the war. Waller grew up at Clifton, her father's thousand-acre estate near the Potomac River in Stafford County. She received most of her education at home, but she also attended a local school for one year and the Arlington Institute for Girls in Alexandria for two years more. On 19 July 1876, she married Robert S. Barrett, a twenty-six-year-old Episcopal minister who had recently taken charge of nearby Aquia Church. Between 1877 and 1888 they had four sons and three daughters, of whom one son died young.
Kate Waller Barrett and her husband soon moved to a poor area of Richmond, where she was introduced to the work that occupied most of her adult life. One night a frightened, unmarried girl who had traveled to Richmond with her infant called on the Barretts. As she listened to the young mother's story, Barrett began to question some of her received beliefs. "Where was the terrible degradation, the hopeless depravity" that she had been taught to associate with a "fallen woman?" Upset, Barrett accepted as one of her religious duties the responsibility to assist "this outcast class."
During the 1880s the Barretts moved to Henderson, Kentucky, and then to Atlanta. While her husband was serving as dean of Saint Luke's Cathedral in the latter city, she completed a three-year course of study at the Women's Medical College of Georgia and earned an M.D. in 1892. The valedictorian of her class, she was then thirty-four years old. Two years later, having traveled to Europe with her husband, she completed a nursing course at the Florence Nightingale Training School in London. In 1893 she opened a rescue home in Atlanta where unmarried pregnant girls could find refuge and receive care and education. She successfully sought financial assistance for the enterprise from Charles Nelson Crittenton, a New York millionaire who had already funded other rescue homes in memory of a daughter who had died as a small child.
In 1894 the Barretts moved to Washington, D.C., and two years later the family moved to Alexandria. Following the death of her husband on 12 September 1896, Barrett worked with Crittenton to establish the National Florence Crittenton Mission, the first philanthropic institution to be chartered by Congress. Barrett served as vice president and general superintendent from its incorporation in 1897 until Crittenton's death in 1909, when she became president, a post she held until her death. She wrote several chapters for Fourteen Years' Work among "Erring Girls," as Conducted by the National Florence Crittenton Mission, with Practical Suggestions for the Same (1897), contributed numerous articles to the Florence Crittenton Magazine between 1898 and 1914, and published Some Practical Suggestions on the Conduct of a Rescue Home (1903). Barrett helped establish seventy-eight Florence Crittenton Homes throughout the United States and in Mexico City, Marseilles, Shanghai, and Tokyo. Her missions provided safe shelter and acted as supportive allies for the mothers while encouraging breast-feeding and nurturing of affectionate bonds between mother and child. They also attempted to prepare young women to become competent homemakers and employees, capable of supporting their own children.
Early in 1909 President Theodore Roosevelt invited Barrett to the first White House Conference for Dependent Children. She was a delegate to the international congresses of the World Purity Federation in 1914, 1915, and 1917. During World War I the War Department Commission on Training Camp Activities engaged her to speak to soldiers about venereal disease. In the spring of 1919 she traveled from Paris to Constantinople as a special agent of the United States Immigration Bureau to investigate protective arrangements for women and girls whom the United States intended to deport on moral grounds. President Woodrow Wilson appointed Barrett an observer of the Versailles Peace Conference, and in 1919 he sent her as a delegate to the International Congress of Women in Zurich, where Jane Addams held a reception in her honor.
Barrett also became a leader in the International Council of Women, an organization that Elizabeth Cady Stanton and Susan B. Anthony had founded to promote improvement in the condition of women worldwide. Barrett was a delegate to the world conference in London in 1899 and delivered featured addresses at the conferences in Toronto in 1909 and Rome in 1914. She served as secretary and vice president of the National Council of Women before being elected president in 1911. Barrett served two terms as Virginia state regent of the Daughters of the American Revolution, was a member of the board of visitors of the College of William and Mary from 1921 to 1924, was elected president of the Women's Auxiliary of the American Legion in 1922, and made an honorary member of Phi Beta Kappa in 1924.
An early and active supporter of woman suffrage, Barrett presided over the founding meeting of the Alexandria chapter of the Equal Suffrage League of Virginia in March 1912 and was the chapter's first president. Elected an honorary vice president of the Virginia league in 1913, Barrett attended state conventions that year and in 1915 and 1919. She attended national conventions of the National American Woman Suffrage Association in 1913, 1914, and 1916, and made speeches in support of woman suffrage in Roanoke and Lexington early in 1915. After Congress submitted the Nineteenth Amendment to the state for ratification, Barrett campaigned early in 1920 for its ratification in Virginia (the General Assembly refused) and later that year was a founding member of the Virginia League of Women Voters.
Newspaper accounts of Barrett's public addresses regularly noted her power as a speaker. One episode gained fleeting national attention. As a delegate from Virginia to the 1924 Democratic National Convention in New York she delivered a seconding speech for favorite-son candidate Carter Glass. In response to her brief but brilliantly delivered speech, which included high praise for the role of Wall Street in America, a delegate from New Jersey spontaneously placed Barrett's name in nomination for the vice presidency.
Thanks to her wide-ranging social reform interests and influence, Barrett has occasionally been described as a pioneer sociologist. She devoted remarkable physical and intellectual energy to a broad range of concerns that included prostitution and sex trafficking, sexually transmitted diseases, working conditions for women and children, the welfare of America's returning soldiers and disabled veterans, the education of immigrant families, and woman suffrage. Her travels took her from Alaska to Bangkok, from Mexico to Italy. She spoke to presidents in the White House, to congregations in American churches, and to young girls in saloons. During the latter years of her presidency of the National Florence Crittenton Mission, she drew her son Robert South Barrett into the administration of the agency, and following her death he succeeded her as its president.
Katherine Harwood Waller Barrett died suddenly as a result of diabetes mellitus at her Alexandria home on 23 February 1925, and was buried in the churchyard of Aquia Church in Stafford County. The governor of Virginia ordered the flag to be lowered on the State Capitol in Richmond, the first time that a woman had been so honored.

Sources Consulted:
Stafford Co. Birth Register, 1853–1873 (Hannah C. Waller born 24 Jan. 1857); Hugh Milton McIlhany Jr., Some Virginia Families (1903), 79–81 (with full name and birth date of 24 Jan. 1857); self reported birth date of 24 Jan. 1859 in passport application, 8 Apr. 1919, General Records of the Department of State, Record Group 59, National Archives and Records Administration, Washington, D.C. (NARA); United States Census Schedules, Stafford Co., 1860 (age 3 on 5 July), Alexandria City, 1900 (born Jan. 1858), both in Records of the Bureau of the Census, Record Group 29, NARA; 1858 year of birth on gravestone; Kate Waller Barrett Papers, including clippings and reminiscences, Library of Congress, Washington, D.C.; Barrett scrapbooks, Robert South Barrett Papers, Small Special Collections Library, University of Virginia, Charlottesville, Va.; some Barrett papers in Lloyd House, Alexandria, Va., and other letters and clipping files in Richmond Public Library, Richmond, Va.; National Florence Crittenton Mission Papers, University of Minnesota, Minneapolis, Minn.; family history verified by granddaughter Viola Barrett Pope and great-granddaughter Bruce Greenland Rodenberg; Alexandria Gazette, 22 July 1876; June Peterson, "Dr. Kate Waller Barrett: A Friend of Girls" (master's thesis, Seattle University, 1969); Fourteen Years' Work Among "Erring Girls" as Conducted by the National Florence Crittenton Mission… (1897), portrait between 26 and 27; Charles Crittenton, Brother of Girls (1910); Otto Wilson and Robert South Barrett, Fifty Years' Work With Girls, 1883–1933 (1933), quotation on 156; Marietta Minnigerode Andrews, My Studio Window: Sketches of the Pageant of Washington Life (1928), 239–245; "Kate Waller Barrett, Sociologist," World's Work 49 (Nov. 1924): 69–71; New York Times, 23 July 1914, 21 Oct. 1922, 24 May 1924; Richmond Times-Dispatch, 15 June 1910; Roanoke World-News, 1 Jan. 1915; E. Lee Trinkle to Charles D. Barrett, 25 Feb. 1925, Trinkle Executive Papers, Accession 21567b, Record Group 3, Library of Virginia; obituaries in Alexandria Gazette, Richmond News Leader, Richmond Times-Dispatch, and Washington Post, all 24 Feb. 1925.
Image courtesy of Library of Virginia.

Written for the Dictionary of Virginia Biography by Diane McVittie Reukauf.
How to cite this page:
>Diane McVittie Reukauf,"Katherine Harwood Waller Barrett (1858–1925)," Dictionary of Virginia Biography, Library of Virginia (1998– ), published 1998, rev. 2016 (http://www.lva.virginia.gov/public/dvb/bio.php?b=Barrett_Katherine_Harwood_Waller, accessed [today's date]).

Return to the Dictionary of Virginia Biography Search page.