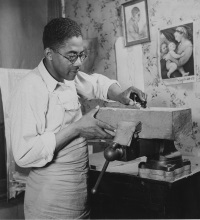 Leslie Garland Bolling (16 September 1898–27 September 1955), sculptor, was born in Surry County, the son of Clinton C. Bolling, a blacksmith, and his first wife, Mary Brown Bolling. He was educated in the county schools and took preparatory classes at Hampton Normal and Agricultural Institute from 1916 until 1918. More study followed at the preparatory Academy Department of Virginia Union University in Richmond between the autumn of 1919 and June 1924, when Bolling graduated. He resided in Richmond for the remainder of his life. He taught briefly in the city's public schools and by 1930 was working as a porter at Everett Waddey Company. On 27 May 1928 he married Julia V. Lightner, a widow and seamstress. She filed for divorce late in 1940 or early in 1941, but there is no record of a divorce decree. Lightner died on 14 June 1943, and on 16 October 1948 Bolling married Ethelyn M. Bailey, a divorced woman then working as a maid in Richmond. Neither marriage produced children.
Bolling began carving wood in 1926 without having had any formal art instruction. He preferred to carve in poplar because of its softness. His basic tool kit consisted of several pocketknives, a scroll saw, and a vise. He roughed out the shape of the figure with his scroll saw and used a pocketknife to concentrate on details. Most of his carvings were between twelve and twenty-four inches high, and they usually depicted a single figure engaged in work or play.
Richmond artist Berkeley Williams Jr. noticed Bolling's carvings at a group exhibition at the Young Women's Christian Association and helped bring Bolling to the attention of the writer and photographer Carl Van Vechten, of New York, who purchased two works, The Boxer and Head of a Woman, both now owned by Yale University. In November 1932 Bolling displayed several pieces in the second annual exhibition of the work of local artists at the Richmond Academy of Arts, where a patron purchased his Market Woman. In 1933 Bolling displayed two sculptures, Washerwoman and Figure Reclining, and won an award at an exhibition sponsored by the Harmon Foundation, of Washington, D.C., which promoted African American art and artists. Later that year he submitted four figures—Salome, Shopper, Portrait Bust, and George's Delight—to an exhibition of works by African American artists sponsored by Howard University and the Association for the Study of Negro Life and History in cooperation with the Harmon Foundation. He exhibited The Workman and a second version of Salome at the Harmon Foundation in 1935.
In 1934 Bolling showed his work again at the Richmond Academy and at the Valentine Museum in Richmond as part of a series of exhibitions highlighting contributions by minority and ethnic groups to Richmond's history. In January 1935 his one-man show at the Richmond Academy was the first there by a black Virginia artist. Thomas Hart Benton, who was in Richmond to lecture on mural painting, visited the exhibition and announced that he would support Bolling for a Guggenheim Fellowship. That same month the Harmon Foundation filmed and photographed Bolling and other black Richmond artists in preparation for a documentary on African American artists. Bolling's Workman was exhibited at the New Jersey State Museum in Trenton in April 1935, and two other works, Fish Man and Mama on Wednesday, were shown at the fourth annual exhibition of the Richmond Academy of Arts.
In 1936 seven of Bolling's figures, including five depicting activities of the days of the week, appeared in an exhibition of African American art assembled for the Texas centennial celebration. The William D. Cox Gallery in New York City hosted a one-man show of seventeen of Bolling's works in June 1937, including the completed days of the week series. He presented a portrait bust of contralto Marian Anderson to her when she performed in Richmond in 1940 and also carved figures of Eleanor Roosevelt and Franklin Delano Roosevelt, hoping that the first lady would accept them for her art collection. In 1941 Bolling carved an overtly political figure, Save America, which depicted an American soldier defending two children against a coiled snake. The piece was the last he exhibited, at the ninth exhibition of the work of Virginia artists at the Virginia Museum of Fine Arts in 1943. Bolling's last identified work, a small figure of the radio personalities Lum and Abner, won third place in a 1942 competition sponsored by Science and Mechanic magazine.
Bolling is best remembered for his series of seven figures illustrating daily activities typical of blacks. Each carving was named for a day of the week—Aunt Monday, Sister Tuesday, Mama on Wednesday, Gossip on Thursday, Cousin on Friday, Cooking on Saturday—and depicted chores, successively laundry, ironing, sewing, gossiping, scrubbing floors, and cooking. A writer for Opportunity, the monthly journal of the National Urban League, speculated in June 1940 that the series showed the workweek of a housewife, but a reviewer in 1934 understood it to depict blacks working as domestic servants in Richmond's white households. Completing the cycle was Parson on Sunday, which captured a preacher leaning over his pulpit at the height of his sermon.
Bolling usually applied a light wax to his carvings but used paint infrequently. Critics appreciated his technical mastery as well as the absence of symbolism and sentimentality. Elmer John Tangerman praised Bolling in 1940 for the artistic quality of his work and especially for not sanding the surfaces to remove the tool marks. Julia Sully, art critic for the Richmond News Leader, wrote that Bolling's "gift lies in motion, rather than in emotion; in rhythm rather than pattern."
Despite Bolling's success in national exhibitions, wood carving remained a hobby for him. He earned his living in Richmond as a porter, as a letter carrier, and as a utility worker. Nevertheless, national recognition in art circles enabled Bolling to work with community leaders to establish the Craig House Art Center in Richmond. Founded under the auspices of the Works Progress Administration, the center offered instruction in art and art appreciation to African Americans and other minorities. Bolling taught wood-carving techniques at Craig House from its opening in 1938 until it closed three years later. He exhibited there in 1939 and 1940.
Although private collectors in Canada, New York, Washington, and London purchased many of the approximately eighty carvings Bolling exhibited during the decade when his work attracted wide attention, the locations of about forty are now known. The Virginia Museum of Fine Arts owns Cousin on Friday from the days of the week series as well as Queen of Dreams and Saver of Soles. Sister Tuesday is in the collection of the Art Institute of Chicago. Leslie Garland Bolling died in New York City on 27 September 1955 and was buried in Woodland Cemetery in Richmond.

Sources Consulted:
Delayed Birth Certificate, Surry Co., 1944, Bureau of Vital Statistics (BVS), Commonwealth of Virginia Department of Health, Record Group 36, Library of Virginia; BVS Marriage Register, Richmond City, 1928; Richmond City Marriage Register, 1948; Theresa Dickason Cederholm, ed., Afro-American Artists: A Bio-Bibliographical Directory (1973), 28–29; Gary A. Reynolds and Beryl J. Wright, eds., Against the Odds: African-American Artists and the Harmon Foundation (1989), 159–162 (portrait); Thomas Riggs, ed., St. James Guide to Black Artists (1997), 62–63; feature articles in Richmond Times-Dispatch, 29 May 1932 (portrait), 6 Jan. 1935, 16 May 1940, Richmond News Leader, 12 Nov. 1932, 5 Jan. 1935 (quotation), 12 June 1937, and New York Times, 20 June 1937; Harmon Foundation Collection, National Archives and Records Administration, Washington, D.C.; Harmon Foundation Records, Library of Congress, Washington, D.C.; vertical files, The Valentine, Richmond; Bolling's works illustrated in Richmond Times-Dispatch, 12 Jan. 1933, 22 Apr. 1934, 6 Jan. 1935, 5 Sept., 18 Nov. 1940, 30 Nov. 1941, American Magazine of Art 26 (1933): 45–46, and 27 (1934): 38, Art Digest (15 Feb. 1935): 23, Opportunity: The Journal of Negro Life 15 (1937): 240, Whittling Works of Leslie Garland Bolling at the Gallery of William D. Cox, Inc. (1937), Elmer John Tangerman, Design and Figure Carving (1940), 241–245, Cedric Dover, American Negro Art (1960), 71, James A. Porter, Modern Negro Art (1969), 263, Harmon Foundation, Inc., Negro Artists: An Illustrated Review of Their Achievements (1971), 35, Ilene Susan Fort, The Figure in American Sculpture: A Question of Modernity (1996), 181–182, and Barbara C. Batson, Freeing Art from Wood: The Sculpture of Leslie Garland Bolling (2006); obituaries in Richmond News Leader and Richmond Times-Dispatch, both 30 Sept. 1955.
Image courtesy of Harmon Foundation Collection: Kenneth Space Photographs of the Activities of Southern Black Americans (1936–1937), National Archives and Records Administration.
Written for the Dictionary of Virginia Biography by Barbara C. Batson.
How to cite this page:
>Barbara C. Batson, "Leslie Garland Bolling (1898–1955)," Dictionary of Virginia Biography, Library of Virginia (1998– ), published 2001, rev. 2021 (http://www.lva.virginia.gov/public/dvb/bio.asp?b=Bolling_Leslie_Garland, accessed [today's date]).

Return to the Dictionary of Virginia Biography Search page.