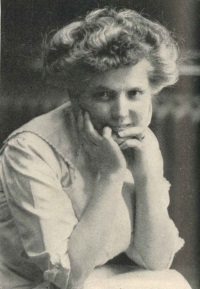 Kate Lee Langley Bosher (1 February 1865–27 July 1932), writer and woman suffrage activist, was born in Norfolk, the daughter of Charles Henry Langley and Portia Virginia Deming Langley. She spent her childhood in Norfolk and graduated from the Norfolk College for Young Ladies in 1882. On 12 October 1887 she married Charles Gideon Bosher, of Richmond, a brother of the medical educator Lewis Crenshaw Bosher and part owner of a carriage manufacturing business. They lived in downtown Richmond until their move after World War I to a large house on fashionable Monument Avenue. They had no children.
Literary Career
Bosher was perhaps best known for her success as a writer of popular fiction. Her first book, "Bobbie" (1899), published in Richmond under the pseudonym Kate Cairns, is a short novel set in Civil War Virginia. Her remaining works appeared under her own name, starting with When Love Is Love (1904). The New York publisher Harper issued eight Bosher novels: Mary Cary "Frequently Martha" (1910), Miss Gibbie Gault (1911), The Man in Lonely Land (1912), The House of Happiness (1913), How It Happened (1914), (1916), Kitty Canary (1918), and His Friend Miss McFarlane (1919). Mary Cary enjoyed instant success, selling more than 100,000 copies in its first year and doing well for years thereafter. Other successful books were Miss Gibbie Gault, Kitty Canary, and His Friend Miss McFarlane.
These works were often set in Virginia or elsewhere in the South. Focused on the experiences of southerners in the aftermath of the Civil War, most feature as a central character an orphan or a child in need of assistance. Bosher wrote popular novels in the romantic style featuring well-drawn subsidiary characters and treating the differences between the private and public lives of the main characters, most notably in Mary Cary and His Friend Miss McFarlane. She also contributed shorter works to a variety of national newspapers and magazines and enjoyed her position as a celebrated author.
Woman Suffrage Advocate
A different circle of acquaintances and admirers knew Bosher for her advocacy of woman suffrage. A contemporary and friend of Richmond's most famous suffragist, Lila Meade Valentine, she was a planner, promoter, and officer of the Equal Suffrage League of Virginia, founded on 27 November 1909. Bosher used her pen to promote the cause in The Equal Suffrage League of Virginia, a small pamphlet published in 1909, to explain the organization's purposes and outline its strategy. She emphasized family themes that resonated in the early twentieth-century South. In Bosher's view, because women paid taxes and were citizens and rational human beings, they should be able to vote. Men, who often had distinct interests, could not represent those matters special to women. The home and the world were no longer separate spheres, and wives and mothers who were responsible for the education, health, and welfare of their families and children needed the vote, without which they lacked effective political influence on issues that directly affected their responsibilities. To be a good mother, according to Bosher's beliefs, a woman had to be an active and voting citizen.
Bosher joined the novelist Mary Johnston and others on 20 January 1912 in the chamber of the House of Delegates to testify before a state legislative committee in favor of woman suffrage. As vice president of the league she addressed the convention of the Virginia Press Association in Staunton on 25 July 1916. The governor, lieutenant governor, attorney general, and secretary of the navy were all on the podium when Bosher presented the case for woman suffrage. She worked and spoke for this cause until it was achieved in 1920 and then helped organize, and remained active in, the new League of Women Voters. Bosher chaired the league's Child Welfare Committee early in the 1920s.
Community Activism
As evidenced in her fiction, Bosher concerned herself with the welfare of orphans and with other issues relating to children even before her involvement with the League of Women Voters. In 1916 the governor appointed her to the board of the Virginia Home and Industrial School for Girls, a boarding school for underprivileged and abandoned young women, and she was reappointed in 1922. Bosher also joined other civic and social groups, including the Richmond Education Association. She helped found the Woman's Club of Richmond, argued eloquently that the organization and its members should take active roles in public affairs, and served as its president in 1922 and 1923. Bosher was also a member of the Country Club of Virginia, the Richmond Writers' Club, the Artists' Club, the Cosmopolitan Club of New York, and several patriotic societies.
Less than a year after the death of her husband on 10 October 1931, Kate Lee Langley Bosher died in Norfolk on 27 July 1932. She was buried in Hollywood Cemetery in Richmond.

Sources Consulted:
Welford Dunaway Taylor, "Recalling Kate Langley Bosher," Richmond Quarterly 3 (fall 1980): 33–38; Marriage Register, Norfolk City, Bureau of Vital Statistics, Commonwealth of Virginia Department of Health, Record Group 36, Library of Virginia; a few Bosher letters in Virginia Historical Society, Richmond, Va.; Arthur W. Page, "The Novels That Sell 100,000," World's Work 26 (1913): 220–227; Bosher's undated essay, "Legislature's Chance," Adèle Goodman Clark Papers, James Branch Cabell Library, Virginia Commonwealth University, Richmond, Va.; Staunton Daily News, 26 July 1916; Sandra Gioia Treadway, Women of Mark: A History of the Woman's Club of Richmond, Virginia, 1894–1994 (1995), 6, 37, 43, 61, 66 (portrait), 69, 139; obituary in New York Times, 29 July 1932; obituaries and editorial tributes in Richmond News Leader, 28 July 1932, and Richmond Times-Dispatch, 29 July 1932.
Image courtesy of the Library of Virginia.
Written for the Dictionary of Virginia Biography by Elizabeth M. Gushee.
How to cite this page:
>Elizabeth M. Gushee,"Kate Lee Langley Bosher (1865–1932)," Dictionary of Virginia Biography, Library of Virginia (1998– ), published 2001 (http://www.lva.virginia.gov/public/dvb/bio.php?b=Bosher_Kate_Lee_Langley, accessed [today's date]).

Return to the Dictionary of Virginia Biography Search page.