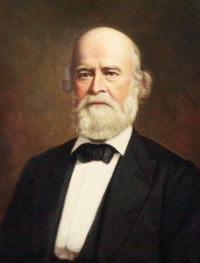 Wood Bouldin (20 January 1811–10 October 1876), member of the Convention of 1861 and member of the Supreme Court of Appeals, was born at Golden Hills plantation in Charlotte County, the son of Thomas Tyler Bouldin and Ann Bickerton Lewis Bouldin. Educated in private schools in Richmond and at New London Academy in Bedford County, Bouldin then studied law in the office of William Leigh in Halifax County. After his admission to the bar about 1833, Bouldin practiced law in Charlotte County for about six years. On 22 December 1837 he married Maria Louisa Barksdale. Their one child, Wood Bouldin, served in the Convention of 1901–1902.
After the death of his wife in 1839, Bouldin moved to Richmond, where he practiced law. In Philadelphia on 14 April 1847 he married Martha Daniel, of Lynchburg. They had four sons and six daughters. In 1853 Bouldin purchased a Charlotte County plantation that had belonged to John Randolph of Roanoke and returned to that county to manage the property and practice law. He prospered as both planter and attorney, with real estate valued at about $50,000 in 1860 and personal property, including slaves, worth about $65,000 the same year.
On 4 February 1861 Bouldin was elected by a unanimous vote to represent Charlotte County in a state convention on the question of secession. One week into the convention's deliberations he introduced a declaratory resolution stating that any attempt by the United States government to collect revenue or reclaim installations in any of the states that had left the Union would amount to starting a war in which Virginia would "sustain the seceded States." Bouldin took an active part in the debates, and even though he had no previous legislative experience, his courtroom expertise enabled him to engage in spirited and learned exchanges with some of the most practiced speakers in the convention. Although he stated that he wanted Virginia to remain in the Union, his belief that slavery was endangered with Abraham Lincoln as president led him to vote for secession on 4 April 1861, when it was defeated, and again on 17 April 1861, when it passed.
Bouldin represented Charlotte County in the House of Delegates for the duration of the Civil War. He served on the Committees for Courts of Justice and on Finance and was chairman of the latter in 1863. Early in 1865, in part because he opposed efforts to enlist slaves for the defense of the Confederacy, he decided not to seek reelection. After swearing allegiance to the United States in May and July 1865, Bouldin resumed the practice of law. In 1869 he moved back to Richmond, where he practiced with Hunter H. Marshall and for a time with his own namesake son. Bouldin was in the Capitol on 27 April 1870 when the courtroom floor collapsed and killed about sixty people, but he escaped serious injury.
On 18 March 1872 the General Assembly elected Bouldin to the Supreme Court of Appeals. The most difficult issues faced by the court during his tenure arose from the controversial Funding Act of 1871, which had provided for refinancing what Virginia acknowledged as its share of the antebellum state debt. In Antoni v. Wright (1872) Bouldin declared unconstitutional an act of that year repealing the section of the act of 1871 that had made the coupons on 1871 bonds redeemable for payment of state taxes. In Higginbotham's ex'x v. Commonwealth (1874) Bouldin rejected the contention that the division of Virginia into two states during the Civil War had extinguished the original state and its debts with it. In both cases he asserted that the law, the state's honor, and good policy required it to fulfill all of its antebellum obligations, earning him the plaudits of the supporters of full funding of the debt.
Bouldin suffered a paralyzing stroke in 1875 and missed the September term of the court. He was able to return for part of the November 1875 term. Wood Bouldin died at his home in Charlotte County on 10 October 1876 and was buried in the family cemetery there.

Sources Consulted:
Biographies in Green Bag 5 (1893): 370–373, and George L. Christian, Reminiscences of Some of the Dead of the Bench and Bar of Richmond (1909), 39; biography in S. Bassett French MS Biographical Sketches, Personal Papers Collection, Library of Virginia; some letters in Bouldin Family Papers and Baskervill Family Papers, both at Virginia Historical Society, Richmond, and in Lyons Family Papers, Huntington Library, Art Collections, and Botanical Gardens, San Marino, Calif.; Charlotte Co. Marriage Bonds, 20 Dec. 1837; second marriage in Richmond Daily Whig, 13 May 1847; explanatory speeches of 20 Feb. and 6 Apr. 1861 in George H. Reese and William H. Gaines Jr., eds., Proceedings of the Virginia State Convention of 1861 (1965), 1:118 (quotation), 3:222–226; votes in ibid., 3:163, 4:144; Virginia Case Files for United States Pardons (1865–1867), United States Office of the Adjutant General, Record Group 94, National Archives and Records Administration, Washington, D.C.; Antoni v. Wright (1872) (22 Grattan), Virginia Reports, 63:833–887; Higginbotham's ex'x v. Commonwealth (1874) (25 Grattan), Virginia Reports, 66:627–641; obituary in Richmond Daily Dispatch, 12 Oct. 1876.
Image courtesy of the Library of Virginia, State Art Collection.
Written for the Dictionary of Virginia Biography by John O. Peters.
How to cite this page:
>John O. Peters,"Wood Bouldin (1811–1876)," Dictionary of Virginia Biography, Library of Virginia (1998– ), published 2001 (http://www.lva.virginia.gov/public/dvb/bio.php?b=Bouldin_Wood_1811-1876, accessed [today's date]).

Return to the Dictionary of Virginia Biography Search page.