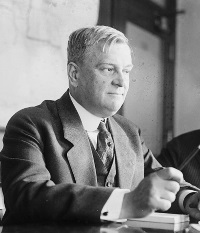 Charles Creighton Carlin (8 April 1866–14 October 1938), member of the House of Representatives, was born in Alexandria and was the son of William H. Carlin and Frances Eskridge Carlin. His father died in 1870, and Carlin sold newspapers and worked as an errand boy in a china shop and later as a night operator at the telephone exchange to help support his mother and sisters. He attended the public schools and for a short time enrolled at the Alexandria Academy before taking a job with a telephone company in Rome, Georgia. About 1885 C. C. Carlin, as he usually gave his name, returned to Alexandria and began studying law at the National University (later the National Law Center at the George Washington University) in Washington, D.C., while at the same time serving as Alexandria's deputy treasurer and as commissioner of accounts for the corporation court. After graduating in 1891 he was admitted to the bar and set up a practice in Alexandria, where for a time he earned extra income as the city correspondent for the Washington Post. On 28 October 1891 Carlin married Lillian E. Broders, daughter of a prominent businessman. They had two sons.
In July 1893 Carlin was elected to a four-year term on the Alexandria board of aldermen but resigned the following April after being appointed the city's postmaster, a position he held until March 1898. According to a story widespread at the time, Carlin had led a delegation that met with President Grover Cleveland to discuss the group's candidate for postmaster. Believing the original candidate incompetent, the president decided to select a member of the delegation instead, and Carlin's compelling speech so impressed the group that they chose him for the position with the president's approval. For much of his life Carlin was a Virginia delegate to the Democratic National Conventions, although in 1932 and 1936 he was a member of the District of Columbia's delegation. At the 1896 convention he backed the pro-silver candidate, William Jennings Bryan, over the fiscally conservative Cleveland, who supported the gold standard. In 1904 Carlin was a presidential elector from the Eighth Congressional District for the Democratic ticket led by Alton B. Parker, of New York.
Following the death of Democrat John Franklin Rixey in February 1907, Carlin joined the field of candidates competing for the nomination for the vacant Eighth District seat in the United States House of Representatives. In the primary he exhibited a candor and wit that attracted a large following, although rivals charged that he attempted to buy votes with money and liquor. On 5 November 1907 Carlin trounced his Republican opponent to win election representing the city of Alexandria and the counties of Alexandria, Culpeper, Fairfax, Fauquier, King George, Loudoun, Louisa, Orange, Prince William, and Stafford. Reelected to the House six times, he served without interruption until 1919. During his first term he sat on the third Committee on Elections and the Committee on Coinage, Weights, and Measures. Carlin served on these committees again during his second term and also was placed on the Committee on the Judiciary. During his third term he served again on the Committee on Elections and was appointed to the Committee on Accounts. He continued on the Committee on the Judiciary for the remainder of his congressional career and in 1913 became ranking member.
During his first term Carlin sought to restore Jefferson Davis's name to the abutment of the Cabin John Bridge (later the American Legion Memorial Bridge), in Montgomery County, Maryland, from which it had been removed during the Civil War, and he spoke against Theodore Roosevelt's order to strike "In God We Trust" from United States coins. Recognizing the possible military applications of Wilbur Wright and Orville Wright's historic flight, he unsuccessfully pushed for an appropriation from the House Committee on Military Affairs to fund aviation advances. Carlin introduced legislation that resulted in construction of the Francis Scott Key Bridge and the Memorial Bridge over the Potomac River and of the Mount Vernon Memorial Highway linking the nation's capital with George Washington's home. Recognizing his contributions to transportation, his Alexandria constituents proposed naming a new road Carlin Avenue in December 1915, but he declined the honor.
During his fourth term Carlin introduced a bill to establish a national university in Washington, D.C., and legislation designed to create an interstate highway system. He supported antitrust legislation and in 1914 helped engineer the passage of the Clayton Anti-Trust Act. That same year he was also instrumental in passing the Federal Trade Commission Act. During the First World War, he helped bring the Virginia Shipbuilding Corporation to Alexandria, thus creating thousands of jobs.
Carlin won reelection in November 1918 but on 5 March of the following year, citing health concerns, a desire to resume practicing law, and the Democrats' loss of control of the House, announced his retirement prior to the start of the Sixty-sixth Congress. He entered a partnership with his son Keith Charles Carlin in the Washington firm of Carlin, Carlin, and Hall and for many years enjoyed a prominent practice. In 1919 Carlin purchased the Alexandria Gazette. His namesake son later served as publisher and editor of the paper.
In February 1920 Carlin reversed his earlier position and urged the Virginia General Assembly to ratify the Nineteenth Amendment granting woman suffrage. Remaining politically active, he was a floor manager for Franklin Delano Roosevelt at the 1932 Democratic National Convention. In 1936 he moved to Washington, D.C., and in November of that year National University recognized his public service with an honorary law degree. Following a long illness Charles Creighton Carlin died on 14 October 1938 at his Washington residence. City offices in Alexandria closed during the funeral procession that carried his body to the city's Ivy Hill Cemetery for burial.

Sources Consulted:
Feature article in Fairfax Herald, 1 Mar. 1907 (portrait); Alexandria City Marriage Register; Alexandria City Board of Aldermen Minutes, 22:134, 171; Fairfax Herald, 15 Feb., 22, 29 Mar., 21 June, 1, 8 Nov. 1907, 24 Apr., 3 July 1908, 12 Apr., 28 June 1918, 7 Mar., 19 July 1919; Washington Post, 24 Feb. 1907, 19, 31 Dec. 1915, 16 Nov. 1916, 6 Mar. 1919, 4 Feb. 1920; Secretary of the Commonwealth, Election Records, 1776–1941, no. 183, State Government Records Collection, Record Group 13, Library of Virginia; Congressional Record, 60th Cong., 1st sess., 3384–3385, 63d Cong., 2d sess., 9268–9270, 64th Cong., 1st sess., 2905, 2911–2914; obituaries in Alexandria Gazette (portrait and editorial tribute), Richmond Times-Dispatch, and Washington Post, all 15 Oct. 1938; memorial in Virginia State Bar Association Proceedings (1939), 162–165.
Image courtesy of Library of Congress, Prints and Photographs Division.

Written for the Dictionary of Virginia Biography by Bruce M. Jones.
How to cite this page:
>Bruce M. Jones,"Charles Creighton Carlin (1866–1938)," Dictionary of Virginia Biography, Library of Virginia (1998– ), published 2006 (http://www.lva.virginia.gov/public/dvb/bio.asp?b=Carlin_Charles_Creighton, accessed [today's date]).

Return to the Dictionary of Virginia Biography Search page.