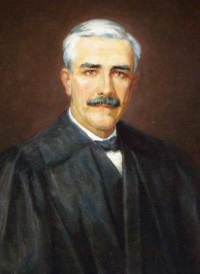 Richard Henry Lee Chichester (18 April 1870–3 February 1930), judge of the Virginia Supreme Court of Appeals, was born in Fairfax County and was the son of Daniel McCarty Chichester, a county court judge, and his second wife, Agnes Robinson Moncure Chichester, daughter of Richard Cassius Lee Moncure (1805–1882), longtime president of the Supreme Court of Appeals. Chichester was educated in the Fairfax County schools and later at Saint John's Academy, in Alexandria. He attended the University of Virginia during the 1889–1890 academic year and completed one year at its law school in the 1891–1892 term. Illness rendered him unable to continue study in an academic setting, but he read law at Fairfax Court House with Robert Walton Moore, later a member of the House of Representatives. In July 1892 Chichester received a license to practice in Fairfax County. He married Virginia Belle Wallace, of Stafford County, on 11 June 1895. They had two sons and one daughter.
Chichester established his own law office in Stafford County. In May 1895 he was elected commonwealth's attorney for the county and held that position until the General Assembly elected him judge of the courts of King George and Stafford Counties in December 1897. He served from January 1898 until 1904, when those courts were abolished. Chichester then practiced law with his brother for six years until December 1910, when the governor appointed him a justice for the Fifteenth Judicial Circuit, composed of Caroline, Hanover, King George, Spotsylvania, and Stafford Counties. The next session of the General Assembly in January 1912 confirmed the appointment.
In 1915 Samuel P. Powell, a one-term delegate representing Fredericksburg and Spotsylvania County, brought charges of political corruption against Chichester in the House of Delegates. Among other accusations he asserted that in those localities Chichester had inappropriately appointed electoral board members in an attempt to manipulate elections, was politically motivated in naming local officials, displayed bias in adjudicating cases, and had engaged in nepotism. After investigating the charges a special subcommittee of the Committee for Courts of Justice absolved him, finding that politics had not influenced his actions on the bench and that he had behaved impartially when conducting the business of the court. The assembly confirmed its confidence in Chichester by reelecting him judge of the Fifteenth Judicial Circuit in 1918.
To alleviate the crowded docket of the Supreme Court of Appeals, the General Assembly in 1924 created a Special Court of Appeals. On 18 June of that year the Supreme Court of Appeals selected Chichester and four other judges from the circuit and city court benches for the temporary court. On 16 April 1925 the governor appointed Chichester to the Supreme Court of Appeals to fill the vacancy caused by the death of Joseph Luther Kelly. Chichester took his seat in June and on 16 February 1928 won election to a full term on the bench, where he served until his death less than two years later. Characterized as a fair jurist of integrity and ability, he wrote thoughtful, carefully researched opinions sometimes numbering dozens of pages.
Chichester had many interests outside his profession. On Glencairne, his farm near Falmouth, in Stafford County, he raised purebred Guernsey cattle that won prizes at many livestock and state fairs along the Atlantic seaboard. In 1900 Chichester formed the Star Printing and Publishing Company with himself as president and purchased the two Fredericksburg Star newspapers. Two years later he became president of the newly incorporated Free Lance-Star Publishing Company, which published both the local Free Lance and Daily Star newspapers (merged in 1926 as the Fredericksburg Free Lance-Star), to which he occasionally contributed editorials. In 1908 Chichester was appointed to a four-year term on the board of trustees for the State Normal and Industrial School for Women at Fredericksburg (later the University of Mary Washington). A lifelong Episcopalian, he served on the vestry of Saint George's Episcopal Church in Fredericksburg from 1901 until 1919 but later transferred his membership to Aquia Episcopal Church in Stafford, where he also served on the vestry. Richard Henry Lee Chichester died of chronic nephritis at a Fredericksburg hospital on 3 February 1930. He was buried in the family cemetery at Glencairne.

Sources Consulted:
Biographies in Fredericksburg Daily Star, 23 Dec. 1910, Henry Winston Holt, "Richard Henry Lee Chichester," Virginia State Bar Association Proceedings (1930), 204–206, and Daniel M. Chichester, "Judge Richard Henry Lee Chichester: A Short Biography," Northern Neck of Virginia Historical Magazine 25 (1975): 2780–2783; Marriage Register, Stafford Co. Bureau of Vital Statistics (BVS), Commonwealth of Virginia Department of Health, Record Group 36, Library of Virginia (LVA); Fredericksburg Free Lance, 14 June 1895, 3 Feb. 1914, 19 Jan. 1926; Fredericksburg Daily Star, 2 June 1920, 1 Mar. 1921, 16, 17 Apr., 2 June 1925; Fairfax Co. Minute Book (1892–1895), 66; judicial appointments in Journal of the House of Delegates of the Commonwealth of Virginia (JHD), 1912 sess., p. 66, 1918 sess., p. 100, 1926 sess., pp. 49 and 69, and 1928 sess., p. 390, Special Court of Appeals Order Book, 4:1, Record Group 107, LVA, and Supreme Court of Appeals Order Book, 39:330, Record Group 100, LVA; political corruption investigation in JHD, 1915 extra sess., pp. 407–410, 466–467, JHD, 1916 sess., pp. 24–27, and Proceedings Relevant to the Investigation of Charges against Judge R. H. L. Chichester (1915), Virginia House of Delegates, Committee for Courts of Justice, Acc. 25523, LVA; BVS Death Certificate, Fredericksburg; obituaries in Fredericksburg Free Lance-Star and Richmond News Leader, both 3 Feb. 1930, and Richmond Times-Dispatch, 4 Feb. 1930.
Image courtesy of the Library of Virginia, State Art Collection.

Written for the Dictionary of Virginia Biography by Elizabeth Terry Long.
How to cite this page:
>Elizabeth Terry Long,"Richard Henry Lee Chichester (1870–1930)," Dictionary of Virginia Biography, Library of Virginia (1998– ), published 2006 (http://www.lva.virginia.gov/public/dvb/bio.asp?b=Chichester_Richard_Henry_Lee, accessed [today's date]).

Return to the Dictionary of Virginia Biography Search page.