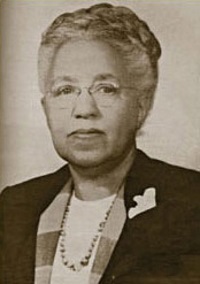 Edna Meade Colson (7 October 1888–17 January 1985), educator, was born in Petersburg and was the daughter of James Major Colson and Kate Deaver Hill Colson. The family belonged to the town's black middle class, having been property-owning members of the free black community at the beginning of the nineteenth century. Her great-grandfather, William Nelson Colson, was a Petersburg merchant who traded with Liberia. The family was also among the educated black elite. Her father was a founding faculty member of Virginia Normal and Collegiate Institute (later Virginia State University) in nearby Ettrick, and her mother was one of the first African American teachers in Petersburg's public schools and for one year served as principal of the normal preparatory department at the institute.
Colson graduated from Peabody High School in Petersburg in 1904 and from Fisk University's normal school in 1908. She taught for one year at Saint Augustine's School (later Saint Augustine's College), in Raleigh, North Carolina, and then returned to the Petersburg area as an instructor in the academic department at the renamed Virginia Normal and Industrial Institute from 1909 to 1912. Colson continued her education at Fisk University and received a B.A., magna cum laude, in 1915. She returned to the Virginia Normal and Industrial Institute as an assistant in pedagogy. In 1919 the institute appointed her director of the new department of education. Until her retirement in 1953 Colson continued to guide the program as it grew into a division of education in 1929 and the school of education early in the 1950s. In the meantime, she attended Teachers College, Columbia University, and received a B.S. in 1923, an M.A. in 1924, and a Ph.D. in 1940. Teachers College published her dissertation, entitled An Analysis of the Specific References to Negroes in Selected Curricula for the Education of Teachers (1940), in its Contributions to Education series. She was one of the first two women on the institute faculty to hold doctoral degrees.
Colson had to pursue her graduate work outside Virginia because there was no graduate education available to African Americans in the state's segregated universities. Virginia provided tuition grants to black graduate students to study in other states—an estimated 376 grants in the years 1930–1935. After receiving authorization from the State Board of Education and approval from its own board, Virginia State College for Negroes, as it had been renamed in 1923, began to offer graduate courses in the summer of 1937. Colson chaired the committee on graduate study to implement the new program.
Long an advocate of equality for women, Colson and seven other faculty members were among the first African American women to register to vote after ratification of the Nineteenth Amendment in 1920. They had a photograph taken to commemorate the event. Colson was a charter member of the Delta Omega chapter of the Alpha Kappa Alpha Sorority, Incorporated. The chapter, founded on 6 February 1921, was the first in the mid-Atlantic region and the fourth graduate chapter of the sorority in the nation. Colson became a life member of the American Teachers Association in 1935 and of the National Education Association in 1954. She received an outstanding alumna award from Fisk University and served on the executive board of its alumni association. In 1950 Colson was the first black Virginia woman to become a life member of the National Association for the Advancement of Colored People. Eight years later the Virginia State Federation of Colored Women's Clubs, Inc., of which she was a member, named her Woman of the Year.
Colson retired in 1953 after serving Virginia State College, as it was renamed in 1946, for more than forty years. One educator estimated at the time of her retirement that at least half of all the African American teachers employed in Virginia's public schools had once been her students or had graduated from the college's department of education. Colson Auditorium in Harris Hall, erected in 1970 as headquarters of the education department, was named in her honor.
Colson never married. With her longtime companion Amaza Lee Meredith, an architect and colleague from the college's department of fine arts, she owned and resided in Azurest South, an International-style house that Meredith designed and built in 1939 on the college campus. Colson traveled regularly to Azurest North, an enclave of vacation homes for elite African Americans in Sag Harbor, Long Island, New York, where she also jointly owned a house. Edna Meade Colson died in a Colonial Heights nursing home on 17 January 1985, a year after the death of her companion. After a funeral at Gillfield Baptist Church, of which she had been a lifelong member, Colson was buried in Eastview Cemetery, in Petersburg.

Sources Consulted:
Biography with birth date and incorrect middle name of Mae in Martha Short Dance, Peabody High School, a History of the First Negro Public High School in Virginia (1976), 46–48; "The Colson Family," Negro History Bulletin 10 (1946): 3–9, 20–21; Colson-Hill Family Papers and voting registration photograph in Evie Spencer DeCosta Papers, both Virginia State University, Ettrick; numerous references in Edgar Toppin, Loyal Sons and Daughters: Virginia State University, 1882 to 1992 (1992); publications include Colson, "The Negro Teachers' College and Normal School," Journal of Negro Education 2 (July 1933): 284–298, and "The Division of Education," Virginia State College Gazette 9 (Dec. 1934): 21–30; Virginia Education Bulletin 33 (Oct. 1953): cover portrait; obituaries in Petersburg Progress-Index, Richmond News Leader, and Richmond Times-Dispatch, all 18 Jan. 1985.
Image courtesy of the Library of Virginia.
Written for the Dictionary of Virginia Biography by Lauranett L. Lee.
How to cite this page:
>Lauranett L. Lee,"Edna Meade Colson (1888–1985)," Dictionary of Virginia Biography, Library of Virginia (1998– ), published 2006 (http://www.lva.virginia.gov/public/dvb/bio.asp?b=Colson_Edna_Meade, accessed [today's date]).

Return to the Dictionary of Virginia Biography Search page.