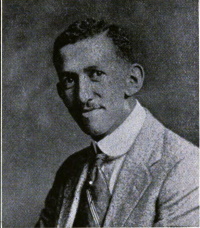 William Mason Cooper (22 November 1892–12 August 1979), educator, was born in Elizabeth City County and was the son of William Cooper, a merchant and fisherman, and Mittie Ann Mason Cooper, a secretary for the Hampton division of the Grand Fountain United Order of True Reformers, an African American mutual-benefit association. After attending a private school for two years, he enrolled in a school operated by Hampton Normal and Agricultural Institute (beginning in July 1930 Hampton Institute and after 1984 Hampton University). Cooper entered Hampton as a freshman in September 1908. He became secretary of his senior class, completed his coursework with a tinsmith certificate in 1912, and graduated on 28 May 1913 with a teaching diploma.
Cooper served as principal of Vineland School in Whiteville, North Carolina, from 1913 to 1916 and as principal of Smithfield Training School (later Johnston County Training School), also in North Carolina, from 1916 to 1923. He remained in North Carolina as director of extension at an Elizabeth City normal school (later Elizabeth City State University) from 1925 until 1928 and then as dean of instruction at that institution during the 1928–1929 academic year. Concurrently he continued his studies at Teachers College, Columbia University, where he received bachelor's and master's degrees in education in 1925 and 1929, respectively, and began working toward a doctorate.
In the autumn of 1929 Cooper returned to Virginia and joined the faculty of Hampton Normal and Agricultural Institute as director of its reorganized Extension Department, an adult education service that provided classes for teachers; assisted communities in securing funds for buildings, textbooks, and transportation; obtained teaching materials for distribution to localities; and worked with businesses to develop jobs for African Americans. The department also established garden clubs throughout the state to beautify homes, churches, schools, and neighborhoods. Cooper sought to improve interracial cooperation through scheduling conferences and special programs featuring speakers and musical performances. He edited Virginia's Contribution to Negro Leadership (1937) and the Directory of Negro Businesses in Virginia (1940), both published by the Extension Department.
From 1939 until 1952 Cooper added the directorship of the summer school program to his other responsibilities at Hampton Institute. He became the college's registrar in 1950 and then in 1955 an assistant in the public relations office. Cooper left Hampton in 1958 to serve as associate professor of guidance and placement at the Norfolk Division of Virginia State College (later Norfolk State University). There he directed a successful training program early in the 1960s. Unskilled black laborers received a stipend while they learned such trades as automotive mechanics, electronics, and masonry. He retired in 1973.
Throughout his administrative career Cooper also led various community, state, and national associations relating to African American adult education. During his years in North Carolina he helped blacks register to vote, and from 1914 to 1924 he promoted community extension and in-service training programs. In 1935 Cooper chaired the Virginia Better Homes Committee for Negroes and also served on the executive committee of the Virginia Commission on Interracial Cooperation. That year the Federal Emergency Relief Administration appointed him as a district supervisor of adult education for African Americans, responsible for organizing adult classes in twenty eastern Virginia counties. Under the auspices of the United States Office of Education in 1936 he surveyed Virginia's black vocational education programs
Cooper was the only African American included on the Richmond Times-Dispatch's inaugural New Year's Day Honor Roll in 1938. Later that year he helped organize and host at Hampton a three-day conference on "Adult Education and the Negro." Cooper served as executive secretary of the Negro Organization Society in 1930s and 1940s and as president of the Virginia State Teachers Association from 1940 to 1942. In the latter year he became a senior field representative for the Office of War Information. He was executive secretary of the National Conference on Adult Education and the Negro by 1946, when he also served as associate director of an Office of Education project to improve literacy among adult African Americans throughout the country.
One of twenty-six members of the revived National Advisory Committee on the Education of Negroes in 1948, Cooper was also appointed to an advisory panel coordinating the country's participation in the adult education work of the United Nations Educational, Scientific, and Cultural Organization. He began serving in 1952 on the executive committee of the Adult Education Association for the United States of America. In 1961 Cooper was the first African American elected to the Hampton city school board, of which he later became vice chair. He served on Virginia's Commission on the Status of Women, which issued conservative recommendations in 1966. Schools in Clayton, North Carolina, and Hampton were named in Cooper's honor in 1940 and 1975, respectively. He also received the Hampton Institute Centennial Medallion in 1969 for his lifetime of educational service.
On 28 December 1914 in Columbia, South Carolina, Cooper married Hattie Catharine Booker, who died in April 1925. They had one daughter. He married Ednora Mae Prillerman, a West Virginia native, on 11 August 1926. She taught home economics at Hampton, and they had one son. After his second wife's death on 3 January 1960, he married Audrey Boone on 28 December 1965. William Mason Cooper died in a Hampton hospital on 12 August 1979 and was buried in the Hampton Institute Cemetery (later Hampton University Cemetery).

Sources Consulted:
Biography in Who's Who in Colored America 7 (1950): 121–122; Birth Register, Elizabeth City Co., Bureau of Vital Statistics, Commonwealth of Virginia Department of Health, Record Group 36, Library of Virginia; William Mason Cooper Student Records (including marriage dates), Hampton University Archives; family information provided by widow Audrey Boone Cooper (2004); writings include Cooper, "Hampton Institute's Work for the Masses through Its Extension Department," Southern Workman 67 (1938): 120–124, and presidential message in Virginia Teachers Bulletin 18 (Nov. 1941): 3 (portrait); Richmond Times-Dispatch, 2 Jan. 1938; Washington Post, 9 Nov. 1940, 4 Nov. 1942, 8 Aug. 1946, 26 Dec. 1948, 16 Nov. 1963; Norfolk Journal and Guide, 23 Dec. 1961 (portrait), 15 Feb. 1969; obituaries in Newport News Daily Press and Newport News Times-Herald, both 14 Aug. 1979.
Photograph in Hampton Men and Women (1921).
Written for the Dictionary of Virginia Biography by Vanessa D. Thaxton-Ward.
How to cite this page:
>Vanessa D. Thaxton-Ward, "William Mason Cooper (1892–1979)," Dictionary of Virginia Biography, Library of Virginia (1998– ), published 2006 (http://www.lva.virginia.gov/public/dvb/bio.asp?b=Cooper_William_Mason, accessed [today's date]).

Return to the Dictionary of Virginia Biography Search page.