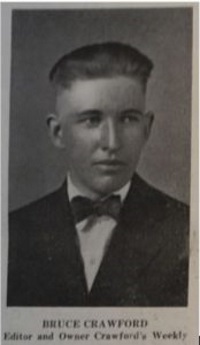 Robert Bruce Crawford (5 December 1893–15 August 1993), journalist, was born in Dooley, in Wise County, and was the son of Douglas Bruce Crawford, a builder and machinist, and Nancy Louise Powers Crawford. The family moved to Oklahoma, to Fayette County, West Virginia, and then when he was a teenager to Norton, Virginia. Crawford worked at odd jobs, including repairing coal cars at Dante, in Russell County, and in 1911 attended high school in Norton. In 1912 he entered West Virginia University as a subfreshman, a classification that implies he had yet to meet the institution's entrance requirements for college students, but he left after one term.
Bruce Crawford, as he was known as an adult, began newspaper work in Wise County in 1915 as editor and owner of the Norton Reporter, which merged with another newspaper and became the Norton Reporter and Miner's Enterprise. From July 1918 to mid-February 1919 he served as a sergeant in an army engineers company that did not go overseas during World War I. After the war Crawford was adjutant of a local American Legion post and chaired Wise County's War History Commission, part of a statewide project that gathered information about wartime military and civilian activities.
In 1919 Crawford began publishing Crawford's Weekly in Norton. The newspaper's lively copy quickly drew attention, and in 1924 some of his columns appeared in the compilation Nuggets: Choice Clippings from Crawford's Weekly, including a humorous story of a moonshiner in the style of a Horatio Alger tale. Crawford visited Tennessee and West Virginia nosing about for subjects. The regional flavor of his paper helped earn him a reputation as a spokesman for Appalachia. Major newspapers in Chicago, New York, and Washington, D.C., quoted Crawford's Weekly. Crawford also wrote freelance articles for such state and national publications as Commonwealth, the Nation, the New Republic, and the Virginia Quarterly Review. On 26 December 1922 in Bristol he married Kate Lay, a Coeburn schoolteacher. They are not known to have had any children. In May 1923 he chartered the Crawford Printing Company, Incorporated, with himself as president and his wife as both secretary and treasurer.
At a University of Virginia seminar on economic development in August 1929 Crawford argued for better pay and working conditions in southern industry. He made several trips to Harlan County, Kentucky, in 1931 to write about striking coal miners. The county sheriff, John Henry Blair, viewed as a supporter of the coal companies, disliked the attention so much that he traveled to Norton in order to complain about the newspaper's coverage. On 28 July 1931, during one of Crawford's trips to Harlan County, someone fired eight shots at him and a companion and slightly wounded the editor in his right leg. The shooting received widespread publicity. Crawford was convinced that coal-mine operators were responsible for the attack, but no one was ever charged. Later that year he returned to Kentucky with writers of the National Committee for the Defense of Political Prisoners to gather and publish information about the strike. Others on the trip included Sherwood Anderson, John Dos Passos, and Theodore Dreiser, with whom Crawford corresponded regularly.
In 1934 Crawford ran as an independent candidate for the House of Representatives from the Ninth Congressional District, which comprised the city of Bristol and the twelve counties in southwestern Virginia. Making ample use of his newspaper, he mounted a vigorous campaign. Crawford accused the incumbent, John William Flannagan, a Democrat and supporter of the New Deal, of participating in the theft of more than $800,000 from several banks in the district. He also charged that Flannagan was regularly under the influence of alcohol in public. Crawford's platform, which he published on the front page of an election supplement in his newspaper, included his support of "ownership of the means of production and distribution by the government and ownership of the government itself by the working people." Those words, which closely linked the editor with socialists and communists, certainly did not endear him to coal-mine and railroad operators. Crawford attacked political corruption in southwestern Virginia, including the easily abused absentee voting process. He lost by a large margin, which seemed to bother him very little. In the edition of Crawford's Weekly after his defeat, he published a mock advertisement for the sale of twenty-seven black bags of the kind that dishonest Democratic officeholders supposedly used.
In 1935 Crawford sold his newspaper to the publishers of the rival Coalfield Progress. He soon afterward visited Birmingham, Alabama, during labor unrest directed at its coal and steel companies. City officials had enacted a law that prohibited people from possessing more than one copy of any radical publication. Testing the law, Crawford and others distributed such periodicals as the Daily Worker and New Republic in front of the city hall but were not charged in the incident. Crawford maintained he had been shot at in Alabama, as well.
Crawford moved to Bluefield, West Virginia, later in 1935 to edit the Sunset News, an afternoon Democratic paper owned by a Republican family. His Democratic friends thought him better suited for working in the Works Progress Administration's Writers' Project in West Virginia, of which he became director late in 1938. Its major publication was West Virginia: A Guide to the Mountain State. Ever the lightning rod, Crawford got into trouble in his new job. The section of the book on labor unrest, among other topics, met strong opposition from the governor, Homer Adams Holt, and delayed publication of the book until 1941, after Holt left office.
Crawford had moved to Charleston, West Virginia, by 1941 and that year became secretary of the West Virginia Publicity Commission. By 1944 he headed the Highway Safety Bureau of the West Virginia State Police, and within three years he had started an advertising company that worked to elect Democratic political candidates. Crawford retired in 1961 and moved to Saint Petersburg, Florida, where he continued to keep up with West Virginia news and correspond with radical friends about current events. His wife died on 28 September 1979. Robert Bruce Crawford died in a local hospital on 15 August 1993 and was buried in Memorial Park Cemetery, in Saint Petersburg.

Sources Consulted:
Birth date and place provided by Crawford in World War I Selective Service System Draft Registration Cards (1917–1918), Record Group 163, National Archives and Records Administration, Washington, D.C. I. M. Warren, "Present-Day Author: Bruce Crawford" (typescript dated 19 Feb. 1938), with variant birthplace of Norton and partial bibliography of publications, in Biographical Files, Virginia Writers' Project, Work Projects Administration of Virginia Papers, Accession 30432, Library of Virginia ; Arthur C. Prichard, "'In West Virginia I Had More Freedom': Bruce Crawford's Story," Goldenseal 10 (spring 1984): 34–37 (several portraits); Bruce Crawford Collection, University of Virginia's College at Wise; correspondence in Theodore Dreiser Papers, University of Pennsylvania, and John C. Rogers Papers, Small Special Collections Library, University of Virginia, Charlottesville, Va.; Sullivan Co., Tenn., Marriage Records; Norton Crawford's Weekly, 5 Jan. 1923, 2 Nov. 1934 (quotation), 9 Nov. 1934, 8 Feb. 1935; Richmond News Leader, 11 Aug. 1924, 18 Aug. 1934; Richmond Times-Dispatch, 29 July 1931, 13 Oct. 1934, 12 Feb. 1935; Washington Post, 19 July 1934, 31 July 1935; Nation (18 Sept. 1935), 319–320; Crawford, "Labor Situation in the South" (paper delivered 6 Aug. 1929), in Proceedings of the 1929 Institute of Public Affairs (1929), vol. 1; Jerry B. Thomas, "'The Nearly Perfect State': Governor Homer Adams Holt, the WPA Writers' Project and the Making of West Virginia: A Guide to the Mountain State," West Virginia History 52 (1993): 91–108; death notice in St. Petersburg Times, 17 Aug. 1993 (with death at age ninety-eight).
Photograph in Wise County, Her Industries, Resources and Prominent Men (Oct. 1920).
Written for the Dictionary of Virginia Biography by G. W. Poindexter.
How to cite this page:
>G. W. Poindexter,"Robert Bruce Crawford (1893–1993)," Dictionary of Virginia Biography, Library of Virginia (1998– ), published 2006, rev. 2022 (http://www.lva.virginia.gov/public/dvb/bio.asp?b=Crawford_Robert_Bruce, accessed [today's date]).

Return to the Dictionary of Virginia Biography Search page.

Return to the Dictionary of Virginia Biography Search page.