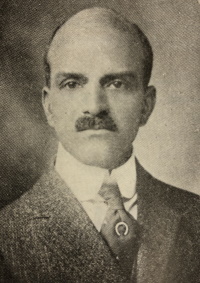 David Arthur Ferguson (8 June 1875–10 February 1935), founding president of the Tri-State Dental Association, first president of the National Dental Association, and president of the National Medical Association, was born in Portsmouth, Ohio, and was the son of William B. Ferguson, a schoolteacher, and Cornelia Francis Taylor Ferguson. In 1885 the family moved to Bowling Green, Kentucky. After completing grammar school four years later he apprenticed with a local dentist for three years. In 1892 Ferguson returned to Portsmouth while his family remained in Kentucky and attended high school and apprenticed in the office of a white dentist. He graduated from high school with distinction and enrolled in the dental school at Howard University, in Washington, D.C. Ferguson served as an assistant to several local dentists and as an assistant demonstrator in Howard's dental laboratories and received a D.D.S. on 12 May 1899.
On 20 November 1897, Ferguson married Antoinette Victoria Carter, a District of Columbia native. They had one son and one daughter and settled in Richmond in November 1899. Ferguson opened his dental practice in his house on East Leigh Street in the city's Jackson Ward. In June 1900 he passed the written examination of the Virginia State Board of Dental Examiners, the first African American applicant to do so. By 1902 his practice was profitable enough for him to set up an office on North Second Street near the center of the city's thriving African American community. Ferguson took special interest in pediatric dentistry, writing articles on the maintenance of children's teeth and advertising in national magazines such as the Colored American Magazine.
Denied admittance to national professional organizations, African Americans established parallel groups to foster black professionalism. In February 1902 Ferguson joined several Richmond physicians in founding the Medical and Chirurgical Society of Richmond. Ferguson served as secretary-treasurer and as an instructor at the hospital and training school for nurses that the society's members opened a year later. Ferguson also belonged to the Peter B. Ramsey Dental Society of Richmond and Petersburg and to the Old Dominion State Dental Association. He focused his attention on developing an organization that would serve the interests of black dentists throughout the United States. In July 1901 at Howard University, Ferguson took part in the formation of the National Association of Colored Dentists, of which he was elected president, but the organization lasted only about five years.
He continued working tirelessly for his goal and promoted the professional interests of the dental community through regional organizations. Ferguson helped found the Tri-State Dental Association in 1913 to combine state societies in Virginia, Maryland, and the District of Columbia. Elected its founding president, he held the office for five years. In 1918, his last year as president, the association changed its name to the Inter-State Dental Association to reflect its rapidly expanding membership. By 1932 dentists from at least twenty-five states were attending its annual meeting, and in July of that year the organization changed its name to the National Dental Association and elected Ferguson its first president.
Ferguson was also an active member of the National Medical Association, which was founded in 1895 and embraced all black medical professionals. He participated in its dental section, serving on committees and speaking at conferences. He sat in the association's House of Delegates and in 1912–1913 served a term as vice president. Chosen president-elect in 1917, he became president in August 1918 and was the first dentist to hold the post. At its 1918 convention the National Medical Association adopted declarations calling for the equal treatment of African American doctors, dentists, and nurses in the armed services, and in December Ferguson led a delegation to discuss the issue with an assistant secretary of war. In 1917, when the country was preparing for active participation in the world war, Ferguson had urged black medical professionals to volunteer for medical service, and he deplored the small number of commissions awarded to African American physicians and dentists. During his one-year term as president of the National Medical Association, Ferguson traveled almost 5,000 miles to visit state medical organizations, vigorously promoted the organization, and urged support for the Journal of the National Medical Association as a vital link to keep current in medical matters.
Throughout his life, Ferguson was committed to loosening the constraints on African Americans in the South. While a student at Howard University in 1898, he sent a letter to the Washington Post protesting the newspaper's failure to capitalize "negro" even though the paper routinely capitalized other ethnic designations. In a letter to the Richmond Times-Dispatch in 1910, he opposed proposed restrictions on African Americans in Richmond public parks. He was among the local boosters of Richmond's vibrant black community and in 1907 published a photographic booklet on the city's African Americans entitled Negro Enterprises & Residences.
Ferguson did not shy away from the political arena and sought election as a delegate to Republican national conventions in 1912, 1916, and 1920. After the Republican Party of Virginia made it more difficult for African Americans to participate in party affairs in the 1920s, he supported the so-called Lily Black faction that opposed the Lily White party leadership. Ferguson was treasurer of the Lily Black faction in 1924 when he and Richmond attorney Joseph R. Pollard complained to the national party that the state party had offered them $300 to support the party's national nominees. Rather than accept the money, Ferguson and Pollard refused to endorse President Calvin Coolidge for reelection because of his appointment of Lily White Virginia Republicans to office.
Ferguson continued to practice dentistry in Richmond and to take part in professional organizations. In February 1931 he attended the White House Conference on Child Health and Protection, which made numerous recommendations about improving medical care for children, including increased training and better medical facilities for African Americans. David Arthur Ferguson died of heart disease at his Richmond home on 10 February 1935, and was buried at Woodland Cemetery, in neighboring Henrico County.

Sources Consulted:
Biographies in Journal of the National Medical Association 10 (1918): 128–129, Who's Who of the Colored Race (1915), 101 (with birth and marriage dates), Clifton O. Dummett, "Biographical Sketch of David Arthur Ferguson, Afro American Dental Leader," Virginia Dental Journal 55 (Dec. 1978): 8–12, and in Clifton O. Dummett and Lois Doyle Dummett, NDA II: The Story of America's Second National Dental Association (2000), 15–25, 49–52 (photographs on vii, 43, 44); certification in Virginia Board of Dentistry Minutes, 1900, Accession 27953, Library of Virginia; publications include Ferguson, "Children's Teeth," Colored American Magazine 2 (1901): 310–312, "The X-Ray—And Why," Journal of the National Medical Association 20 (1928): 212–215; presidential addresses in Journal of the National Medical Association 9 (1917): 149–151, and ibid., 11 (1919): 133–137; Ferguson's letters to the editor in Washington Post, 12 Dec. 1898, and Richmond Times-Dispatch, 25 Sept. 1910; Death Certificate, Richmond City, Bureau of Vital Statistics, Commonwealth of Virginia Department of Health, Record Group 36, Library of Virginia; obituaries in Richmond Times-Dispatch and Richmond News Leader, both 11 Feb. 1935, and Richmond Planet and Norfolk Journal and Guide, both 16 Feb. 1935; editorial tributes in Richmond Planet, 16 Feb. 1935, and Journal of the National Medical Association 27 (1935): 190.
Photograph in The Crisis 13 (April 1917): 282.
Written for the Dictionary of Virginia Biography by Bryan S. Kessler.
How to cite this page:
>Bryan S. Kessler,"David Arthur Ferguson (1875–1935)," Dictionary of Virginia Biography, Library of Virginia (1998– ), published 2015 (http://www.lva.virginia.gov/public/dvb/bio.asp?b=Ferguson_David_Arthur, accessed [today's date]).

Return to the Dictionary of Virginia Biography Search page.