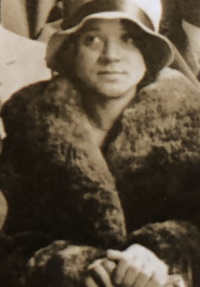 Ethel Madison Bailey Carter Furman (6 July 1893–24 February 1976), architect, was born in Richmond, the daughter of Mary (also known as Margaret) Jones Bailey, and Madison Jefferson Bailey, a draftsman, carpenter, and one of the earliest African American licensed building contractors in Richmond. She grew up in the Church Hill neighborhood and attended Armstrong High School. Not long after her father declared bankruptcy in 1908, the Baileys moved to Germantown, Pennsylvania, a suburb of Philadelphia. There she attended public school and graduated from Germantown High School in 1910. In Philadelphia, on 12 October 1912, she married William Henry Carter, a barber. They had one daughter and one son before they divorced. On 2 November 1918, in New York City, she married Joseph D. Furman, a Pullman porter with the New York Central Railroad. They had one son before her husband's death on 25 September 1944.
While she was living in Philadelphia, Furman's father arranged for her to study architecture privately with African American architect and Virginia native Edward R. Williams, in New York City, an educational path that women architectural students of the time used. While living in New York, Furman identified herself as an architect in the 1920 census. Shortly afterward she returned to Richmond with her family and began to do drafting work for her father's building firm. In 1925 the Norfolk Journal and Guide described her not only as an architect but also as "one of Richmond's leading business women." She was the only woman among dozens of Black builders and contractors from several southern states who attended a conference late in the 1920s at Hampton Institute. From 1944 to 1946 she attended Chicago Technical College for architecture.
During her career, Furman designed almost 200 structures, residences, and churches. Although many of her earliest buildings have been demolished, extant structures include the Fair Oak Baptist Church (Richmond), Saint James Baptist Church (Goochland County), Mount Nebo Baptist Church (New Kent County), and two churches in Liberia. Her design of the education wing of Richmond's Fourth Baptist Church was recognized by the National Register of Historic Places as part of the Church Hill North Historic District's boundary expansion in 2000. She also designed the birthplace and childhood home of future Virginia governor L. Douglas Wilder. Furman's residences were deliberately designed as functional. Intended for her middle class clients' needs, she used high quality materials and structural details. Furman also included detailed engineering drawings, evidence of her mastery of building technology.
Being a woman—and a woman of color—Furman faced serious difficulties and barriers. Despite her education and experience, building inspectors often challenged her architectural plans, looking for any reason to deny a building permit. While she sometimes submitted her plans under the name of male contractors, she generally insisted on presenting designs under her own name. Despite her early professional assurance, it was not until 1958 that Furman actually listed herself in the Richmond City directory as a draftsman and not until 1968 that she listed herself as an architect. When Furman's architectural work provided insufficient income, she took additional low-paying jobs that women traditionally held, such as waitress, cook, maid, seamstress, and hat trimmer. She was also a notary public. Furman continued to design churches and residences until her death in 1976.
Affectionately known in her community as Peachy or Mrs. P., Furman was also active in several civic endeavors and causes. In 1954 she received the East End Civic League's Walter J. Manning Citizenship Award for outstanding community leadership and achievements, and in 1959 she was recognized for her community work and contributions by the Richmond Afro-American. Ethel Madison Bailey Carter Furman died in Richmond on 24 February 1976 of ventricular arrhythmia and was buried in Oakwood Cemetery. In 1985 in her memory the Richmond City Council established the Ethel Bailey Furman Memorial Park in Church Hill. In 2004 her son donated her surviving records, architectural drawings, and photographs to the Library of Virginia. The library honored her in 2010 as one of the notable Virginia Women in History.

Sources Consulted:
Biographies in John E. Wells and Robert E. Dalton, The Virginia Architects, 1835–1955: A Biographical Dictionary (1997), 163, Jessica Breeden, American Institute of Architects Lecture (audio tape and unpublished typescript, 1997), in Ethel Madison Bailey Furman Papers and Architectural Drawings (including a photograph at a "Negro Contractors Conference" labeled 1928), Acc. 41145, Personal Papers Collection, Library of Virginia (LVA), Susan Gergen Horner, "Ethel Madison Bailey Furman (1893–1976)," in Dreck Spurlock Wilson, ed., African American Architects: A Biographical Dictionary, 1865–1945 (2004), 162–164, with first marriage date and portrait, and William Richards, "Pioneering Architects: Ethel Bailey Furman," American Institute of Architects online biography; Birth Register, Richmond City, Bureau of Vital Statistics (BVS), Virginia Department of Health, Record Group 36, LVA; second marriage in New York Extracted Marriage Index, 1866–1937, New York City Department of Records; features with portraits in Norfolk Journal and Guide, 12 Dec. 1925 (quotation), 11 Sept. 1937, Baltimore Afro-American, 6 July 1946, Richmond Afro-American, 28 Feb. 1959; Richmond Times-Dispatch, 17 Jan. 2015; BVS Death Certificate, Richmond City; death notice in Richmond Times-Dispatch, 27 Feb. 1976; obituary in Richmond News Leader, 27 Feb. 1976.
Photograph detail courtesy of Library of Virginia.
Written for the Dictionary of Virginia Biography by Leila Christenbury.
How to cite this page:
>Leila Christenbury, "Ethel Madison Bailey Carter Furman (1893–1976)," Dictionary of Virginia Biography, Library of Virginia (1998– ), published 2022 (http://www.lva.virginia.gov/public/dvb/bio.asp?b=Furman_Ethel_Bailey, accessed [today's date]).

Return to the Dictionary of Virginia Biography Search page.