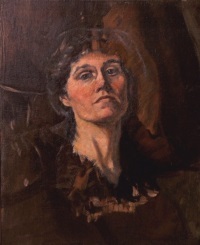 Nora Houston (24 June 1883–20 February 1942), artist and woman suffrage activist, was born in Richmond, Virginia, and was the daughter of a physician, Henry Gibson Houston, and Josephine Estelle Dooley Houston. Her given names sometimes appear in documents as Eleanora (or Eleanor) Clare and as Eleanora Gibson, and her surname may have been pronounced Howston. Following the death of her father when she was almost two years old, her wealthy uncle James Henry Dooley, an attorney and financier, became her benefactor and financed her education and art lessons. Houston attended Saint Joseph's Female Academy and a primary school her mother conducted. She studied art with local artist Lily M. Logan at her Franklin Street studio where she met Adèle Clark who became her lifelong friend and companion, and they joined the new Art Club of Richmond.
Artist
In 1905 Houston won a scholarship to attend the New York School of Art (later Parsons School of Design), where she studied with William Merritt Chase, Kenneth Hayes Miller, and Robert Henri. In 1909, after studying painting and the concepts of modernism for several years in Paris, Houston returned home to teach at the Art Club of Richmond, which offered high-quality instruction and sponsored exhibitions. A catalog for the club described Houston as "keenly alive to the artistic needs and possibilities of Richmond" and said that she "exerts a wholesome influence towards self-reliance, individuality and originality in the work of her students." Her academic background in the classical elements of painting plus her exposure to newer influences were reflected in her art. Houston's works included portraits, landscapes of the Virginia countryside, and paintings of African American neighborhoods and everyday life. She also expressed her deep spirituality in a series of historical paintings depicting early Virginia Catholic martyrs. Her residence in New York and abroad not only elevated her training as an artist, it also exposed Houston to social and cultural changes taking place early in the twentieth century. Witnessing various forms of social injustice experienced by the poor and working class influenced both her art and her development as an activist.
Political Activist
Houston's return to Richmond coincided with the reemergence of the woman suffrage movement in Virginia. Like many other women, she believed that the power of the ballot would give women the opportunity to advance major reforms in education, public health, and family welfare. In November 1909 Houston may have attended an early meeting of the Equal Suffrage League of Virginia, which was founded "to advance the legal, industrial and educational rights of women, and to secure the suffrage for women on equal terms with men." She also belonged to the league's chapter for the city of Richmond and served as its recording secretary from 1914 to 1919. Houston worked diligently on behalf of woman suffrage and traveled throughout the state giving lectures, developing local chapters, and lobbying state legislators. In 1915, when the league began holding weekly street meetings to raise awareness, Houston frequently spoke on street corners and parks in Richmond and at least once had rocks thrown at her, one of which she kept until her death. She combined her interests in art and suffrage and designed leaflets, signs, and parade floats and drew maps of the Richmond wards for the local chapter of the league. The efforts of Houston and others to raise interest in voting rights for women provoked sentiments that one suffragist described as medieval "in its strength and horror."
Unlike many of her contemporaries, Houston made efforts to improve race relations in Virginia. After ratification of the Nineteenth Amendment she assisted black women in registering to vote, and with Adèle Clark she helped transport black women to the polls on election day in 1920. In 1921 Houston attended the organizing meeting of the women's committee of the Virginia Commission on Interracial Cooperation, which worked to improve basic social conditions for African Americans in Richmond and condemned violence and the exploitation of black women. This fledging effort for interracial cooperation was often facilitated through women's church groups, and Houston, a devoted Catholic, found another means to work for social change. She became the president of the Catholic Woman's Club in 1934 and formed committees to study art, social justice, and civic matters.
Within a few weeks of ratification of the Nineteenth Amendment in 1920, the Equal Suffrage League disbanded. Many of its officers and some of its members continued their political activism and founded the Virginia League of Women Voters. Houston served on the league's organizing committee and helped draft the constitution of the Richmond league. She also chaired several committees of the state league, including the legislative, child welfare, and finance committees. The league successfully campaigned for a state commission to review laws and suggest new legislation relating to the welfare of children. Houston was appointed in 1921 to the Children's Code Commission and advocated a law to introduce occupational therapy in mental health facilities. The following year the commission recommended a host of legislative reforms, many of which the General Assembly enacted to improve conditions of schools, child labor, dependent or neglected children, and child welfare generally. At the same time, Houston also served on the state league's committee to publish a fund-raiser, Virginia Cookery Book: Traditional Recipes (1921). The national League of Women Voters named her one of a dozen delegates to the 1926 meeting in Paris of the International Woman Suffrage Alliance (later the International Alliance of Women).
Art Educator
Throughout this period of political activism, Houston continued to paint and teach. During World War I, and with the closing of the Art Club of Richmond, Houston and Clark established their own atelier, which several years later became the Virginia League of Fine Arts and Handicrafts. Among Houston's students were Edmund Minor Archer and Theresa Pollak, two important artists in twentieth-century Richmond. The league merged in 1931 with the recently restored Richmond Academy of Arts. The work of Houston and Clark to renew the academy stimulated interest in a state museum and contributed to the founding of the Virginia Museum of Fine Arts in 1934. During the Great Depression, Houston became involved with the state's Federal Art Project (later Federal Art Program), a part of the federal government's Works Progress Administration (later Work Projects Administration). Adèle Clark was appointed director of the Virginia Federal Art Project, and Houston was named supervisor for the production of works of art. She was responsible for easel painting for the WPA and also in charge of hiring local artists to paint murals in public buildings.
Houston exhibited her works at galleries and museums in New Orleans, New York, and San Francisco. The Anderson Gallery in Richmond mounted a one-woman show of her work in 1936, and her art was the subject of a major exhibition at the Virginia Museum of Fine Arts in 1940. Nora Houston died of an acute rheumatic infection on 20 February 1942 at her home in Richmond. After a funeral at Saint Peter's Catholic Church, her body was buried in the Houston family plot in the city's Shockoe Hill Cemetery. Houston's art is in the Morris Museum of Art, Augusta, Georgia, the Johnson Collection, Spartanburg, South Carolina, and the permanent collection of the Virginia Museum of Fine Arts. The Nora Houston Foundation, Inc., formed in Richmond in 2015 to preserve and display her art, owns the largest collection of her work.

Sources Consulted:
Birthdate in Birth Register, Richmond City, Bureau of Vital Statistics (BVS), Commonwealth of Virginia Department of Health, Record Group 36, Library of Virginia (LVA) with given name Nora; biographies in Three Generations of Richmond Artists (1957), L. Moody Simms Jr., "Nora Houston: Richmond Artist," Richmond Literature and History Quarterly 2 (Summer 1979): 44–46, and Colleen F. Yoder, "Nora Houston: Artist and Activist" (Master's thesis, California State University, Dominguez Hills, 2010); letters in Houston Family Papers, Virginia Museum of History and Culture, Richmond, in Adèle Goodman Clark Papers, Virginia Commonwealth University, Richmond, and in Equal Suffrage League of Virginia Records (including Edith Clark Cowles to Lila Meade Valentine, 17 July 1917, third quotation), Accession 22002, LVA; Year Book of the Equal Suffrage League of Virginia (1910), 19 (second quotation); The Art Club of Richmond School Session of 1912–1913 (n.d. [1912]), 12 (first quotation); feature articles in Everywoman's Magazine (Nov. 1917), 54–55, and Richmond Times-Dispatch, 1 Aug. 1915 (with portrait), 21, 28, 31 Jan., 4 Feb. 1940; BVS Death Certificate, Richmond City; obituaries in Richmond News Leader, 20 Feb. 1942, Richmond Times-Dispatch, 21, 23 Feb. 1942, Catholic Virginian 17 (Mar.1942): 26–28, and Art Digest 16 (15 Mar. 1942): 19.
Self-portrait courtesy of the Nora Houston Foundation.
Written for the Dictionary of Virginia Biography by Frances S. Pollard.
How to cite this page:
>Frances S. Pollard,"Nora Houston (1883–1942)," Dictionary of Virginia Biography, Library of Virginia (1998– ), published 2018 (http://www.lva.virginia.gov/public/dvb/bio.asp?b=Houston_Nora, accessed [today's date]).

Return to the Dictionary of Virginia Biography Search page.