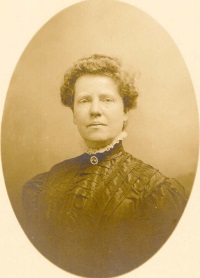 Julia Somerville Jennings (24 July 1860–4 April 1933), woman suffrage activist, was born on the Orange County farm of her parents, William Augustine Jennings and Mary Amelia Wharton Jennings. Little is known of her youth and education; she never married and had no children. Jennings belonged to both the United Daughters of the Confederacy and the Daughters of the American Revolution. Sometime in the 1890s, she moved to Richmond, where she worked as a stenographer for Western Union and attended the night school at John Marshall High School, from which she received a certificate in commercial law in 1915.
Jennings supported woman suffrage but apparently never held office in a suffrage organization until 1915, when she joined the new Virginia branch of the Congressional Union for Woman Suffrage that advocated a suffrage amendment to the Constitution of the United States. In October she was a member of a delegation that met with Virginia senators Thomas Staples Martin and Claude Augustus Swanson to urge them to vote for the proposed amendment. Jennings became chair of the state membership committee on 1 November and a few weeks later was present at the union's first national convention in Washington, D.C. In 1916 Jennings attended the founding convention in Chicago of the National Woman's Party, which the Congressional Union organized in western states where women already had the right to vote. Early the next year, the two organizations merged into the National Woman's Party. Jennings reported back to the Virginia chapter about the enthusiasm for the federal amendment. While continuing to serve as membership chair, she was also named chair of the legislative committee on 1 January 1917.
Jennings worked for woman suffrage by staffing booths at the state fair, speaking in public, and mailing thousands of letters and pieces of suffrage literature. She also lobbied members of the General Assembly and Congress. Jennings admitted in 1918 that even though both Virginia members of the United States Senate were still opposed to the amendment, "it is believed that a sufficiently strong appeal through resolutions and petitions can move them." Her efforts were hampered by a lack of funds and time-consuming committee work, but she urged her fellow suffragists to remember, "We simply must grow and grow and then keep on GROWING."
Beginning in 1917, Jennings joined other National Woman's Party members from Virginia and elsewhere in the nation to picket at the White House with large banners expressing support for a federal suffrage amendment. After some women were arrested for picketing, Jennings explained, "Putting women in jail and in the workhouse will never solve or even help the problem. It is simply one that has to be met squarely, fairly and justly. Women love their country and are naturally patriotic. They give their all. Under God, I believe the right to vote is hers and that it should not be withheld from her a day longer. I send out the S.O.S. call and ask that every man who believes in justice rally to the cause and help women, even as women have always helped men." The picketing and imprisonment of women gained national attention for the cause of woman suffrage, but leaders of the Equal Suffrage League of Virginia, which had previously endorsed amending the state constitution instead, believed that picketing and pressure tactics were injurious to the cause. League president Lila Hardaway Meade Valentine made it clear that "we are again distinguished from that little band of wilful women who are doing harm to our cause by their picketing at the White House, and who in no way represent our large organization."
Picketing may have been controversial, but it ultimately proved to be part of an effective strategy. Congress submitted the proposed amendment to the states in June 1919, and it was ratified in August 1920. Virginia's General Assembly did not ratify it at the time. Afterward, Jennings joined many of the National Woman's Party leaders who turned their efforts to the passage of an Equal Rights Amendment to the Constitution. The leadership of the party saw woman suffrage as only one step in acquiring equal rights for women, and during the 1920s Jennings advocated the amendment, which was first introduced in Congress in 1923. She and other party members visited President Calvin Coolidge on behalf of the amendment in November 1923 and she organized a delegation to Virginia's congressmen early in 1924.
In the meantime, Jennings moved to Washington, D.C., and in 1920 earned a law degree from the National University Law School (later the National Law Center at The George Washington University), where she also earned a master of laws degree the following year. She worked for the Department of Commerce but continued to serve as legislative chair of the Virginia chapter of the National Woman's Party. While in New York in 1933 to attend the funeral of Alva Belmont, then president of the party, Jennings injured herself in a fall. Julia Somerville Jennings died from complications several weeks later at a Washington hospital on 4 April 1933. She was interred two days later in Hollywood Cemetery in Richmond. A tribute in the National Woman's Party journal Equal Rights noted that "she met with a brave heart and willing spirit the obscure, tedious tasks as well as the heroic big moves in the eight years of the militant suffrage campaign."

Sources Consulted:
Birth Register, Orange Co., Bureau of Vital Statistics (BVS), Commonwealth of Virginia Department of Health, Record Group 36, Library of Virginia (LVA); family information and middle name in Beatrice Mackey Doughtie, Documented Notes on Jennings and Allied Families (1961), 80; Harris Family Papers (1855–1969), Virginia Historical Society, Richmond; information provided by Margaret Jennings (great-niece), 2020; numerous references, including State Legislative Committee Report, 3 Apr. 1918 (first quotation) and Membership Committee Report, 3 Apr. 1918 (second quotation) in Congressional Union for Woman Suffrage, Virginia Branch Minute Book, 1915–1920, Acc. 52758, LVA; Richmond Evening Journal, 28 Aug. 1917 (third quotation); Richmond Times-Dispatch, 5 Oct. 1917 (fourth quotation); obituaries and accounts of funeral in Washington Post, 5, 6 April 1933, and Richmond Times-Dispatch, 6 April 1933; memorial in Equal Rights, 6 May 1933 (fifth quotation).
Image courtesy of Margaret Jennings.
Written for the Dictionary of Virginia Biography by Frances S. Pollard.
How to cite this page:
>Frances S. Pollard, "Julia Somerville Jennings (1860–1933)," Dictionary of Virginia Biography, Library of Virginia (1998– ), published 2020, rev. 2020 (https://www.lva.virginia.gov/public/dvb/bio.asp?b=Jennings_Julia_Somerville, accessed [today's date]).

Return to the Dictionary of Virginia Biography Search page.