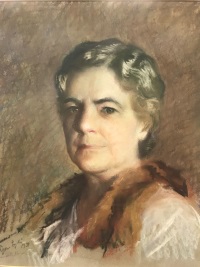 Fannie Stratton Bayly King (27 September 1864–13 January 1951), social reformer and woman suffrage activist, was born in Staunton, Virginia, and was the daughter of Edmund Wilson Bayly and his second wife Edmonia Bell Bayly. She attended Augusta Female Seminary (later Mary Baldwin University) in her hometown when the inspiring Mary Julia Baldwin, who firmly believed in rigorous higher education for women, was principal. On 4 October 1888, Bayly married William Wayt King, also of Staunton, who was business manager for the seminary most of his career. They had one son.
King took an active role in many community improvement projects and organizations, including serving as president of the woman's auxiliary of the Young Men's Christian Association during the first decade of the twentieth century. She supported the public health work of the Instructive Visiting Nurse Association and was also president of the local branch of the Co-Operative Education Association that worked (sometimes across racial and social class lines) to improve public education. In 1911 she was the founding president of the Staunton Civic Club. A lifelong supporter of public libraries, she was a vice president of the Virginia Library Association in 1913. During this time she was also a member of the editorial advisory board for the inaugural Woman's Who's Who of America, 1914–1915 (1914). Active in women's clubs in Staunton, she served from 1910 to 1912 as president of the Virginia Federation of Women's Clubs. When the state convention met in Staunton in 1912, she hosted Virginia novelist Mary Johnston, who made a suffrage speech. To King's disappointment the convention refused to endorse woman suffrage, and her Staunton clubs withdrew from the state federation.
Early in 1913 King became president of the recently established Staunton chapter of the Equal Suffrage League of Virginia. Elected a vice president of the state league at its annual convention in 1915, she joined a large delegation of Virginia suffragists who called on the governor in December 1915 and urged him to endorse woman suffrage. When it came her turn to speak, she began, "I come from a stronghold of democracy," meaning a stronghold of the Democratic Party in the Shenandoah Valley. The governor interrupted, "Not a very recent one," referring to a recent Republican Party victory in the district. King resumed, "You have anticipated what I was going to say. I was going to suggest that perhaps the reason for democracy's defeat there has been the failure of its advocates to advance the principles of democracy in their fullest sense." By which she meant extending the vote to women.
In the first two years King was president the Staunton league increased from fifty-eight members to eighty-four. The league distributed literature, encouraged public suffrage debates, and wrote legislators and congressmen. King arranged for prominent suffrage speakers to visit Staunton and she also spoke to local groups, including the Working Men's Fraternal Association. In 1915 physician Katherine Harwood Waller Barrett, president of the National Florence Crittenden Mission, spoke on behalf of woman suffrage in Staunton, and the state president of the Equal Suffrage League of Virginia, Lila Meade Valentine, spoke there later in the year. As a result of her bringing woman suffrage speakers to Staunton and her own public speeches, some of King's relatives shunned her for a time.
King's son died in June 1917, which affected her so deeply that for the next two or three years she withdrew almost completely from all public activities. After ratification of the Nineteenth Amendment in the summer of 1920, however, she plunged back into civic work. She was named to the committee charged with organizing the Virginia League of Women Voters and attended its founding meeting in November of that year. At a January 1921 conference of the league's district directors, King proposed a unanimously adopted resolution condemning the Ku Klux Klan. That year the league persuaded the governor to appoint an advisory Children's Code Commission, and King accepted appointment to it. In 1922 the commission recommended a host of legislative reforms of laws respecting children, and the General Assembly enacted many of the proposals to improve conditions of schools, child labor, dependent or neglected children, and child welfare generally.
King had been involved with child welfare issues for many years and helped organize the Staunton Community Welfare League (later also encompassing Augusta County), of which she served as executive secretary from 1915 until 1932. The league, which was one of the most robust in the state, coordinated local public welfare efforts, with an emphasis on providing foster homes for children. King also participated in organizing one of the earliest county councils affiliated with the Co-Operative Education Association in 1924. She served as the Augusta County Council's secretary and was elected a vice president the following year. The council supported health clinics, home demonstration agents, and conducted research on child labor.
Following her husband's death on 14 April 1939 King donated her house, Kalorama, which she had inherited from her mother, to the city for use as the public library. She continued to live there in an upstairs apartment. Fannie Stratton Bayly King died at her home in Staunton on 13 January 1951 and was buried beside the bodies of her husband and son in the city's Thornrose Cemetery.

Sources Consulted:
Birth date and full name on Delayed Birth Certificate, 1924, Staunton, Bureau of Vital Statistics (BVS), Commonwealth of Virginia Department of Health, Record Group 36, Library of Virginia (LVA); biographies in John William Leonard, ed., Woman's Who's Who of America, 1914–1915 (1914), 458, and Etta Belle Walker Northington, A History of the Virginia Federation of Women's Clubs, 1907–1957 (1958), 45–47, 256–257 (portrait opp. 256); letters and annual reports in Equal Suffrage League of Virginia Records, Accession 22002, LVA; Mrs. W. W. King Papers (1924–1939), Accession 557, Small Special Collections Library, University of Virginia, Charlottesville; Staunton City Marriage Register (1853–1926); Staunton Daily Leader, 10 May 1911; Alexandria Gazette, 10 Dec. 1915 (quotation); Death Certificate, Augusta Co., BVS (with variant birth date of 17 Mar. 1864); obituaries and editorial tributes in Staunton Evening Leader, 13 and 15 Jan. 1951, and Staunton News-Leader, 14 and 16 Jan. 1951.
Image courtesy of Staunton Public Library.
Written for the Dictionary of Virginia Biography by Grayson Katzenbach.
How to cite this page:
>Grayson Katzenbach,"Fannie Stratton Bayly King (1864–1951)," Dictionary of Virginia Biography, Library of Virginia (1998– ), published 2018 (http://www.lva.virginia.gov/public/dvb/bio.asp?b=King_Fannie_Bayly, accessed [today's date]).

Return to the Dictionary of Virginia Biography Search page.