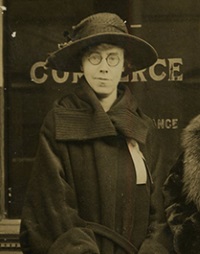 Sarah Mason Sandridge Matthews (20 November 1881–11 May 1963), woman suffrage activist, was born in Charlottesville, Virginia, and was the daughter of Joseph Franklin Sandridge and Sarah Ann Biggers Sandridge. Known to her family and friends as Sadie, she attended local public schools and in 1900 was working as a typesetter. Her passion for teaching came early and continued throughout her life. She began teaching in 1901 and the following year won a two-year scholarship that covered tuition and $100 in railroad fare to the Peabody Normal College in Nashville, later a part of Vanderbilt University. After graduating, she moved to Norfolk to teach in the public schools there. In 1907 she gave a presentation on composition at a state teacher's association meeting. By 1911 she was returning regularly to Charlottesville to take supplemental teaching courses at the University of Virginia's summer school, of which she was the registrar from 1916 to 1923. Other than summer teacher institutes and some graduate programs, women were not then allowed to attend the university.
Sandridge married Lewis Carleton Matthews in Northampton County, North Carolina, on 19 April 1913. They had three daughters, one of whom died as a child after being struck by a car. Matthews divorced her husband on grounds of desertion on 7 October 1930. She spent much of her adult life as a self-supporting mother and head of her own household, but she nevertheless led an active professional and political life. A progressive and civic-minded woman, she joined the fight for woman suffrage by 1911 when she had become recording secretary for the Norfolk chapter of the Equal Suffrage League of Virginia. One of the largest and most active chapters in the state, its members hosted suffrage speakers at public events, participated in local parades and national suffrage celebrations, secured signatures on petitions, contacted legislators, and distributed literature. In 1913 Matthews encouraged students at Maury High School, where she taught, to organize a junior chapter. She chaired the Norfolk league's press committee in 1917 and was one of thirty-four Virginia delegates to the annual convention of the National American Woman Suffrage Association. Elected first vice president of the Norfolk league in 1919, she also served as the recording secretary for the annual state convention that year. In addition to her suffrage work Matthews was president of the Norfolk Housewives League, which advocated food purity and sanitary conditions at public markets, and in 1919 she and two other women incorporated Housewives Market to sell meat, produce, and groceries, although the venture did not succeed.
Even before ratification of the Nineteenth Amendment in 1920 Matthews took part in organizing citizenship classes to prepare women for their anticipated new responsibilities as voters. Following ratification she continued to be involved in local and regional politics. From 1922 to 1925 she was a vice president of the Virginia League of Women Voters, and in 1924 she was president of the league's Norfolk chapter, which that year hosted the annual state convention. At the League of Women Voters' national convention in 1924 she was elected secretary of its third region and began traveling around the South to help organize chapters, but she resigned after a few months. Matthews was vocal about her opinions on women, voting, and civic involvement. She published articles in the Norfolk Housewife and Woman Citizen about the lessons southern suffragists had learned in their battle for enfranchisement and spoke freely about her desire for intelligent, prepared female politicians to set the right example for women.
After separating from her husband, Matthews moved back to Charlottesville about 1926. She continued her civic engagement, sitting on the board of directors of the Virginia League of Women Voters in 1930 and chairing the mental health committee for the state and Albemarle County leagues during the 1950s. In 1936 she participated in the historical records survey of the Equal Suffrage League, a statewide effort to document Virginia's suffrage efforts. She joined the Charlottesville Business and Professional Women's Club, serving as its president for the 1943–1944 term. In 1941 she published an article in the Virginia Business and Professional Woman to encourage women to organize and participate in the war effort. In a speech at the club's twenty-fifth anniversary in 1949, Matthews commended women's progress in professional spheres while also urging them to increase their involvement in politics. She was chair of the statewide organization's legislative committee in 1954.
Matthews became the medical records librarian (later registered record librarian) for the University of Virginia Hospital in 1926. When she earned her certification she was one of only three registered record librarians in Virginia. As a stranger to the medical world, she found before her a steep learning curve and few pre-established recording standards on which to rely, but she had an intense sympathy for the hospital's patients. In 1955, four years after her retirement, Matthews began working on a history of the hospital, which she published in 1961 as University of Virginia Hospital: Its First Fifty Years. In her personal manuscript notes, Matthews expressed her gratitude for being involved in the growing field of medical record keeping and for having an influential role in its early development.
Sarah Mason Sandridge Matthews suffered a stroke and died in a Charlottesville nursing home on 11 May 1963. She was buried in the city's Riverview Cemetery.

Sources Consulted:
Birth and death dates on Death Certificate, Charlottesville, Bureau of Vital Statistics (BVS), Commonwealth of Virginia Department of Health, Record Group 36, Library of Virginia, with variant 1882 birth year on gravestone, Riverview Cemetery, Charlottesville; marriage date in Northampton Co., N.C., Marriage Licenses, with erroneous date of 19 January 1913 given in Richmond Times-Dispatch, 25 June 1913, and on 7 Oct. 1930 divorce certificate, BVS; some letters as well as reports and minutes of the Norfolk Equal Suffrage League in Equal Suffrage League of Virginia Records, Accession 22002, Library of Virginia; some correspondence in Adèle Goodman Clark Papers, Cabell Library, Virginia Commonwealth University, Richmond; publications include Matthews, "Our First Political Campaign," Woman Citizen, 2 Apr. 1921, 1131, 1134, "Woman's Part in Civilian Defense," Virginia Business and Professional Woman 4 (Dec. 1941): 6–8, and The University of Virginia Hospital: Its First Fifty Years (1961); excerpts from Norfolk Housewife articles in Elizabeth City, N.C., Independent, 14 Jan. 1921 and Tazewell Clinch Valley News, 1 July 1921; Matthews's book manuscript with personal information not published, Accession 6460, Small Special Collections Library, University of Virginia (UVA), Charlottesville; Norfolk Ledger-Dispatch, 10 May 1924 (portrait); Richmond Times-Dispatch, 6 July 1924; Roberta Wellford, "Virginia League of Women Voters," Papers Regarding Woman Suffrage and Equal Rights in Virginia, Accession 6090, UVA; Lorraine Gates Schuyler, The Weight of Their Votes: Southern Woman and Political Leverage in the 1920s (2006), 161, 186; obituary in Charlottesville Daily Progress, 13 May 1963.
Image courtesy of Special Collections and Archives, James Branch Cabell Library, Virginia Commonwealth University Libraries.
Written for the Dictionary of Virginia Biography by Abbigail Traaseth.
How to cite this page:
>Abbigail Traaseth, "Sarah Mason Sandridge Matthews (1881–1963)," Dictionary of Virginia Biography, Library of Virginia (1998– ), published 2018 (http://www.lva.virginia.gov/public/dvb/bio.asp?b=Matthews_Sarah_Mason_Sandridge, accessed [today's date]).

Return to the Dictionary of Virginia Biography Search page.