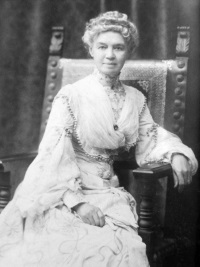 Jane Meade Rutherfoord (7 October 1840–28 October 1918), woman's club leader and president of the Virginia Association Opposed to Woman Suffrage, was born in Richmond and was the daughter of Samuel Jordan Rutherfoord and Frances Catherine Watson Rutherfoord. Born into a prominent family, which included her uncle John Rutherfoord, a member of the Council of State who served as acting governor in 1841 and 1842, her father was a wealthy farmer who at one time owned enslaved people. Little is known about her early years, but she attended the private Southern Female Institute, in Richmond, and never married. Her father retained much of his prewar wealth, and she lived with her parents until their deaths early in the 1880s, at which time she moved to an apartment in a fashionable area of the city. Later, Rutherfoord, a widowed younger sister, and an unmarried older sister all shared a home.
A fixture on the society page, Rutherfoord attended fashionable parties, traveled abroad, and played whist, a popular English card game. Like other elite women, she joined heritage groups such as the National Society of the Colonial Dames of America and the United Daughters of the Confederacy. Rutherfoord served as a vice president of the Matthew Fontaine Maury Association, which worked to erect a statue of the famed oceanographer, and was on the relic committee in 1896 that gathered artifacts for the new Confederate Museum (later the White House of the Confederacy).
In the spring of 1894 Rutherfoord and thirteen other prominent women attended the organizational meeting of the Woman's Club of Richmond, which became the city's preeminent cultural and literary society. By June she had been elected treasurer and named to the board of directors, posts she held until 1901, when she resigned as a result of poor health. Elected president in 1903, Rutherfoord served until 1906 and again from 1909 to 1910. She was twice elected second vice president. She chaired the board during her years as club president and at various times led the history, literary, lectures, and welfare committees. In the summer of 1900 Rutherfoord helped supervise renovation of the club's new headquarters, later known as the Bolling Haxall House.
Like many other Woman's Club members, Rutherfoord participated in the work of the Richmond Education Association, founded in 1900 to increase support for public schools in the city. As chair of its history committee, she co-edited and contributed a chapter to Historical Sketches of Richmond (1907), which the association distributed to schools. Taking educational improvements beyond Richmond, she was founding president in 1909 of the Virginia chapter of the Southern Industrial Educational Association, which worked to improve opportunities for children in the Appalachian region. In 1911 Rutherfoord spurred the Woman's Club to establish an annual scholarship for needy young Appalachian women. A lifelong Presbyterian who served as corresponding secretary of the Woman's Missionary Union of the Virginia Synod, Rutherfoord also helped raise funds for the coeducational Grundy Presbyterian School, in rural Buchanan County.
Rutherfoord was among the most dedicated members of the Richmond Woman's Club for more than two decades. She viewed the group's purpose as expanding the intellectual horizons of women but did so in a traditional framework that only slightly pushed the boundaries of gender roles. In her 1904 presidential report Rutherfoord supported expanding employment opportunities, largely in the academic teaching ranks, asserting that "as long as it is necessary for women to be 'Bread-winners,' let the stumbling blocks be removed, and every avenue be open to them which will lead to their ultimate success." At the same time, though, she limited her vision and explained, "To further this object, we do not desire to take in our hands the reins of government, any more than we would like to see in the hands of the man the distaff or the direction of the domestic ménage." A Woman's Club member later described Rutherfoord as "a much beloved Virginia gentlewoman full of honor and of years," who although she was "imbued with the romance of the past, she nevertheless could feel the stimulating and perturbing touch of the present, and responded with will and wisdom to the demands of her world." The sharp distinction Rutherfoord made between a woman's proper role in the public and private spheres signaled her attitude toward the burgeoning equal suffrage movement.
In March 1912 the Virginia Association of Conservative Women formed to counter the work of the Equal Suffrage League of Virginia, which included Woman's Club members among its leaders, to secure for women the right to vote. The conservative women's group sought to increase morality among women and to stress their proper role as domestic matriarchs who raised children to be good citizens. The organization soon became the Virginia affiliate of the National Association Opposed to Woman Suffrage. By November, the Virginia Association Opposed to Woman Suffrage (sometimes styled Virginia Association Opposed to Woman's Suffrage) was on a firm footing with Rutherfoord as president and other Woman's Club members as officers. In December 1913, the group, which reported about 1,900 members in chapters throughout the state, opened a state headquarters in Richmond. The association's members did not lobby the General Assembly to defeat woman suffrage but articulated their views concerning women's roles by corresponding with legislators as well as distributing free literature at the headquarters and in bookstores, an innovative strategy.
The antis, as they were often referred to by suffragists, insisted that the great majority of women did not want the obligation of the vote. The Virginia Association Opposed to Woman Suffrage, which publicized that it counted Mary Custis Lee, the daughter of Confederate general Robert Edward Lee, among its members, argued that woman suffrage would lead to socialism and accused the movement of being anti-Christian, anti-family, and anti-marriage. In stressing the domestic sphere as a woman's proper place, a pamphlet entitled Household Hints dispensed such advice as "Clean houses and good homes, which cannot be provided by legislation, keep children healthier and happier than any number of uplift laws." The association also connected its cause to the fight for alcohol prohibition and asserted that the liquor trade had not abated in states with woman suffrage.
Anti-suffrage literature also contained racial, ethnic, and class elements. One of the association's pamphlets argued that equal suffrage was fraught "with especial danger to our dear Southland. If the ignorant vote is to be doubled, the vicious vote increased, and a highly undesirable vote" of African Americans added to the electorate, then white supremacy and the disfranchisement of African American men completed at the beginning of the century would be endangered. It also circulated a broadside claiming that twenty-nine Virginia counties would be under "negro rule" if women received the vote. The New York–based national organization further argued that woman suffrage would give the franchise to women deemed objectionable and dishonest, especially in the larger cities.
Rutherfoord served as president of the Virginia Association Opposed to Woman Suffrage until sometime in 1915 and retired probably because of her advancing age. Not abandoning the cause, however, she explained to the Richmond Evening Journal in July 1916 that she had corresponded with many prominent women who were strongly opposed to woman suffrage. Insisting that the suffrage movement had done nothing for Virginia except introduce "politics, party spirit, jealousy and uncharitableness where none before existed," Rutherfoord exclaimed, "What do they offer in exchange? Nothing! Not even peace of mind."
Jane Meade Rutherfoord suffered a cerebral hemorrhage that caused paralysis about two months before her death in Richmond on 28 October 1918. She was buried in the city's fashionable Hollywood Cemetery. The Woman's Club fondly memorialized her in its 1919 annual report and in 1925 named its first endowed scholarship, to help women attend college, for Rutherfoord.

Sources Consulted:
Birth date and place self-reported in passport application, 4 Mar. 1902, General Records of the Department of State, Record Group 59, National Archives and Records Administration, Washington, D.C.; variant 7 Oct. 1839 birth date on gravestone; John William Leonard, ed., Woman's Who's Who of America, 1914–1915 (1914), 709; numerous mentions in Sandra Gioia Treadway, Women of Mark: A History of The Woman's Club of Richmond, Virginia, 1894–1994 (1995), portrait on 8; The Tenth Annual Report of the Woman's Club (1904), 6 (first and second quotations); National Association Opposed to Woman Suffrage, Household Hints, n.d. (fourth quotation), Jewish Women's Archive, Brookline, Massachusetts; Virginia Association Opposed to Woman Suffrage, Why Women Should Oppose Equal Suffrage, n.d. (fifth quotation), "Virginia Warns Her People Against Woman Suffrage," 1915, (sixth quotation), Equal Suffrage League of Virginia Records, Accession 22002, Library of Virginia (LVA); Alexandria Gazette, 11 Dec. 1913; Richmond Evening Journal, 7 July 1916 (seventh quotation); Death Certificate, Richmond City, Bureau of Vital Statistics, Commonwealth of Virginia Department of Health, Record Group 28, LVA; obituaries in Richmond News Leader, 28 Oct. 1918 and Richmond Times-Dispatch, 29 Oct. 1918; memorial in Woman's Club…The 25th Annual Report, May 1919 (1919), 35–36 (third quotation on 35).
Image courtesy of the Woman's Club of Richmond.
Written for the Dictionary of Virginia Biography by John G. Deal.
How to cite this page:
>John G. Deal, "Jane Meade Rutherfoord (1840–1918)," Dictionary of Virginia Biography, Library of Virginia (1998– ), published 2019 (http://www.lva.virginia.gov/public/dvb/bio.asp?b=Rutherfoord_Jane_Meade, accessed [today's date]).

Return to the Dictionary of Virginia Biography Search page.