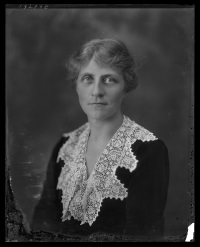 Roberta Wellford (17 January 1873–27 December 1956), reformer and woman suffrage activist, was born in Greenville, South Carolina, and was the daughter of Philip Alexander Wellford, a Virginia native and Confederate veteran, and Mary Belle Street Wellford. When she was five years old her mother died. Details about Wellford's childhood in Richmond and her education are scarce, but she grew up in the household of her grandmother. As a member of a prosperous and socially prominent family she was often mentioned in the society pages of Richmond's newspapers early in the twentieth century.
Berta Wellford, as she was known to family and friends, never married and lived with female relatives in Richmond for most of her life but resided in Charlottesville during part of the 1910s. She belonged at different times in her life to several influential state and local organizations, including the Woman's Club of Richmond, Sheltering Arms Hospital, the Richmond Education Association, the Society for the Prevention of Cruelty to Animals, the Association for the Preservation of Virginia Antiquities (later Preservation Virginia), United World Federalists, and the Foreign Policy Association. Wellford was a member of Saint Paul's Episcopal Church in Richmond and an early member of the Girls' Club of Richmond, which provided aid and entertainment to girls of working-class families. She served as a vice president of the club when it incorporated in 1903. She also supported the work of her childhood friend Mary-Cooke Branch Munford to create a women's coordinate college at the University of Virginia.
Wellford was an intimate friend of Cary Glasgow McCormack, sister of the novelist Ellen Glasgow, and travelled with them to Italy on an extended trip in 1908. The three attended the founding meetings of the Equal Suffrage League of Virginia in November 1909 in Richmond. Wellford became a member of the league's board of directors at that time and also served on its Legislative Committee. She participated with other members in the March 1913 national suffrage parade in Washington, D.C. From 1915 to 1919 she was the league's recording secretary and attended its annual conventions. Known as a talented organizer and public speaker, she corresponded regularly with other suffragists, wrote letters to newspaper editors, and gave speeches on suffrage. She spoke at founding meetings of local leagues in central Virginia, such as on 12 July 1915, when she and Equal Suffrage League vice president Elizabeth Dabney Langhorne Lewis spoke at the Rappahannock County courthouse and helped ten women there form a local suffrage league.
Traveling frequently between Richmond and Charlottesville, Wellford was active in both the Albemarle County and the University of Virginia leagues. In 1914 she spearheaded the creation of a woman suffrage bureau stocked with literature, posters, buttons, membership cards, and suffrage maps to recruit members from among the more than twelve hundred teachers who attended the annual six-week summer programs at the University of Virginia. In December 1915, she joined other officers and members who were attending the league's state convention in marching to the governor's office to ask for his support for votes for women. According to a newspaper account of the delegation, Wellford insisted that "women be allowed to serve the country in a fuller sense."
By 1915 Wellford chaired the league's Seventh Congressional District committee, which required her to keep abreast of state legislative matters of interest to the league, including wining support for an amendment to the state constitution to grant women the vote. In 1916, after the National American Woman Suffrage Association formally resolved to focus on securing the passage of a suffrage amendment to the Constitution of the United States, the Equal Suffrage League followed suit. From 1916 to 1917 Wellford gave speeches around the state, recruited new members, and carried on active correspondence with state legislators, congressmen, and leading figures in national women's organizations such as Margaret Dreier Robins of the Women's Trade Union League and Anna Howard Shaw, Carrie Chapman Catt, and Harriot Stanton Blatch of the National American Woman Suffrage Association.
Wellford was a suffragist and a progressive, but there were cultural, race-specific limits to her progressivism. In a draft of a speech she implied that racism resulted from ignorance and suggested that black women were treated very unfairly, but at the same time she also described them as less intelligent. In an exchange of letters with Mary Ellen Pollard Clarke at the Equal Suffrage League's Richmond headquarters and Kate M. Gordon, of Louisiana, president of the Southern States Woman Suffrage Conference, they agreed that the state-by-state approach was a better option than an amendment to the federal constitution, which would spread fear about African Americans voting. Each acknowledged the reality and irrationality of racial prejudice but at the same time were comfortable arguing that white Virginians need not fear that woman suffrage would empower African Americans in Virginia. The state constitution and laws that prevented most black men from voting would also prevent most black women from voting. They also knew that in Virginia white women considerably outnumbered black women.
During World War I, Wellford was employed as chief clerk of the exemption board in Albemarle County and Charlottesville, which certified whether men who had registered for conscription qualified for an exemption. In 1918 she stepped away from her suffrage advocacy to work for almost two years with the Young Men's Christian Association and the Army of Occupation in France, Italy, and occupied Germany.
With woman suffrage secured by ratification of the Nineteenth Amendment in 1920, Wellford returned from Europe, helped establish the new Virginia League of Women Voters, and served as its field director. She attended a training institute held by the national league in August 1920 to prepare members to develop civic education programs and to organize local branches. Wellford traveled to dozens of localities throughout Virginia during the 1920s to establish local branches. She was elected president of the Virginia league in 1925, but Wellford declined to serve because of her poor health. The league promoted voter education, consumer protection, protective workplace regulations for women, the end of child labor, public health measures, married women's citizenship rights, and international peace. The League of Women Voters billed itself as non-partisan, but it was clearly an organization that worked to get women involved in supporting progressive policies within both mainstream political parties. Decidedly progressive in her politics, Wellford sustained an active interest in these matters into the 1940s.
Wellford was named to the Committee for the Reduction of Armament by International Agreement (later the Committee on International Cooperation to Prevent War) after the National League of Women Voters created it in 1921, and she also chaired the state league's committee of the same name. She remained active in the league's peace activism through the 1930s. She attended national conferences, worked to promote disarmament, wrote letters to senators, and gave speeches on peace, disarmament, and the folly of war reparations. Wellford also wrote newspaper editorials in support of the United States joining the League of Nations and to support the World Court. Perhaps appropriately, the item of latest date preserved in Wellford's papers at the University of Virginia is a short article she clipped from a 1948 statement by the Emergency Committee of Atomic Scientists, entitled "A Policy for Survival: No one has the right to withdraw from the world of action at a time when civilization faces its supreme test." The statement clearly expressed her lifelong commitments to civic activism and peace. Roberta Wellford died of heart disease in a Richmond nursing home on 27 December 1956, and was buried in the city's Hollywood Cemetery, where her parents were buried.

Sources Consulted:
Self-reported birth date and birthplace in passport application, 4 Sept. 1918, General Records of the Department of State, Record Group 59, National Archives and Records Administration, Washington, D.C.; Roberta Wellford Papers (1912–1927) and Roberta Wellford Papers (1918–1948), both Albert and Shirley Small Special Collections Library, University of Virginia, Charlottesville; correspondence and other references in Equal Suffrage League of Virginia Records, Accession 22002, Library of Virginia (LVA), and in Adèle Godman Clark Papers, James Branch Cabell Library, Virginia Commonwealth University (VCU), both Richmond; Roberta Wellford Collection of Women's Rights Ephemera, 1915–1956, VCU; numerous references in Richmond newspapers, 1910s–1930s, including Richmond Times-Dispatch, 10 Dec. 1915 (quotation), 19 Dec. 1926 (portrait); Woman Citizen, 13 June 1925; Death Certificate, Richmond City, Bureau of Vital Statistics, Commonwealth of Virginia Department of Health; obituaries in Richmond News Leader, 28 Dec. 1956, and Richmond Times-Dispatch, 29 Dec. 1956.
Image courtesy of Virginia Historical Society.
Written for the Dictionary of Virginia Biography by Jennifer Tomás.
How to cite this page:
>Jennifer Tomás, "Roberta Wellford (1873–1956)," Dictionary of Virginia Biography, Library of Virginia (1998– ), published 2019 (http://www.lva.virginia.gov/public/dvb/bio.asp?b=Wellford_Roberta, accessed [today's date]).

Return to the Dictionary of Virginia Biography Search page.