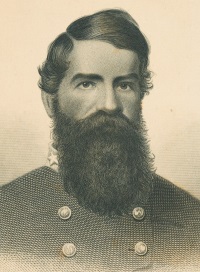 Turner Ashby (23 October 1828–6 June 1862), Confederate cavalry officer, was born at Rose Bank, his family's farm in Fauquier County. He was the third of five sons and fifth of nine children of Turner Ashby and Dorothea Farrar Green Ashby, of Rappahannock County. Ashby traced his lineage to England from Thomas Ashby, who came to Virginia early in the 1700s. His grandfather John Ashby was wounded twice as a captain during the American Revolution, and his namesake father served as a colonel in the War of 1812. After his father's death in June 1834 Ashby was educated at home and at a nearby private school. In 1853 his mother sold their farm and Ashby acquired a house and a few acres at nearby Markham, where he ran a mercantile business. He named his new residence Wolf's Crag.
Angered by John Brown's raid on Harpers Ferry in 1859, Ashby raised a company of cavalry, the Mountain Rangers, and became its captain. A slight, wiry man and a superb horseman, he supported slavery but opposed secession. When Virginia left the Union in April 1861, however, he and the Mountain Rangers reported for duty at Harpers Ferry, and he was soon conducting picket and scouting operations along the upper Potomac River. On 17 July 1861 his command became part of the 7th Virginia Cavalry, with Ashby as lieutenant colonel. Just two weeks earlier his brother Richard, a captain in the regiment, died from wounds suffered during a reconnaissance mission. On the eve of the first major battle of the war, the 7th Virginia conducted screening operations for General Joseph E. Johnston's army during its July 1861 march from the Shenandoah Valley to fight at Manassas Junction (Bull Run).
In October 1861 Ashby became commander of the 7th Virginia. Two months later Thomas J. "Stonewall" Jackson took charge of Confederate forces in the valley. Jackson depended on his cavalry for more than picket and escort duty. He wanted it to penetrate Union lines and bring back information on enemy strength and movements. Ashby was an ideal light-horse commander in this kind of partisan warfare, combining the instincts of a gifted cavalryman with a bent for daring exploits. Promoted to colonel on 12 February 1862, he became the idol of the army, leading his troops more by force of personality than by military discipline, a situation made more unmanageable when Secretary of War Judah P. Benjamin accorded Ashby's command semi-independent status, allowing his ranks to swell with inspired but largely untrained recruits.
Even after Jackson's defeat at Kernstown on 23 March 1862, Union authorities remained obsessed with destroying his small army. In the drama that unfolded in May and June, Ashby played an invaluable role in the famed Shenandoah Valley campaign, in which Jackson crushed the pursuing Union commands. However, the two men had clashed earlier. Jackson thought Ashby a poor disciplinarian and attempted to reorganize his command late in April, but relented to prevent his resignation. On 23 May Ashby was promoted to brigadier general. When he was killed on 6 June while fighting a rear-guard action south of Harrisonburg, he was already a legendary figure. He was buried in the University of Virginia Cemetery in Charlottesville. On 25 October 1866 Turner Ashby was reinterred with Richard Ashby in Stonewall Cemetery in Winchester under a single gravestone inscribed "The Brothers Ashby."

Sources Consulted:
Thomas A. Ashby, Life of Turner Ashby (1914; frontispiece portrait); John R. Kerwood, "Turner Ashby: Partisan in Gray" (master's thesis, Pennsylvania State University, 1967); Compiled Service Records of Confederate Soldiers (1861–1865), War Department Collection of Confederate Records, Record Group 109, National Archives and Records Administration, Washington, D.C.; Garland R. Quarles, Some Worthy Lives: Mini-Biographies, Winchester and Frederick County (1988), 4–6; Millard K. Bushong, General Turner Ashby and Stonewall's Valley Campaign (1980); Lenoir Chambers, Stonewall Jackson (1959), 1:489–490; James I. Robertson Jr., Stonewall Jackson: The Man, The Soldier, The Legend (1997), 235–236, 355, 361, 362, 371, 423.
Image courtesy of Library of Virginia, Visual Studies Collection.

Written for the Dictionary of Virginia Biography by Jeffry D. Wert.
How to cite this page:
>Jeffry D. Wert,"Turner Ashby (1828–1862)," Dictionary of Virginia Biography, Library of Virginia (1998– ), published 1998 (http://www.lva.virginia.gov/public/dvb/bio.php?b=Ashby_Turner, accessed [today's date]).

Return to the Dictionary of Virginia Biography Search page.