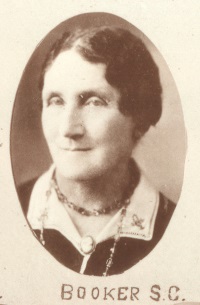 Sallie Cook Booker (28 August 1857–20 December 1944), member of the House of Delegates, was born on her father's farm in Franklin County, the daughter of Samuel Shrewsberry Cook and Mildred Dawson Cook. She began teaching school when she was sixteen years old and later attended Piedmont Institute for Young Ladies in Franklin County to complete her preparation for teaching in public schools. On 22 May 1877 she married Jesse Wootten Booker, of Henry County. Shortly after her marriage she resumed teaching in one-room country schools in Henry County. Later she moved to Martinsville, where her husband worked first as a businessman and then as a postal employee and where she continued to teach. Booker attended summer normal institutes several times and taught school for more than twenty-five years. She also brought up four sons and three daughters.
Booker was active in the Women's Christian Temperance Union, the Methodist Church, and the United Daughters of the Confederacy. After she retired from teaching she became active in local Democratic Party politics as well. Early in the 1920s Booker became a member of the state central committee and also of the executive committee, which formulated party policies. On 12 September 1925 she was the surprise, unanimous nominee of the Democratic Party for Henry County's seat in the House of Delegates. According to a story then current, the leading Democratic men of Henry County caucused in a drugstore to settle on a successor to the retiring delegate, and someone suggested that the best person they could send to Richmond was their former schoolteacher. Booker was nominated without debate and elected without Republican opposition.
Sallie C. Booker was the third woman elected to the General Assembly of Virginia, and she served two consecutive two-year terms. In 1927, during her first term, the assembly met in a special session to prepare the constitutional amendments needed to implement Governor Harry Flood Byrd's governmental reorganization plans, which she supported. The Speaker appointed Booker to the Committee on Schools and Colleges, and she also served on the Committees on Counties, Cities, and Towns, on Retrenchment and Economy, and on the Library. During her second term she was the ranking member of the Committee on the Library, and she was fourth in seniority on the thirteen-member Committee on Schools and Colleges. The chair of the education committee during her second term was Sarah Lee Fain, who had been elected to the General Assembly two years before Booker, and another member was Helen Ruth Henderson, also a teacher, who was elected two years after Booker, becoming the fourth woman to serve in the General Assembly.
Booker ran for reelection in 1927 and faced stiff opposition from Reed L. Stone, a Henry County Republican who ran as an independent. He opposed her on the grounds that service in the General Assembly was properly a man's job. Stone declined Booker's challenge to a public debate. Despite the fact that the local Republican Party had a weak political organization, she only narrowly defeated him on 8 November 1927, by a vote of 1,379 to 1,323. During her second term Booker won approval of one of her pet projects, a bill to increase pensions for Confederate veterans and their widows. She did not seek a third term in 1929. Sallie Cook Booker died in Shackelford Hospital in Martinsville on 20 December 1944 and was buried in Oakwood Cemetery in that city.

Sources Consulted:
Biography by Hilda G. Marshall in Virginia Iota State Organization of Delta Kappa Gamma Society, Adventures in Teaching: Pioneer Women Educators and Influential Teachers (1963), 144–148; Birth Register, Franklin Co. (gives first name as Sally) and Marriage Register, Franklin Co., both Bureau of Vital Statistics, Commonwealth of Virginia Department of Health, Record Group 36, Library of Virginia (LVA); notes from Essie Smith's undated oral history interview with Booker, Biographical Files, Virginia Writers' Project, Work Projects Administration of Virginia Papers, Accession 30432, LVA; 1927 campaign covered in Martinsville Henry Bulletin, Aug.–Nov. 1927; Secretary of the Commonwealth, Election Records, 1776–1941, no. 230, State Government Records Collection, Library of Virginia, LVA; 1928 Legislative Photograph, Visual Studies Collection, LVA; obituaries in Martinsville Daily Bulletin, 20 Dec. 1944, and Richmond Times-Dispatch, 21 Dec. 1944; editorial tribute in Martinsville Daily Bulletin, 21 Dec. 1944.
Image courtesy of Library of Virginia, Visual Studies Collection.

Written for the Dictionary of Virginia Biography by Brent Tarter.
How to cite this page:
>Brent Tarter,"Sallie Cook Booker (1857–1944)," Dictionary of Virginia Biography, Library of Virginia (1998– ), published 2001 (http://www.lva.virginia.gov/public/dvb/bio.php?b=Booker_Sallie_Cook, accessed [today's date]).

Return to the Dictionary of Virginia Biography Search page.