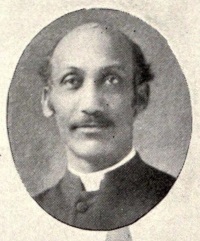 Richard Hausber Bowling (4 September 1864–26 July 1913), Baptist minister, was the son of Richard Bowling and Venus Anne Russell Bowling. He was born in a rough cabin that his parents owned near Hampton in Elizabeth City County. Bowling's father was a farmer and the owner of a small store. Following a childhood spent helping his father on the farm, in the store, and fishing, he entered Hampton Normal and Agricultural Institute (later Hampton University) in 1876 and came under the influence of its founder, Samuel Chapman Armstrong. In December 1879 Bowling ran away from Hampton and worked his way on a boat to Boston, where he briefly served in the army. After a year in Boston he went West for a year and a half. Bowling then spent a year in New York working as a butler and attending a private theological school. During the next three years he worked as a farmhand in Connecticut in the winter and as a waiter at a resort in the summer. Whether he was working or on the move Bowling kept his books with him and studied when he had an opportunity.
Feeling a call to the ministry, Bowling joined Mount Olivet Baptist Church in New York and began to establish a reputation as a promising young preacher. In 1885 he returned to Virginia when he was called to the pulpit of a small Baptist church in Waynesboro. He held brief pastorates there, in Harrisonburg, and in Steelton, Pennsylvania, where he erected a new church building. In December 1889, while Bowling was visiting his family in Hampton, he preached a trial sermon at Norfolk's historic First Baptist Church, which was seeking a new pastor. The sermon was so well received that on 1 January 1890 the congregation unanimously offered him the position. On 8 October 1890 Bowling married Eliza Howard Haynes, a Staunton native and graduate of Fisk University. They had three sons and four daughters, three of whom died in infancy. Eliza Bowling died in February 1905. On 31 January 1907 Bowling married Grace P. Melton, of Winton, North Carolina. They had two sons and one daughter.
During his Norfolk pastorate Bowling conducted a number of remarkable revivals and added many members to his church, which became one of the largest African American congregations in Virginia. He encouraged his parishioners to become educated, to invest in property, and to live soberly. On at least two occasions the Richmond Planet printed Bowling's sermons, considerably enlarging the reach of his ministry and contributing to his growing reputation as one of the most influential and successful African American clergymen in Virginia. From 1899 until his death he was president of the Virginia Baptist State Convention, which under his leadership paid for and successfully operated the Virginia Theological Seminary and College in Lynchburg. Bowling was also active in many civic and philanthropic efforts. He sat on the boards of the seminary and of other educational, philanthropic, and missionary organizations; he served as president of Norfolk's African American branch of the Young Men's Christian Association; and he helped organize a black insurance company. Bowling was chaplain to the 2d Regiment Virginia Infantry, an African American militia regiment. He cultivated his mind by reading and by writing poetry, which probably contributed to the widely remarked musical quality of his sermons.
In 1904 Bowling's congregation, which then numbered approximately 2,000, began a large new stone church on Bute Street. It cost more than $72,000, and building it during the next two years and paying for it over the next nine years was perhaps the largest achievement of his life. A visitor described the church as "charmingly built," with a sanctuary "contrived in graceful horseshoe style, with graduated, sloping gallery, richly-stained windows, and a vast array of red-cushioned seats." Richard Hausber Bowling died in Norfolk on 26 July 1913 following an illness of several months and was buried in Calvary Cemetery in that city. The following year his eldest son, Richard Hausber Bowling (1891–1961), succeeded him as pastor of First Baptist Church.

Sources Consulted:
Richmond Planet, 2 July 1898; Clement Richardson, ed., National Cyclopedia of the Colored Race (1919), 429 (portrait); Margaret L. Gordon, ed., A Documented History of the First Baptist Church, Bute Street, Norfolk, Virginia, 1800–1988 (1988), 19–21, 24–25, 195 (portrait); Annie Bowling Givens, "Norfolk's Favorite Son: A Biography of the Reverend Richard H. Bowling, Jr." (master's thesis, Hampton Institute, 1963), 8–20; first marriage documented in Marriage Register, Staunton, Bureau of Vital Statistics, Commonwealth of Virginia Department of Health, Record Group 36, Library of Virginia; U.S. Bureau of the Census, Census of Religious Bodies, 1916 (1916), 1:458–459; Stephen Graham, The Soul of John Brown (1920), 35–48 (quotations on 37); Ernest N. Hall, "A Negro Institutional Church," Southern Workman 50 (1921): 113–118; Earl Lewis, In Their Own Interests: Race, Class, and Power in Twentieth-Century Norfolk, Virginia (1991), 70–71; Ralph E. Luker, The Social Gospel in Black and White: American Racial Reform, 1885–1912 (1991), 164, 177; sermons printed in Richmond Planet, 26 Dec. 1896, 21 Aug. 1897; obituary in Norfolk Virginian-Pilot, 27 July 1913; obituary and account of funeral in Richmond Planet, 9 Aug. 1913.
Image courtesy of the Library of Virginia.
Written for the Dictionary of Virginia Biography by Ralph E. Luker.
How to cite this page:
>Ralph E. Luker, "Richard Hausber Bowling (1864–1913)," Dictionary of Virginia Biography, Library of Virginia (1998– ), published 2001 (http://www.lva.virginia.gov/public/dvb/bio.asp?b=Bowling_Richard_Hausber_1864-1913, accessed [today's date]).

Return to the Dictionary of Virginia Biography Search page.