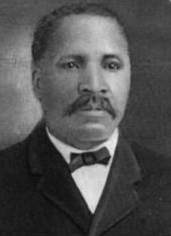 Isaac David Burrell (10 March 1865–21 March 1914), physician and pharmacist, was born in the village of Chula in Amelia County, the son of Robert Burrell, a farmer who was probably a slave before emancipation. The name of his mother is unknown. During Reconstruction Burrell attended a public school in Amelia County and then went to Pennsylvania, where in 1888 he graduated from Lincoln University in Chester County. He subsequently attended the Leonard Medical College of Shaw University in Raleigh, North Carolina, and received an M.D. in 1893.
Burrell then moved to Roanoke and began practicing medicine. In the 1890s Roanoke was a young industrial town crowded with laborers working for the Norfolk and Western Railway Company, several of whom had the surname Burrell. Family connections are now difficult to unravel, but the doctor was probably drawn to the city by the presence of one or more relatives. On 28 December 1897 Burrell married Margaret H. Barnette, a native of Lynchburg and a graduate of Hampton Normal and Agricultural Institute (later Hampton University). She was a teacher in the public schools described as "a woman of culture and refinement." They had no children.
Burrell's medical practice prospered, and soon after arriving in Roanoke he opened a drugstore where his younger brother later worked. For many years his was the only black-owned drugstore in southwestern Virginia. About the time of his marriage Burrell purchased an old hotel building and moved his pharmacy and residence into it. By 1905 he had prospered enough to build a large house atop a hill on Patton Avenue in the Gainsboro area of Roanoke. With its commanding view of the city and with its electricity, gaslights, and central heating, the Burrell house became a well-known landmark. Many African American visitors to the city took advantage of the family's hospitality, and Lucy Addison, an accomplished educator who taught in the city's public schools, lived with the family.
The Burrells and several of the city's teachers were members of Fifth Avenue Presbyterian Church. Its minister, Lylburn Liggins Downing, had been one of Burrell's classmates at Lincoln University, and Burrell became an elder in the church. He was involved in fraternal affairs and belonged to the Masons, the Knights of Pythias, and the Odd Fellows. He also served as president of the Magic City Medical Society, the local organization of African American physicians. Because black patients were denied admission to the city's white hospitals, the African American doctors of Roanoke had long hoped to build their own hospital. The need for such an institution came into grim focus in 1914 when Burrell himself became ill. In great pain and knowing his condition to be critical, he made the 220-mile journey by train to Freedman's Hospital in Washington, D.C., accompanied by his wife and a fellow black physician. Isaac David Burrell died there on 21 March 1914 shortly after undergoing surgery for gallstones. His body was brought back to Roanoke for burial in Midway Cemetery (later C. C. Williams Memorial Park).
Burrell's widow took over operation of the drugstore for a time, and in 1915 the black physicians of Roanoke opened a hospital for their patients. The ten-bed facility on Henry Street was named Burrell Memorial Hospital. Its first director was Lylburn Clinton Downing, a son of Burrell's minister. In 1919 the city purchased the abandoned buildings of the Allegheny Institute and leased it to the doctors, who operated it as the city's black hospital from 1921 until 1955, when a modern brick hospital was constructed with the help of a woman's auxiliary. In the wake of the civil rights movement, white hospitals in Roanoke began to accept black patients, and in 1978 Burrell Memorial Hospital closed. During more than six decades of operation, however, the hospital was a fitting memorial to the city's pioneering black physician.

Sources Consulted:
Birth and death dates from gravestone, transcribed in Roanoke Valley Historical Society, Roanoke County Graveyards through 1920 (1986), 245; biography in Arthur B. Caldwell, ed., History of the American Negro, vol. 5: Virginia Edition (1921), 303–305 (portrait and quotation); transcription of interview with widow, 8 Jan. 1940, in Biographical Files, Virginia Writers' Project, Work Projects Administration of Virginia Papers, Accession 30432, Library of Virginia (LVA); Richmond Planet, 25 Dec. 1897, 1 Jan. 1898, 15 July 1905; information provided by Walter S. Claytor and Dorothy Stuart; Roanoke Tribune, 6 Aug. 1955; "Street by Street, Block by Block: How Urban Renewal Uprooted Black Roanoke," special section of Roanoke Times and World-News, 29 Jan. 1995; files and scrapbooks on Burrell Memorial Hospital at Roanoke Public Library and Gainsboro Branch Library; J. Daniel Pezzoni, "The Burrell Pharmacy Site" (ca. 1993 report for Preservation Technologies, Inc.; photocopy in Dictionary of Virginia Biography Files, LVA); obituary in Richmond Planet, 28 Mar. 1914.
Image courtesy of Schomburg Center for Research in Black Culture, Jean Blackwell Hutson Research and Reference Division, New York Public Library Digital Collection.
Written for the Dictionary of Virginia Biography by Ann Field Alexander.
How to cite this page:
>Ann Field Alexander,"Isaac David Burrell (1865–1914)," Dictionary of Virginia Biography, Library of Virginia (1998– ), published 2001, rev. 2018 (http://www.lva.virginia.gov/public/dvb/bio.asp?b=Burrell_Isaac_David, accessed [today's date]).

Return to the Dictionary of Virginia Biography Search page.