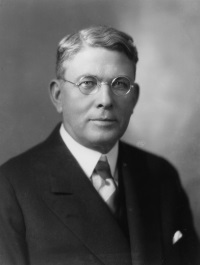 William Edward Carson (8 October 1870–25 March 1942), chair of the State Commission on Conservation and Development, was born in Enniskillen, Ireland (later Northern Ireland), and was the son of Samuel Carson and Anne Lougheed Carson. By 1870 his father had purchased land in Warren County, where he later founded a lime-manufacturing business that was chartered in 1891 as Carson Lime Company. In October 1885 young Carson and two of his brothers joined their father and older siblings in Virginia at Riverton, near Front Royal. Ten years later he became general manager of a successor manufacturing operation, incorporated in 1904 as the Riverton Lime Company.
Carson lived with his father and stepmother, Sarah H. Carson, until 1905, when he built an elaborate Queen Anne-style house that he called Killahevlin (listed in 1993 on the Virginia Landmarks Register and the National Register of Historic Places) in anticipation of his marriage to Agnes Holladay McCarthy, of Richmond. They were married in the Seventh Street Christian Church in Richmond on 9 May 1906. Two of Carson's attendants reveal how effectively he had established connections with the upper echelons of Virginia's political leadership. His best man was the Winchester attorney Richard Evelyn Byrd (1860–1925), who two years later became Speaker of the House of Delegates, and one of the groomsmen was Byrd's brother-in-law, Congressman Henry DeLaWarr Flood. The Carsons lived in Riverton and had one son and two daughters.
From 1908 to 1919 Carson was chairman of the board of directors of the National Lime Manufacturers Association (after its merger late in 1918 with the Hydrated Lime Bureau renamed the National Lime Association) and in 1919 was elected to one term as the association's president. From 1923 to 1926 he served on the Hampton Roads Port Commission. Active also in politics, Carson chaired the Seventh District Democratic Committee from 1910 until 1940. In 1925 he managed the successful gubernatorial campaign of Harry Flood Byrd (1887–1966). The following year Byrd named Carson chair of the new State Commission on Conservation and Development, established in March 1926 and which consolidated the state Water Power and Development Commission and the commonwealth's geological and forestry offices. The commission oversaw the state's promotion of natural resources for economic growth and had broad powers to condemn private land to create public parks. Continuing to live in Riverton, Carson directed the work of the commission's component parts from home.
He and Byrd believed that historic and natural resources were keys to developing a flourishing tourism industry in Virginia. One of Carson's innovative and enduring programs was the placement of markers at historic sites along the state's highways, perhaps the first such program in the country. The centerpiece of his vision was to acquire land at minimum state cost for the proposed Shenandoah National Park. He and his brother, Adam Clarke "Kit" Carson, drafted the bill that the General Assembly enacted in 1928 to permit the commission to condemn private property for the park. Late in the following year Carson purchased the fishing rights to more than 10,000 acres along the Rapidan River in Madison County, within the proposed park boundary, and then convinced Herbert Hoover to use the site as a presidential fishing retreat. Two years later Carson persuaded the president and Congress to appropriate money to begin construction of Skyline Drive, fully five years before the dedication of Shenandoah National Park.
Carson took leading roles in the creation of the Colonial National Monument (after June 1936 Colonial National Historical Park), linking the historic sites of Jamestown, Williamsburg, and Yorktown, and in the transfer to the National Park Service of Richmond Battlefield Park (after 1934 Richmond National Battlefield Park). He arranged in 1938 for the Civilian Conservation Corps to develop the Front Royal Recreation Park (later the Front Royal Country Club) on land Carson and his wife donated in memory of his namesake son who had died early in 1925. While Carson was chair, the commission created Virginia's state park system, which initially comprised six parks: Douthat, in Alleghany and Bath Counties; Fairy Stone, in Patrick County; Hungry Mother, in Smyth County; Seashore (later First Landing), in Princess Anne County; Staunton River, in Halifax County; and Westmoreland, in the county of that name. The Civilian Conservation Corps did most of the work, and the federal government paid most of the bills. From 1935 until 1940 Carson was a vice president of the National Conference on State Parks.
In 1932 Governor John Garland Pollard proclaimed Carson the outstanding public servant in the state, and the New York Southern Society awarded him its Parchment of Distinction, an honor he shared that year with Douglas Southall Freeman and John D. Rockefeller Jr. The American Scenic and Historic Preservation Society of New York presented Carson the Honorable Cornelius Amory Pugsley Silver Medal in 1935 for his work establishing parks and commemorating historic sites. In 1941 his achievements in Virginia earned Carson his own historic marker, placed in Front Royal, and in 1948 a peak in Shenandoah National Park was named for him.
Carson's authoritative management style alienated some state Democratic Party leaders. In 1934, after the General Assembly converted the commission chair from a part-time advisory role to a fulltime professional position, Carson announced that his personal business interests as president of Riverton Lime Company (after 1935 Riverton Lime and Stone) required him to relinquish the chairmanship. In 1936 the British Scientific and Industrial Research Society elected him a fellow in recognition of his contributions to lime and mortar technology. William Edward Carson died at Killahevlin in Riverton on 25 March 1942 and was buried in the Carson family plot in Prospect Hill Cemetery in Front Royal.

Sources Consulted:
Biographies in Winfield Scott Downs, ed., Encyclopedia of American Biography, new ser. (1943), 202–205, and National Conference on State Parks, 25th Anniversary Yearbook: Park and Recreation Progress (1946), 24–25 (portrait); Marriage Register, Richmond City, Bureau of Vital Statistics, Commonwealth of Virginia Department of Health, Record Group 36, Library of Virginia (LVA); Richmond Times-Dispatch, 10 May 1906, 10 Dec. 1932, 4 Jan. 1934, 22 Sept. 1941; Richmond News Leader, 4 Oct. 1932, 13 Mar. 1935; William E. Carson Scrapbooks, Accession 30463, LVA; Carson letters in Herbert Hoover Presidential Library–Museum, West Branch, Iowa, in Henry D. Flood Papers, Library of Congress, Washington, D.C., in E. Griffith Dodson Papers, Accession 25244, in State Commission on Conservation and Development Records, Record Group 18, and in Harry Flood Byrd, John Garland Pollard, and George Campbell Peery Executive Papers, all Record Group 3, LVA, in Civilian Conservation Corps Collection and Ferdinand L. Zerkel Collection, both Shenandoah National Park Archives, Luray, and in Harry Flood Byrd (1887–1966) Papers, Small Special Collections Library, University of Virginia (UVA), Charlottesville; works include Carson, Conserving and Developing Virginia (1935); Dennis Elwood Simmons, "The Creation of Shenandoah National Park and the Skyline Drive, 1924–1936" (Ph.D. dissertation, UVA, 1978); John F. Horan Jr., "Will Carson and the Virginia Conservation Commission, 1926–1934," Virginia Magazine of History and Biography 92 (1984): 391–415; Darwin Lambert, The Undying Past of Shenandoah National Park (1989), 209–226, 237, 254; obituaries in New York Times, Richmond News Leader, Richmond Times-Dispatch, and Winchester Evening Star, all 26 Mar. 1942, Front Royal Warren Sentinel, 2 Apr. 1942 (portrait), and Planning and Civic Comment 8 (Apr. 1942): 51; editorial tributes in Richmond News Leader, 26 Mar. 1942, and Richmond Times-Dispatch, 27 Mar. 1942.
Image courtesy of Library of Virginia, Visual Studies Collection.
Written for the Dictionary of Virginia Biography by Reed L. Engle.
How to cite this page:
>Reed L. Engle,"William Edward Carson (1870–1942)," Dictionary of Virginia Biography, Library of Virginia (1998– ), published 2006 (http://www.lva.virginia.gov/public/dvb/bio.asp?b=Carson_William_Edward, accessed [today's date]).

Return to the Dictionary of Virginia Biography Search page.