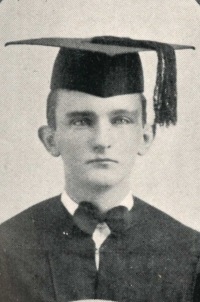 Harry Gilmore Carter (8 November 1886–10 April 1926), physician, was born probably in Northumberland County and was the son of Elias J. Carter, a farmer, and Arabella Betts Carter. He received his education at a private school in Kilmarnock, in Lancaster County, and attended the College of William and Mary, where he played tennis and competed on the football and baseball teams. He graduated with a B.A. in 1908 and returned to Northumberland County as the principal of Heathsville's high school. In 1910 Carter matriculated at the Medical College of Virginia, in Richmond, and during his studies there supported himself by teaching at a local private school and at night in the public schools. After receiving an M.D. in 1914, he completed an internship at an Abingdon hospital before entering private practice with a partner in Emporia in 1915. On 28 June 1916 Carter married Mabel E. Holland, of Baltimore. They had one son and one daughter.
When the United States entered World War I in 1917, Carter considered military service but was diagnosed with tuberculosis after a physical examination and sent to the Catawba sanatorium, near Roanoke. He remained there several months until he had recovered enough to be appointed a part-time medical assistant at Salem's Mount Regis Sanatorium, and in November of that year he became an assistant physician at Gaylord Farm Sanatorium, in Connecticut.
On 22 March 1918 Carter was appointed the superintendent and medical director of the newly constructed Piedmont Sanatorium, the first large-scale public facility in the United States for treating African American tuberculosis patients. The Virginia State Board of Health opened Piedmont at the urging of the Negro Organization Society and Agnes Dillon Randolph, a department director at the State Board of Health and executive secretary of the Virginia Tuberculosis Association, which raised $5,000 toward the sanatorium's construction. Tuberculosis was a significant problem among the black population, and early in the twentieth century African Americans in Virginia died from the disease at a rate more than twice that of whites. Little research had been done on its treatment in African Americans, and few beds were available for black patients in sanatoria throughout the country, especially in the South. Piedmont, located in Burkeville, in Nottoway County, received its first patients on 22 April 1918, and by September the original building had been filled and a second constructed to accept a total of seventy patients.
Carter, like many other white physicians, feared the spread of tuberculosis in the white population as a result of its close contact with African Americans, particularly domestic servants. He hoped, however, to demonstrate that it was possible to cure tuberculosis as well as to disseminate information about personal hygiene and clean living conditions so that the disease would become less of a scourge. He sought early diagnosis so that treatment would be most effective and believed that educating African American community leaders about the importance of early treatment was essential in the fight to lower tuberculosis rates. In January 1920 Carter began offering courses at Piedmont to instruct black physicians in the early detection of the disease. Piedmont also provided a two-year training school for African American nurses specializing in the care of tuberculosis patients.
During his eight years at Piedmont Sanatorium, Carter expanded the facility to a capacity of almost 150 and treated more than 1,700 patients, half of whom were discharged in improved health if not fully cured. He shared his research in lectures before such groups as the National Tuberculosis Association, the North Atlantic Tuberculosis Association, the Old Dominion Medical Society, and the Virginia Medical Society, as well as through the publication of his lectures and annual reports to the State Board of Health. In 1920 Carter was a member of the advisory board for a committee established by the General Assembly to study tuberculosis in Virginia, and two years later William and Mary awarded him a Phi Beta Kappa key for his work.
Harry Gilmore Carter died of pulmonary tuberculosis at Piedmont Sanatorium on 10 April 1926. He was buried in Loudon Park Cemetery in his wife's hometown of Baltimore, Maryland. Piedmont Sanatorium continued operating until 1967, when it was transferred to the state's Department of Mental Hygiene and Hospitals and in 1977 became Piedmont Geriatric Hospital, the only state-operated psychiatric hospital for the elderly in Virginia.

Sources Consulted:
Arthur W. Hafner, ed., Directory of Deceased American Physicians, 1804–1929 (1993), 255; birth date of Nov. 1886 in United States Census Schedules, Northumberland Co., 1900, Records of the Bureau of the Census, Record Group 29, National Archives and Records Administration, Washington, D.C; Northumberland Co. likely birthplace from parents' enumeration there by the 1880 and 1900 censuses and from registered birth of elder sister there in 1883; Death Certificate (gives variant birthplace of "Kilmarnock, Northumberland Co.," and variant birth date of 8 Nov. 1884 but records age at death as thirty-nine years and six months), Nottoway Co., Bureau of Vital Statistics, Commonwealth of Virginia Department of Health, Record Group 36, Library of Virginia; College of William and Mary Colonial Echo (1908), 21 (portrait); marriage license reported in Baltimore Sun, 29 June 1916 (age given as twenty-nine); Carter's writings compiled in Papers of Dr. H. G. Carter (Deceased)… (1929); Annual Report of the State Board of Health and the State Health Commissioner, 1918–1926; Marion M. Torchia, "Tuberculosis among American Negroes: Medical Research on a Racial Disease, 1830–1950," Journal of the History of Medicine and the Allied Sciences 32 (1977): 252–279; obituaries in Baltimore Sun and Richmond Times-Dispatch, both 12 Apr. 1926, Blackstone Courier, 16 Apr. 1926, and Virginia Medical Monthly 53 (1926): 138–139 (birthplace of Northumberland Co.); memorials in American Review of Tuberculosis 14 (1926): 344–345 (variant birthplace of Lancaster Co.), and Sunbeams 10 (June 1926): 14–16 (variant birthplace of Kilmarnock, Lancaster Co.).
Image courtesy of the Library of Virginia.
Written for the Dictionary of Virginia Biography by Marianne E. Julienne.
How to cite this page:
>,Marianne E. Julienne,"Harry Gilmore Carter (1886–1926)," Dictionary of Virginia Biography, Library of Virginia (1998– ), published 2006 (http://www.lva.virginia.gov/public/dvb/bio.asp?b=Carter_Harry_Gilmore, accessed [today's date]).

Return to the Dictionary of Virginia Biography Search page.