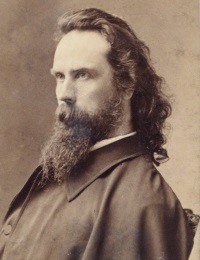 John Cussons (1838–4 January 1912), defender of the Lost Cause and entrepreneur, was born in Horncastle, Lincolnshire, England, and was the son of John Cussons and Elizabeth Jackson Cussons. Educated in Doncaster, he immigrated to the United States in 1855 and traveled west. For a time Cussons worked at the Detroit Free Press. He lived for several years on the northern plains frontier, where his six-foot-three-inch, 240-pound frame led the Lakotah Sioux to confer on him the name Wau-zee-hos-ka (tall pine tree). In later years he proudly defended Indian culture and harshly condemned white stereotypes of, and attacks on, the Sioux.
About 1859 Cussons moved to Selma, Alabama, where he worked at a local newspaper. He was a member of the governor's guard that in the spring of 1861 became part of the 4th Regiment Alabama Infantry. As a Confederate private, Cussons exploited the skills he had acquired among the Sioux and served as a scout and sharpshooter during the First Battle of Manassas (Bull Run) and other campaigns in Virginia during 1862 and 1863. By August 1862 he had joined Colonel Evander M. Law's staff as an aide-de-camp and was promoted to first lieutenant. He may have attained the rank of captain by the war's end. In April 1863, while participating in the Suffolk campaign, Cussons fought a duel with another officer who had accused Cussons of maligning a North Carolina regiment. Cussons was not injured, but he slightly wounded his opponent. On 2 July 1863 Cussons was captured at Gettysburg. After being held in a series of prisons for eight months, he was paroled on 16 March 1864 and later served in the western theater.
On 19 May 1864 Captain Cussons, as he was known for the rest of his life, married Susan Ann Sheppard Allen, a wealthy widow almost twenty years his senior who lived north of Richmond in Henrico County. They had no children. After the Civil War he settled at his wife's estate, Glen Allen, where late in the 1860s he established a prosperous printing business employing as many as fifty men and women at a time. Cussons, May, and Sheppard specialized in such items as druggists' labels, postcards, and thermometer cards. Beginning in 1881 Cussons received several patents for two popular inventions, a cardboard dial calendar and a flap-pad desk calendar, which he used as a means of advertising by securing a tablet to a heavy card and pasting an ad at the top. In 1897 he incorporated Cussons, May, and Company, which continued to operate for many years after his death.
A devoted member of Virginia's Grand Camp Confederate Veterans, Cussons served as grand commander for the 1896–1897 term. He also sat on the organization's influential history committee, which criticized the history textbooks used in the state's public schools as antisouthern and successfully pressured the superintendent of public instruction to adopt works that defended the justice of the Confederate cause. In A Glance at Current American History (1897), republished as United States "History" as the Yankee Makes and Takes It (1900), Cussons accused northern writers of distorting the history of the nation. He reprinted that essay as well as several of his lectures in A Glance at Current History (1899), in which he expressed his outrage that Virginia students "are taught to believe that their fathers were traitors" and urged southerners to "relate the annals of our own war to our own children in our own way."
In 1897 Cussons became embroiled in a controversy in which the chair of the history committee was accused of taking bribes from a publisher to retain unacceptable textbooks. He testified against James New Stubbs before an investigating committee of the Grand Camp and subsequently engaged in a heated exchange of letters in the Richmond newspapers with Stubbs's lawyer. Both men were arrested and required to post bonds of $1,000 in January 1898 as a guarantee that they would preserve the peace.
Cussons spent many years developing his property at Glen Allen, 253 acres of which he purchased from the estate of his wife's first husband in 1874. During the next two decades he acquired a total of almost 1,000 acres of land and built a grand hotel of his own design. Known as Forest Lodge, it could boast of more than one hundred rooms, a ballroom, an auditorium, and hand-painted murals. The grounds included a deer park, artificial lakes for boating and fishing, and rose gardens patrolled by peacocks. In 1902 Cussons incorporated the Forest Lodge Association, with himself as president, to operate the establishment as a summer and winter resort. He hoped that Forest Lodge would become a regular stop along the adjacent Richmond, Fredericksburg, and Potomac Railroad line, but despite the attractive accommodations, proximity to Richmond, and his extensive promotional efforts, the resort never attracted the patronage commanded by better-known spas.
Cussons poured his energy into developing the rest of Glen Allen. He laid out roads and lots, but his dream of a village never materialized. As a member of the Tuckahoe Farmers' Club, he joined in urging the General Assembly in the 1890s to pay for new roads in the county. Cussons's later years were marked by disputes with his neighbors, many of whom resented his autocratic manner. He accused them of numerous incidents of vandalism, including the slaughter of his beloved fawns. In retaliation Cussons advertised his Glen Allen property for sale as a "New Afro-American Development," and Richmond newspapers carried headlined accounts of the quarrels. Although he offered his property for sale throughout much of the first decade of the twentieth century, he never sold Forest Lodge. John Cussons died of pneumonia at Forest Lodge on 4 January 1912 and was buried in Richmond's Hollywood Cemetery.

Sources Consulted:
Birth year in England and Wales Civil Registration Index and on gravestone; undocumented birth date of 6 Apr. 1838 in Robert E. L. Krick, Staff Officers in Gray: A Biographical Register of the Staff Officers in the Army of Northern Virginia (2003), 107–108; biographies in Lyon Gardiner Tyler, ed., Men of Mark in Virginia (1906–1909), 3:104–108, James R. Short, "The Strange Lodge of Wau-zee-hos-ka: A Tale of Honor Upheld and a Dream That Died," Virginia Cavalcade 5 (winter 1955): 30–33, and Henry L. Nelson, "A Dream Not Realized: The Story of Captain Cussons and 'Forest Lodge,'" Henrico County Historical Society Magazine 10 (fall 1986): 3–20; correspondence and other materials in United Confederate Veterans, Virginia Division, Records (1890–1903), Accession 23354, Library of Virginia, and in Cussons, May, and Company Records, John Cussons Papers, Kate Mason Rowland Papers, and Virginia Bryce Scrapbook (third quotation in advertising broadside, n.d.), all Virginia Historical Society, Richmond; other publications include Cussons, A Glance at Current History (1899), with first quotation on 78–79 and second quotation on 81, The Passage of Thoroughfare Gap and the…Assembling of Lee's Army…for the Second Battle of Manassas (1906), Jack Sterry, the Jessie Scout (1907), and Comments on "Irregular Warfare" (n.d.); Compiled Service Records of Confederate Soldiers (1861–1865), War Department Collection of Confederate Records, Record Group 109, National Archives and Records Administration, Washington, D.C.; Richmond Daily Dispatch, 24 May 1864; Richmond Dispatch, 11 Mar. 1893, 20 Oct., 9 Dec., 10 Dec., 11 Dec. 1897; Richmond Times, 19 Dec. 1897, 2 Jan. 1898, 12 May 1901; Washington Post, 19 Jan. 1898, 27 Apr. 1901; Richmond News Leader, 10 Jan. 1911; Richmond Times-Dispatch, 5 Dec. 1920, 3 Jan. 1932; Fred Arthur Bailey, "Free Speech and the Lost Cause in the Old Dominion," Virginia Magazine of History and Biography 103 (1995): 237–266; obituaries in Richmond News Leader, 5 Jan. 1912, New York Times, 6 Jan. 1912, and Richmond Times-Dispatch, 6 Jan. 1912; memorial in Grand Camp Confederate Veterans, Department of Virginia, Proceedings (1912), 8–9.
Image courtesy of the Library of Virginia, Visual Studies Collection.
Written for the Dictionary of Virginia Biography by Cary Holladay.
How to cite this page:
>Cary Holladay,"John Cussons (1838–1912)," Dictionary of Virginia Biography, Library of Virginia (1998– ), published 2006 (http://www.lva.virginia.gov/public/dvb/bio.asp?b=Cussons_John, accessed [today's date]).

Return to the Dictionary of Virginia Biography Search page.