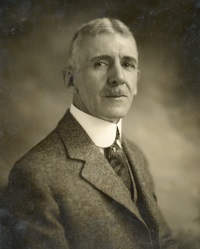 Arthur Kyle Davis (16 July 1867–9 July 1953), historian and educator, was born in Petersburg and was the son of Williams Thomas Davis, founder and president of Southern Female College, and his second wife, Carolina Virginia Robinson Davis. He received an A.B. from Randolph-Macon College in 1886 and an A.M. the following year. While teaching at Southern Female College, Davis considered undertaking a legal career and began a law course at the University of Virginia during the summer of 1888. About three weeks after he began his studies, however, his father died, and he returned to Petersburg. Davis succeeded his father as president of Southern Female College and held that office for more than fifty years. By 1916 he had renamed the school Southern College (Junior).
A vigorous proponent of women's education, Davis served in 1908 as the first president of the Virginia Association of Colleges and Schools for Girls and spearheaded an initiative to standardize and coordinate the curriculum of Virginia schools for women. Aware that most schools lacked the laboratory equipment needed for instruction in science, he sought to compensate by expanding studies in English, French, German, Latin, mathematics, and history to ensure that women's colleges in Virginia met similar educational standards generally recognized across the United States. In 1911, the same year that he added a junior college curriculum to Southern Female College, Davis introduced the concept of junior colleges to the Virginia Association of Colleges and Schools for Girls. The junior college designation allowed Virginia schools that were unable to meet the national standards for four-year institutions to offer college preparatory courses and two years of college classes.
Davis wrote Three Centuries of an Old Virginia Town: The History and Memorials and Charm of Petersburg and the Appomattox (1912). His reputation as an educator and scholar led the governor to appoint him in January 1919 as chair of the Virginia War History Commission, established to collect materials for a history of the state's role in World War I. The commission members came from different backgrounds and included religious leaders, military officers, newspaper editors, and historians. The commission devised an innovative plan to gather historical data. Davis added three-member teams of men and women from every city and county in Virginia to collect information in their localities. In order to bring black communities into the process, the commission created a board of thirty African Americans and emphasized that remembering African Americans' contributions to the war effort was every bit as important as remembering white activities.
Calling for the collection of a broad scope of historical material, Davis ordered local branches to provide information on fifteen topics intended to cover multiple aspects of Virginians' participation in the war. In what became known as the Virginia Plan, he gathered enough information to publish seven volumes of source material encompassing a wide range of subjects: Virginians of Distinguished Service of the World War (1923), Virginia War History in Newspaper Clippings (1924), Virginia War Letters, Diaries and Editorials (1925), Virginia War Agencies, Selective Service and Volunteers (1926), Virginia Military Organizations in the World War (1927), and two volumes of Virginia Communities in War Time (1926–1927).
Davis directed the commission to send out to every Virginia veteran of the war a standardized questionnaire, which asked for the respondent's full name, ethnicity, education, religion, and military service record. The War History Commission Questionnaires also asked veterans to record their attitudes toward their military service, recollections of camp experiences, and combat impressions. The commission disbanded in 1928. Its collected documentation was subsequently transferred to the Virginia State Library (later the Library of Virginia). The records of the Virginia War History Commission have proven invaluable to military historians and biographical researchers. For his work on the commission, Davis was inducted into Phi Beta Kappa in 1923 and awarded an honorary LL.D. from Hampden-Sydney College in 1927.
Southern College began experiencing financial strains, and in 1938 Davis asked the State Corporation Commission to authorize a stock issue in the hopes of encouraging outside investment. The college did not open for the 1938–1939 school year while it converted its management to a board of trustees and began a refinancing program to raise $100,000. Despite the cash infusion, Southern College continued to struggle with additional financial burdens during World War II. It closed its doors after the 1941–1942 academic year.
Davis married Lucy Pryor McIlwaine in Petersburg on 12 November 1890. Before her death on 10 January 1943, they had two daughters and one son, Arthur Kyle Davis (1897–1972), who became an educator and folk song scholar. Arthur Kyle Davis died at his Petersburg home on 9 July 1953 and was buried in Blandford Cemetery.

Sources Consulted:
Biographies in Who's Who in America (1950–1951), 646, and Philip Alexander Bruce, Virginia: Rebirth of the Old Dominion (1929), 3:485–489; Birth Register, Petersburg, and Marriage Register, Petersburg, both in Bureau of Vital Statistics, Commonwealth of Virginia Department of Health, Record Group 36, Library of Virginia; correspondence in Davis Family Papers (1844–1945), Accession 37973, Library of Virginia; Virginia War History Commission Records, Accession 37219, 28390, Library of Virginia; other publications include Davis, "Education in Virginia": Its Distinctive Qualities To-Day Achieved through a Noble and Historic Past (1912); Roger Christman, "The Records of the Virginia War History Commission," Virginia Cavalcade 50 (2001): 100–101 (portrait on 100); J. Jefferson Looney, "'I really never thought war was so cruel': The Veterans' Questionnaires of the Virginia War History Commission," Virginia Cavalcade 50 (2001): 124–133; obituaries in Petersburg Progress-Index, 9 July 1953, Richmond News Leader, 9, 10 July 1953, and Richmond Times-Dispatch, 10 July 1953; editorial tribute in Petersburg Progress-Index, 10 July 1953.
Image courtesy of Library of Virginia.

Written for the Dictionary of Virginia Biography by Joseph D. Bayless III.
How to cite this page:
>Joseph D. Bayless III,"Arthur Kyle Davis (1867–1953)," Dictionary of Virginia Biography, Library of Virginia (1998– ), published 2015 (http://www.lva.virginia.gov/public/dvb/bio.asp?b=Davis_Arthur_Kyle_1867-1953, accessed [today's date]).

Return to the Dictionary of Virginia Biography Search page.