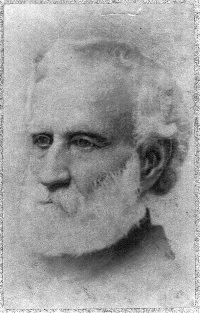 Thomas Turner Fauntleroy (d. 12 September 1883), United States Army officer, was born in October 1795 or 1796, likely in Richmond County, and was the son of Joseph Fauntleroy and Elizabeth Foushee Fauntleroy Fauntleroy. The family moved to that part of Frederick County that later became Clarke County. Little is known about his early years, although he likely received his education in Winchester. He studied law and began practicing in Fauquier County by the 1820s as well as in Washington, D.C., during the 1830s. Elected to represent Fauquier in the House of Delegates for the 1823–1824 term, he sat on the committees to examine the register's office and the clerk's office. In 1829 Fauntleroy began publishing the Warrenton Political Spectator, a weekly newspaper supporting President Andrew Jackson's administration, which he sold by April 1834. About 1821 he married Ann Magdalene Magill, the daughter of former federal judge Charles Magill. They had two daughters and three sons, including Thomas Turner Fauntleroy (1823–1906), who became a judge of the Virginia Supreme Court of Appeals.
During the War of 1812 Fauntleroy received a commission in the Virginia militia, although in 1814 he also attempted to secure an appointment as an officer in the United States Army. By early in the 1830s he was the captain of a cavalry troop in Fauquier. On 8 June 1836 he was appointed major of the newly organized 2d United States Dragoons. This was the beginning of an army career that kept him away from Virginia for almost twenty-five years as he commanded military posts in Florida, New York, Louisiana, Texas, Missouri, the western region commonly known as the Indian Territory, and California. Fauntleroy served with distinction in the Second Seminole War and was promoted to lieutenant colonel on 30 June 1846. During the Mexican War he commanded troops under Major General Zachary Taylor near Monterrey. Fauntleroy was made colonel of the 1st Dragoons on 25 July 1850.
On 31 July 1852 Fauntleroy, by then commander of Fort Leavenworth, on the west bank of the Missouri River, recommended establishing a military post farther west in the region that later became Kansas. His proposal was approved and Fort Riley was completed in 1855. Fauntleroy's recommendation that Fort Leavenworth be abandoned in favor of Fort Riley likely put him in conflict with Secretary of War Jefferson Davis, a strong advocate of Leavenworth's strategic importance. In July 1854 Fauntleroy departed for the New Mexico Territory and the following year led a force of 500 men in a successful campaign that subdued the Ute Nation in the Rocky Mountains.
In October 1859 he assumed command of the Department of New Mexico. Early the next year he requested an army regiment and provisions for 300 volunteer Utah Indians to wage a campaign against the Navajo. With frontiersman Kit Carson advising him, Fauntleroy proclaimed to his superiors, "If a war against the Navajoes becomes necessary, I desire to make it as decisive as possible, by striking a blow that they will never forget. If my views are carried out, I promise the Navajoe difficulties will never be again heard of."
In March 1860 the Virginia General Assembly recommended to the Secretary of War that Fauntleroy be made a brigadier general. Although not promoted, his military service was recognized in August when a fort in western New Mexico Territory was named for him. During Virginia's debate about whether or not to secede from the United States, Fauntleroy wrote to Governor John Letcher on 25 March 1861 and pledged his allegiance to the state. He formally resigned his military commission on 13 May following Virginia's secession. Because of his actions Fort Fauntleroy was renamed Fort Lyon and later Fort Wingate.
Expecting that his long military service would entitle him to a command rank, Fauntleroy was appointed a brigadier general in the Provisional Army of Virginia by 19 May and assigned to command Richmond's defenses. On 9 July he was offered an appointment to serve as a brigadier general in the Confederate army to command militia forces assisting Brigadier General Joseph Eggleston Johnston's Army of the Shenandoah, headquartered near Winchester. He refused the assignment, however, perhaps not wishing to be subordinate to another general and in command of local militia forces rather than army troops.
Feeling that his command of troops around Richmond was being interfered with, and likely upset that officers who had been junior in rank in the pre-war U.S. army outranked him in the Virginia and Confederate forces, Fauntleroy voiced his frustration in a letter to General Robert Edward Lee on 17 August 1861. Since he believed that "I am not recognized with the full rights of a commanding officer, I most respectfully desire that I may be relieved from the order placing me in command of the troops in and about Richmond" and went on to write that "I am sure I can do no good by remaining in charge." Relieved of command on 30 August, Fauntleroy resigned from the provisional army in October 1861. He tried again to obtain an appointment to the Confederate army in 1864, but was denied. He later attributed his treatment to animosity held by Confederate States President Jefferson Davis, perhaps dating back to the Fort Leavenworth issue.
Winchester was often a battleground and Fauntleroy sought safety in Caroline County, and by 1865 in Charlotte County. After the war's end, he took the oath of allegiance on 17 June 1865 and received a presidential pardon on 5 October. Fauntleroy, whose wife had died on 3 July 1862, went to live with his namesake son in Winchester. Like many former slaveholding Confederates, his personal finances suffered as a result of the war. In June 1860, when he was stationed in New Mexico Territory, he reported to the census enumerator $25,000 in real estate property and $25,000 in personal property, including slaves. Ten years later he reported $5,000 in real estate and only $500 in personal property. Thomas Turner Fauntleroy died on 12 September 1883 at his granddaughter's residence in Leesburg. He was buried at Mount Hebron Cemetery, in Winchester.

Sources Consulted:
Biography and family history, including undocumented birth date of 8 Oct. 1795, in "Colonel Moore Fauntleroy: His Ancestors and Descendants," compiled by descendant Juliet Fauntleroy, in Fauntleroy Family Genealogical Notes, Accession 35057, Library of Virginia; birth date of 6 Oct. 1796 on gravestone; birth date of 8 Oct. 1795 in S. Bassett French MS Biographical Sketches, Accession 21332, Library of Virginia; Fauntleroy's Commonplace Book, Law Library Special Collections, University of Virginia, Charlottesville, Va.; Francis B. Heitman, Historical Register and Dictionary of the United States Army (1903), 1:415; Indian Hostilities in New Mexico, 36th Cong., 1st sess., 1860, Doc. 69, Serial Set 1051, House Committee on Military Affairs (first quotation on pp. 29–30); Acts of the General Assembly of Virginia, Passed at the Session of 1859–1860, 706–707; United States War Department, The War of the Rebellion: A Compilation of the Official Records of the Union and Confederate Armies (1880–1901), 1st ser., vol. 4, 637 and vol. 51, pt. 2, 95, 159, 239 (second quotation); Compiled Service Records of Confederate Soldiers (1861–1865), War Department Collection of Confederate Records, Record Group 109 and Presidential pardon in Virginia Case Files for United States Pardons (1865–1867), United States Office of the Adjutant General, Record Group 94, both in National Archives and Records Administration, Washington, D.C; William P. Palmer et al., eds., Calendar of Virginia State Papers and Other Manuscripts, 1652–1869 (1875–1893), 11:106, 127, 153; Fauntleroy to Charles Colcock Jones, 15 Feb. 1874, Rosenbach Museum and Library, Philadelphia; Bruce S. Allardice, More Generals in Gray (1995), 84–85 (portrait); obituaries in Richmond State, 13 Sept. 1883, Loudoun Telephone, 14 Sept. 1883, Richmond Daily Whig (with birth date of 6 Oct. 1796) and Washington Post, both 15 Sept. 1883, and Winchester News, 21 Sept. 1883.
Image courtesy of Library of Congress, Prints and Photographs Division.

Written for the Dictionary of Virginia Biography by Eric J. Adamczyk.
How to cite this page:
>Eric J. Adamczyk,"Thomas Turner Fauntleroy (d. 1883)," Dictionary of Virginia Biography, Library of Virginia (1998– ), published 2015 (http://www.lva.virginia.gov/public/dvb/bio.asp?b=Fauntleroy_Thomas_Turner_d_1883, accessed [today's date]).

Return to the Dictionary of Virginia Biography Search page.