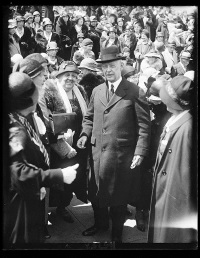 James Cannon (13 November 1864–6 September 1944), Methodist bishop and temperance reformer, was born in Salisbury, Maryland, the son of James Cannon, a merchant, and Lydia Robertson Primrose Cannon. His parents were both strong Southern Methodists and among the town's most prominent and affluent citizens. Cannon graduated from the local high school in 1880 and a year later enrolled at Randolph-Macon College, in Ashland. Secular in outlook, he dreamed of becoming a lawyer and judge, but after a conversion experience at a college revival in 1882 he joined the church and decided to become a Methodist minister. Cannon received a B.A. from Randolph-Macon College in 1884, a B.D. from Princeton Theological Seminary in 1888, and an M.A. from the College of New Jersey (later Princeton University) in 1890.
Methodist Editor
On 1 August 1888 James Cannon Jr., as he was known throughout his life, married Lura Virginia Bennett, the daughter of William Wallace Bennett, president of Randolph-Macon College. They had two daughters and six sons, one of whom died young. Admitted to the Virginia Conference of the Methodist Episcopal Church South in November 1888, Cannon served pastorates in Charlotte County (1888–1889), Newport News (1889–1891), and Farmville (1891–1894). Extraordinarily energetic and buoyed by the confidence derived from an exceptional education and influential family and church connections, he vigorously challenged the ruling establishment within his conference and denomination. As editor from 1893 to 1903 of the Southern Methodist Recorder, which served the Farmville district, and from 1904 to 1918 of the Baltimore and Richmond Christian Advocate, the organ of the Virginia Conference, Cannon demonstrated formidable talent as a controversialist. Spokesman for a progressive Southern Methodism, he promoted an aggressive, militant Christianity emphasizing missions, education, and temperance reform.
In private Cannon could be congenial and engaging, but his public persona was harsh and forbidding. Intense and confrontational by nature, he was a ruthless and resourceful political combatant, with a keen mind, an encyclopedic command of detail, and extraordinary self-control. Cannon clashed repeatedly with senior members of his conference. From 1898 to 1902 he came to wider attention during a bitter controversy over the church's method of securing compensation from the federal government for damages to its Nashville publishing house sustained during the Civil War. By 1907 Cannon was the most influential figure in the Virginia Conference, and in that year he became locked in a six-year struggle over control of the Randolph-Macon system of schools and colleges. He finally prevailed, but his relentless attacks on opponents, especially William Waugh Smith, his former mentor and then president of Randolph-Macon Woman's College, left him with many new enemies and broken friendships.
Methodist Educator
The militant editor was also a country schoolmaster, admired by countless students and their families across Virginia. Although a successful pastor, Cannon was eager to find a distinctive work of his own, and in 1894 he had become principal of Blackstone Female Institute (later Blackstone College for Girls), in Nottoway County. Under his leadership the school combined Christian education with high school courses, college preparation, and teacher training. Restless and ambitious, Cannon left Blackstone in 1911 to become superintendent of the Southern Assembly, a proposed Methodist center for Christian recreation and education at Lake Junaluska, in the mountains of North Carolina. He supervised its construction, traveled throughout the South to promote it as a new Chautauqua, and opened it, partially completed, on schedule in 1913. The next year Cannon returned to Virginia to resume his post at Blackstone, which added junior college courses in 1915. He resigned a second time from the Blackstone school in 1918 after the Methodist Episcopal Church South's General Conference in Atlanta elected him bishop.
Methodist Bishop and Prohibition Advocate
Cannon's elevation resulted largely from his growing prominence in the temperance movement. He was the dominant figure in the Anti-Saloon League of Virginia after 1904, and he mobilized Virginia drys as a powerful new political force. In 1910 Cannon founded a daily dry newspaper, the Richmond Virginian, to counter the bitter opposition of most of the state press. It continued to publish until 1920. Cannon led the drys to victory in the statewide Prohibition referendum of 1914 and secured passage of the Mapp Prohibition Act of 1916. Although accused of being an ecclesiastical dictator over Virginia politics, he was undaunted and in 1913 became the chief Washington lobbyist for the Anti-Saloon League of America. Cannon played a major role in the adoption of federal Prohibition legislation, culminating in the Eighteenth Amendment to the Constitution. Early in 1918 he traveled to France and Great Britain as special commissioner of the secretary of war to investigate vice and intemperance among American servicemen on the western front. Later that year Cannon returned to Europe to organize a Paris conference on alcoholism, which led to the formation in 1919 of the World League Against Alcoholism, the international affiliate of the Anti-Saloon League of America.
A Wilsonian internationalist, Cannon became one of the most-traveled Americans of his time. He spent much of the 1920s abroad supervising Southern Methodist missions in the Belgian Congo, Brazil, and Mexico, served as the chief troubleshooter for the World League in Great Britain and on the Continent, and attended international temperance and church conferences across Europe. An active participant in the ecumenical movement, he was also a prominent spokesman for Near East Relief, the American organization that assisted Armenians and other victims of Turkish atrocities in the Middle East. By 1922 Cannon was recognized as an important American voice on international affairs, especially those involving humanitarian or religious causes.
Probably the most progressive figure in Southern Methodism, Cannon challenged the traditionalist establishment led by Bishops Collins Denny, of Richmond, and Warren A. Candler, of Atlanta. In 1925 Cannon was a principal southern supporter of merger during the bitter and unsuccessful struggle to reunite Methodism's northern and southern wings, which had split before the Civil War. His work nevertheless laid the groundwork for unification more than a decade later. An active leader of the Federal Council of Churches and a proponent of social Christianity, Cannon became the chief sponsor and defender in 1927 and 1928 of a controversial pastoral letter that condemned poor living-and-working conditions in the southern textile industry.
Break with the Democratic Party
Prohibition, however, remained Cannon's primary social concern. He broke with the Democratic Party after it nominated Alfred E. Smith, of New York, for president in 1928. Smith was an opponent of Prohibition, a product of Tammany Hall politics, and a Catholic. Cannon campaigned vigorously against him and scored a stunning victory. Republican nominee Herbert Hoover carried five southern states, including Virginia, breaking the South's record for Democratic solidarity for the first time since Reconstruction. Cannon was hailed as the foremost champion of dry, Protestant America, but his moment of national triumph was bittersweet and short-lived. Following a long illness his wife died on 27 November 1928, shortly after the presidential election, and in 1929 Cannon's alliance of anti-Smith Democrats and Republicans was defeated in the Virginia gubernatorial election.
Church Investigation
In failing health, Cannon was constantly hounded by his enemies, notably Senator Carter Glass, of Virginia, and became embroiled in a series of scandals that generated sensational headlines. At home in the secular world of business and finance, Cannon was exposed in 1929 as a patron of a fraudulent Wall Street investment firm operated by Harry Goldhurst (later the journalist and author Harry Golden). At his church's General Conference of 1930, Cannon's opponents attempted unsuccessfully to defrock him for stock-market gambling. After his marriage in London on 15 July 1930 to Helen Myrtle Hawley McCallum, a widow who had been his secretary and with whom he was rumored to have had an affair while abroad, the church summoned him before a twelve-man investigating committee in February 1931 on various charges of immorality, including adultery. The committee unanimously found Cannon innocent of every charge except stock-market gambling, of which he was cleared by a divided vote. Two United States Senate committees subsequently investigated allegations that he had embezzled campaign money, and he was indicted in October 1931 for violating the federal Corrupt Practices Act during the presidential election of 1928. Following protracted legal maneuvers a federal court finally acquitted Cannon in 1934. The scandals undermined his moral authority, destroyed his political influence, and bitterly divided his church.
Later Years
With the repeal of Prohibition in 1933, Cannon passed out of the public eye, largely ignored by an embarrassed church and a nation preoccupied with economic rather than moral issues. From 1934 to 1938 he resided in Los Angeles, where he served as bishop of the Southern Methodist conference that included the Pacific coastal states. Cannon retired in 1938 and returned to Richmond, where he wrote his memoirs and cultivated an unlikely friendship with H. L. Mencken, the wet journalist and literary critic. Despite crippling arthritis, the bishop continued to travel extensively and attend church and temperance meetings. James Cannon died in Chicago on 6 September 1944 after suffering a heart attack at a national meeting of the Anti-Saloon League. Following services at Broad Street Methodist Church in Richmond, he was buried in Hollywood Cemetery in that city.

Sources Consulted:
Robert A. Hohner, Prohibition and Politics: The Life of Bishop James Cannon, Jr. (1999), contains several portraits and full bibliography of primary and secondary sources; Virginius Dabney, Dry Messiah: The Life of Bishop Cannon (1949); memoirs published posthumously as Bishop Cannon's Own Story: Life As I Have Seen It, ed. Richard L. Watson Jr. (1955), frontispiece portrait; James Cannon Jr. Papers, David M. Rubenstein Rare Book and Manuscript Library, Duke University, Durham, N.C.; Louisa Co. Marriage Register, 1888; second marriage in New York Times, 22 July 1930; obituaries in Richmond News Leader, 6 Sept. 1944, and New York Times and Richmond Times-Dispatch, both 7 Sept. 1944; obituary and editorial tribute in Virginia Methodist Advocate 6 (14 Sept. 1944): 1, 6, 10; memorial in Methodist Church, Virginia Conference, Annual (1944): 140–143 (giving erroneous death date of 16 Sept. 1944).
Photograph by Harris and Ewing, courtesy of the Library of Congress, Prints and Photographs Division.

Written for the Dictionary of Virginia Biography by Robert A. Hohner.
How to cite this page:
>Robert A. Hohner,"James Cannon (1864–1944)," Dictionary of Virginia Biography, Library of Virginia (1998– ), published 2001 (http://www.lva.virginia.gov/public/dvb/bio.asp?b=Cannon_James, accessed [today's date]).

Return to the Dictionary of Virginia Biography Search page.