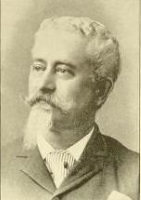 Marion Johnson Dimmock (9 December 1842–23 December 1908), architect, was born in Portsmouth and was the son of Henrietta Maria Fraser Johnson Dimmock and Charles Dimmock, a former army officer who during the Civil War served as the chief of ordnance for Virginia. Not long after his birth the family moved to Richmond, where likely he attended private academies. In 1857 Dimmock commanded a group of young men who organized themselves into a unit known as the Metropolitan Guard and who received military training from his father. Not long after the Civil War began, Dimmock enlisted as a private on 3 June 1861. Appointed a company adjutant on 1 August 1861, he continued to serve as such with the reorganized 10th Regiment Virginia Cavalry throughout the rest of the war. Late in January 1862 Dimmock was promoted to first lieutenant. He saw action in numerous battles, including at Brandy Station, Gettysburg, and Chancellorsville, and twice had his horse shot out from under him. At the close of the war he was commanding a company, although he never received a recommended promotion to captain.
Where Dimmock received his professional training is not known, but by 1870 he had established an architectural practice in Richmond with his elder brother, Charles Henry Dimmock, who also served as city engineer. During the 1880s Captain Dimmock, as he was known, taught architecture as a member of the Richmond Art Association, which he and four others incorporated in 1884. Elected a fellow of the American Institute of Architects in 1888, Dimmock sat on its board of directors beginning in 1890. He also served as president of the Southern Chapter of the AIA during the 1890s. Beginning in the 1880s some of his architectural plans appeared in such professional journals as American Architect and Building News and Carpentry and Building, making Dimmock possibly the first Richmond architect to have his work so featured.
A prolific architect, Dimmock undertook work on private residences, commercial and public buildings, and additions to existing buildings. His eclectic architectural style appealed to Richmonders' tastes, and throughout his long career he designed houses for dozens of the city's wealthy residents. Dimmock employed the popular Richardsonian style in his first residential designs, exemplified by a private house at 800 West Franklin Street (1890) that featured a Petersburg granite exterior and extensive wood paneling, classical floor inlays, ironwork, and stained-glass details in the interior. Dimmock usually supervised the construction of his buildings, and his projects were notable for the high quality of the materials he used.
Dimmock designed at least sixteen churches, mostly in the Richmond area, but including one for a congregation in Clover, Halifax County. The earliest were Carpenter Gothic designs in wood, three of which survived into the twenty-first century. They included the Confederate Memorial Chapel (1887), which was built for the veterans who lived at the R. E. Lee Camp Confederate Soldiers' Home, in Richmond, and was added to the National Register of Historic Places in 1972. By the 1890s Dimmock had begun designing churches in the Romanesque style, including Grove Avenue Baptist Church (1890 and 1901) and Venable Street Baptist Church (1891), both in Richmond. He also completed two other significant, though smaller, commissions in Richmond for Gothic Revival mortuary chapels for the Hebrew Cemetery (1897) and Hollywood Cemetery (1898).
Dimmock constructed a variety of public and commercial buildings in Richmond and around the state. His more than ninety projects included schools, tobacco factories, a new building for Richmond's Chamber of Commerce (1891–1892), the county clerk's office in Brunswick County (1893), and opera houses in Danville, Roanoke (both 1890), and Newport News (1899). One of his most prominent surviving structures is the five-story headquarters for the Virginia-Carolina Chemical Company (1902), which was highly touted at the time as the only truly fire-proof building in Richmond. In addition to original commissions, Dimmock drew plans for additions and expansions of existing buildings, including one for hyphens to link the wings of Westover Plantation, in Charles City County (1902). His last major project, designed in 1908 and completed posthumously in 1910, planned an expansion of the State Library in Capitol Square. He transformed the originally asymmetrical fašade into a much more traditional and symmetrical style with the addition of a wing that served as a natural history museum. In 2005 the renovated structure was renamed the Oliver W. Hill, Sr., Building.
On occasion Dimmock traveled around the country to study architectural styles and construction methods. During the first decade of the twentieth century he advocated planned development of Richmond's suburbs and urged the city to purchase property for small parks in heavily populated areas as well as large open areas to anchor future residential neighborhoods. In 1904 Dimmock chaired the executive committee of the J. E. B. Stuart Monument Association, which selected the design of the equestrian statue of the Confederate general that was erected on Richmond's Monument Avenue in 1907. He also designed the statue's base.
Throughout his career Dimmock trained and mentored younger architects, including Aubrey Chesterman and W. Duncan Lee. Dimmock's final design for a house at 1839 Monument Avenue (1908) employed a neoclassical style that inspired Lee's later designs in that fashionable section of Richmond. Dimmock's connection with Lee extended the older architect's influence well into the twentieth century.
On 12 October 1892 Dimmock married Sophia C. Downman in Fredericksburg. They had one son who later practiced architecture in Connecticut. Three days after suffering a stroke while attending church services, Marion Johnson Dimmock died at his Richmond home on 23 December 1908. He was buried at Hollywood Cemetery.

Sources Consulted:
Birth date on gravestone (with middle name spelled Johnston); Dimmock correspondence in various collections, Virginia Historical Society, Richmond, Va.; Dimmock architectural drawings, Library of Virginia; Compiled Service Records of Confederate Soldiers (1861–1865), War Department Collection of Confederate Records, Record Group 109, National Archives and Records Administration, Washington, D.C.; Marriage Register, Fredericksburg, Bureau of Vital Statistics, Record Group 36, Library of Virginia; Fredericksburg Free Lance, 14 Oct. 1892; Richmond Times-Dispatch, 5 Sept. 1907, 21 Dec. 1908; Andrew Morrison, ed., Richmond, Virginia, and the New South [ca. 1889], 26; Morrison, ed., The City on the James: Richmond, Virginia (1893), 56 (portrait); Robert P. Winthrop, Architecture in Downtown Richmond (1982); Kerri Culhane, "M. J. Dimmock and William M. Poindexter: Two Architects of Late Nineteenth-Century Richmond," Architecture and the Decorative Arts: New Findings from the Department of Art History, School of the Arts, Virginia Commonwealth University (1997), 12–17; John E. Wells and Robert E. Dalton, The Virginia Architects, 1835–1955: A Biographical Dictionary (1997), 119–121; Tom H. Ray, "The Jones-Williams House (1890–1891) by Marion J. Dimmock, 800 West Franklin Street, Richmond, Virginia" (Virginia Commonwealth University seminar paper, 1999); Bryan Clark Green et al., Lost Virginia: Vanished Architecture of the Old Dominion (2001); obituaries in Richmond News Leader, 23 Dec. 1908, and Richmond Times-Dispatch, 24 Dec. 1908.
Image courtesy of Library of Virginia.

Written for the Dictionary of Virginia Biography by Tom H. Ray.
How to cite this page:
>Tom H. Ray,"Marion Johnson Dimmock (1842–1908)," Dictionary of Virginia Biography, Library of Virginia (1998– ), published 2015 (http://www.lva.virginia.gov/public/dvb/bio.asp?b=Dimmock_Marion_Johnson, accessed [today's date]).

Return to the Dictionary of Virginia Biography Search page.